GoliathTech Your Helical (Screw) Pile Installer - Springfield
---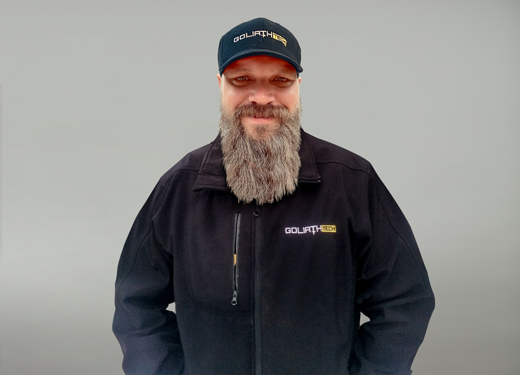 GoliathTech Springfield
1416 Dd Rd. Columbia, Illinois 62236
About Us
GoliathTech Springfield is your certified installer for the cities of Springfield, Granite City, Edwardsville, Alton, Godfrey, Jacksonville, Clark, Woodside, Chatham, Lincoln, and more. View more cities we serve below.
Cities served by your installer
Granite City
Edwardsville
Alton
Godfrey
Jacksonville
Clark
Woodside
Chatham
Lincoln
Alexander
Alhambra
Allen
Alsey
Anderson
Andrew
Arcadia
Archer
Arnold
Ashland
Athens
Athensville
Atterbury
Atwater
Aubrun
Ayers
Barclay
Barnett
Barr
Barrow
Batchtown
Bates
Bath
Baylestown
Bearcreek
Beaver Creek
Bedford
Bee Creek
Beechville
Bell
Belltown
Beltrees
Benld
Berdan
Berlin
Berry
Bethalto
Biggs
Bingham
Binney
Bissell
Bloomfield
Blue Mound
Bluff Springs
Bobtown
Bolivia
Bradfordton
Breckenridge
Brighton
Broadwell
Brooks
Brussels
Buckhart
Buffalo
Buffalo Hart
Bulpitt
Bunker Hill
Bunn Park
Burton View
Butler
Cabbage Patch
Cantrall
Carlinville
Carlsburg
Carpenter
Carrollton
Cedar Park
Centerville
Chandlerville
Chapin
Chaman
Chautauqua
Chesterfield
Chestervale
Cimic
Clarksdale
Clear Lake
Clements
Cliffdale
Clifton Terrace
Coalton
Coffeen
Comer
Compro
Concord
Conover
Conrad
Cornland
Cottage Hills
Country Club
Country Place
Culver
Curran
Curran Village
Curtis
Dawson
Deer Plain
Deerwood Lake
Delhi
Devereux Heights
Divernon
Donnellson
Dorchester
Dorsey
Dow
Drake
Dudleyville
Durley
Eagerville
East Alton
East Gillespie
East Hardin
East Newbern
East Pisgah
East Plainview
Easton
Eastview
Edinburg
Edwardsville
Elash
Eldred
Elkhart
Ellis
Elsah
Enos
Enos Park
Evans
Exeter
Fairmount City
Fancy Prairie
Farmersville
Farmingdale
Fayette
Fidelity
Fieldon
Fillmore
Florence
Fogarty
Forest Homes
Fosterburg
Franklin
Fruit
Gabaret Island
Gard
Gilead
Gillespie
Gilmore
Girard
Glasgow
Glen Carbon
Glenarm
Godfrey
Golden Eagle
Grafton
Grand Central
Grandview
Granite City
Green Acres
Green Haven
Greenfield
Greenpond
Greenview
Greenville
Grove City
Gurney
Hagaman
Hamburg
Hamel
Hanks Station
Hardin
Harmony Court
Hartford
Harvard Park
Harvel
Haypress
Henderson
Hettick
Hewittsville
Hewittville
Hill Top
Hillsboro
Hilltop
Hillview
Historic West-Side
Holiday Shores
Honey Bend
Hookdale
Hornsby
Hubly
Iles Park
Illiopolis
Irving
Island Grove
Jacksonville
Jalapa
Jefferson Park
Jeiseyville
Jeisyville
Jerome
Jerseyville
Jules
Kampsville
Kane
Kaufman
Kemper
Kilbourne
Kincaid
Kisch
Knapp
Koke Mill East
Kritesville
Lake Fork
Lake Ka-Ho
Lake Ka-Ho Village
Lake Petersburg
Lake Pointe
Lake Springfield
Laketown
Lanesville
Langleyville
Latham
Lawndale
Leclaire
Leland Grove
Lewisburg
Lincoln
Lincoln Park
Lincoln Place
Litchfield
Literberry
Little Indian
Livingston
Loami
Lockhaven
Lowder
Lower Springfield
Luther
Lynnville
Macoupin
Madison
Manchester
Maryland Place
Mason City
Mather and Wells
Maxwell
McClusky
McVey
Meadowbrook
Mechanicsburg
Medora
Melville
Meppen
Merritt
Michael
Middletown
Midway
Miles Station
Millersville
Milton
Mitchell
Modesto
Montezuma
Moro
Morrisonville
Mount Auburn
Mount Clare
Mount Olive
Mount Pulaski
Mozier
Mozier Landing
Mt Auburn
Mt Clare
Mt Fulcher
Mt Olive
Mt Pulaski
Mulberry Grove
Murrayville
Nameoki
Narita
Natrona
New Berlin
New City
New Dehli
New Douglas
New Holland
Newbern
Newmansville
Niantic
Nilwood
Nokomis
North Alton
Northgate
Nortonville
Nutwood
Oak Ridge
Oakford
Oaks
Ohlman
Old Aristocracy
Old Kane
Old Pearl
Old Salem Chautauqua
Old Stonington
Oldenburg
Orleans
Osbernville
Otterville
Owaneco
Paisley Corners
Palmer
Palmyra
Panama
Patterson
Pawnee
Pearl
Petersburg
Philadelphia
Piasa
Pillsbury
Pioneer Park
Pisgah
Plainview
Pleasant Mound
Pleasant Plains
Poag
Pontoon Beach
Poplar City
Prairietown
Prentice
Prouty
Raymond
Reader
Rees
Reno
Richland
Riddle Hill
Riggston
Riverton
Roby
Rochester
Rockbridge
Roodhouse
Rosamond
Rosedale
Rosewood Heights
Roxana
Royal Lakes
Saidora
Saint Thomas
Salisbury
San Jose
Sawyerville
Schram City
Scottville
Sharpsburg
Sherman
Shipman
Sicily
Sincliair
Skelton
Smithboro
Snicarte
Sorento
South Jacksonville
South Roxana
Southern View
Southlawn
Spankey
Spaulding
Springfield
Springfield South Corridor
Stallings
Standard City
Starne
Staunton
Stonington
Straut
Stubblefield
Summerville
Sweet Water
Tallula
Taylor Springs
Taylorville
Teheran
Thayer
Thomasville
Tice
Toronto
Tovey
Township of Lynchburg
Trevi Gardens
Twin Lakes
Val-E-Vue
Val Burensburg
Velma
Vinegar Hill
Virden
Virginia
Waggoner
Walkerville
Wanda
Waverly
Wenoah
West Side Koke Mill
Westchester
Westwood Forum
West Carlinville
West Carlsburg
West Carpenter
West Carrollton
West Cedar Park
West Centerville
West Chandlerville
West Chapin
West Chaman
West Chautauqua
West Chesterfield
West Chestervale
West Cimic
West Clarksdale
White City
White Hall
Willeys
Williams Boulevard
Williamson
Williamsville
Wilmington
Wilsonville
Winchester
Witt
Woburn
Womac
Wood River
Woodburn
Woodside
Woodson
Woody
Worden
Wrights
Yatesville
Yeomans
Zanesville
What can helical (screw) piles be used for?
---
Helical piles are an anchoring solution capable of supporting the heaviest loads, and can be installed in all types of soils no matter what the environmental challenges.
Our products are designed to solidly support residential, commercial, industrial, and municipal projects.
What are the GoliathTech advantages?
Minimal impact to the landscape
Start building immediately after installation
Perfectly level structure
A screw pile installation: quick and easy!
---
While construction projects usually leave you tired, frustrated, and counting down the days, with GoliathTech's help, you'll find yourself at ease. The expertise of our certified installers, combined with the cutting-edge technology used by our team, allows us to gather and then calculate all the information that we need for the project's success; and ultimately, to leave you with a project that you've only imagined in your dreams.
Steps 2 and 3 is where the screw pile installation occurs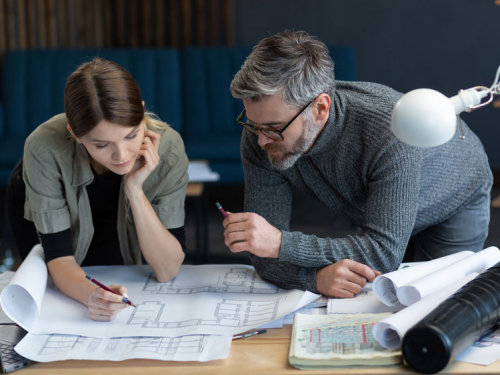 Step 1
Planning your project
First and foremost, it is essential to determine the nature of your project and the contractor who will build it, as well as the various needs associated with it. Evaluate the time, budget, and space available to you so that you can pass this information on to one of our certified installers, when the time comes.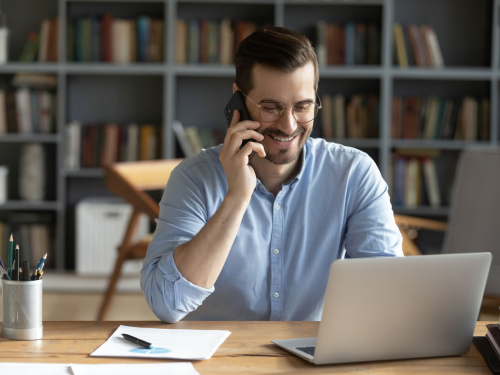 Step 2
Consultation and estimate
Our certified installers are waiting for your call! With the help of precise calculations and an analysis of the type of soil and the load to be supported, they will be able to provide you with an estimate of the cost of the product and will design a solution tailored to your needs.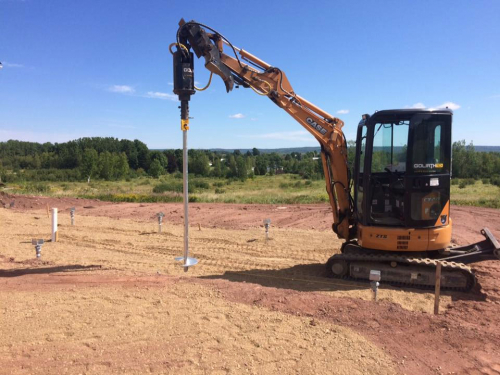 Step 3
Installation
The big day has finally arrived. The helical (screw) piles will be screwed in as deeply as possible. It's likely that during the installation, some technical details will need to be adjusted, such as the length of the piles or the size of the helices. Our experts know how to react quickly in order to ensure the absolute stability of your foundation.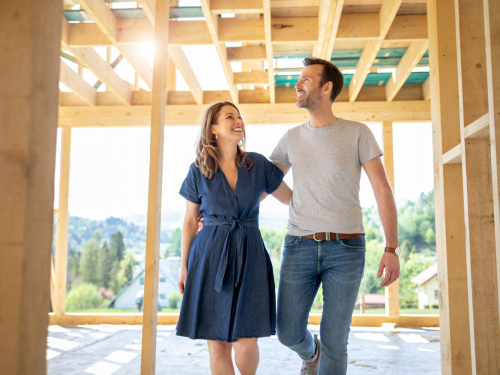 Step 4
Everything is ready for construction
There's no delay or clean-up required between the end of the screw pile installation and the start of construction. As soon as the last helical (screw) pile is anchored into the ground, your contractor can start building your project.
Types of applications: a helical pile foundation for incomparable anchorage
From deck to home foundations, our helical (screw) pile system is the best foundation solution for you.
No matter what your project is…
---
GoliathTech helical piles are ready
In order to provide you with a helical (screw) pile foundation solution that's designed to meet your needs and specific project, our network of certified installers and consultants make the most of their vast expertise in the field. Recognized for their know-how, they conform screw piles to meet the unique nature of your property and project, rather than offering you a solution... cast in concrete!