GoliathTech Your Helical (Screw) Pile Installer - York
---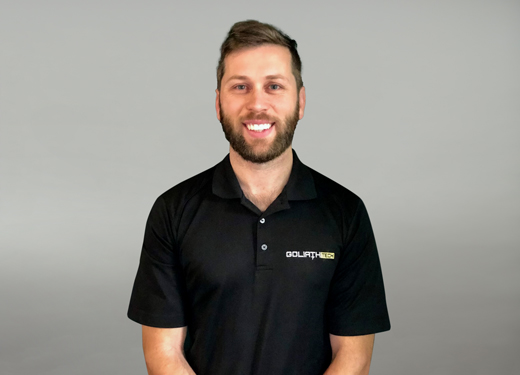 GoliathTech York - JLMiller Enterprises LLC.
22 Henrietta St Red Lion, Pennsylvania 17356
About Us
GoliathTech York is your certified installer for the cities of York, Lebanon, Ephrata, Elizabethtown, Wyomissing, Columbia, Lititz, East York, Mount Joy, South Lebanon, and more. View more cities we serve below.
Cities served by your installer
Chester
Radnor
Lebanon
King of Prussia
West Chester
West Norriton
Ephrata
East Norriton
Accomac
Adamstown
Adamsville
Akron
Alleghenyville
Ambler
Angelica
Anselma
Anthracite
Arbor
Arcola
Aston
Audubon
Avon
Avon Heights
Bainbridge
Baldwin
Beckersville
Belfry
Belmont
Bernville
Berwyn
Bethel
Betzwood
Billmeyer
Birchrunville
Birmingham
Bittersville
Black Horse
Blackrock
Blainsport
Blue Bell
Bonnair
Booths Corner
Boothwyn
Bortondale
Bowling Green
Bowmansville
Brandywine Summit
Brandywine Village
Brickerville
Bridgeport
Bridgeton
Brillhart
Broad Axe
Brogueville
Brookhaven
Brownstown
Brownsville
Brunnerville
Buffalo Springs
Burd Coleman Village
Byers
Cacoosing
Castle Rock
Cedar Heights
Cedar Hollow
Center Square
Centerville
Central Manor
Chadds Ford
Chadds Ford Junction
Charlestown
Charming Forge
Chatwood
Chelsea
Chester
Chester Heights
Chester Springs
Chesterbrook
Chestnut Hill
Cheyney
Cheyney University
Churchtown
Clay
Cleona
Coclico
Cold Point
Cold Spring
Coldspring Crossing
Colebrook
Collegeville
Colonial Hills
Columbia
Concordville
Conewago
Conewago Heights
Conshohocken
Copesville
Corinne
Cornwall
Cornwall Center
Craley
Creamery
Cross Roads
Crum Creek Manor
Crum Lynne
Dallastown
Darlington Corners
Daylesford
Delroy
Denver
Deodate
Devault
Devon
Donegal Heights
Donegal Springs
Donerville
Durlach
Dutton Mill
Eagle
Eagleview
Eagleville
East Earl
East Norriton
East Petersburg
East Prospect
East Yoe
East York
Echo Valley
Eddystone
Edgemont
Elam
Elizabethtown
Elm
Elmwood
Elstonville
Elwyn
Elwyn Terrace
Emigsville
Ephrata
Essington
Evansburg
Exton
Fairland
Fairmount
Fairview Village
Fairville
Falmouth
Farmdale
Farmersville
Farquhar Estates
Fawn Grove
Fayfield
Felton
Feltonville
Fern Hill
Fireside Terrace
Fivepointville
Florida Park
Florin
Folcroft
Folsom
Fontana
Fort Washington
Foustown
Frazer
Freysville
Fritztown
Frystown
Garden City
Gardendale
Gatchellville
General Warren Village
Glades
Glatfelters
Glen Mills
Glen Riddle
Glen Rock
Glenhall
Glenloch
Glenolden
Glenville
Goodville
Goshenville
Gouglersville
Gradyville
Grand View Heights
Grantley
Graterford
Graydon
Greble
Green Hill
Green Ridge
Green Tree
Grimms Crossroads
Groffdale
Grove
Gulph Mills
Gwynedd
Gwynedd Valley
Hahnstown
Hanover Junction
Harmonville
Hebron
Henderson Park
Hickorytown
Hidden Valley
Highmount
Hillcrest
Hillcroft
Hinkletown
Hokes
Holly Heights
Hollywood Heights
Hopeland
Host
Howellville
Hughes Park
Hungerford
Ironville
Ivy Mills
Ivy Rock
Jacobus
Jeffersonville
Johnsons Corner
Keys
Kinderhook
King of Prussia
Kings Manor
Kissell Hill
Kleinfeltersville
Klinesville
Knauers
Kreutz Creek
Kutztown
Lancaster Junction
Landisville
Larue
Laurel
Leaders Heights
Lebanon
Lebanon South
Leedom Estates
Leiperville
Lenape
Lenni
Leopard
Lester
Letort
Lexington
Lima
Limerock
Lincoln
Lincoln Park
Linwood
Lionville
Lititz
Locksley
Locust Grove
Loganville
Malvern
Manchester
Manheim
Maple Glen
Maple Grove Park
Marcus Hook
Margaretta Furnace
Marietta
Marshallton
Martindale
Martinsville
Mastersonville
Maytown
McClellan Heights
Mechanicsville
Media
Mendenhall
Midway
Millardsville
Millbach Springs
Millport
Milltown
Millway
Milmont
Milton Grove
Miners Village
Miquon
Mogeetown
Mohns Hill
Mohnton
Montello
Morstein
Morton
Mount Aetna
Mount Airy
Mount Gretna
Mount Gretna Heights
Mount Hope
Mount Joy
Mount Pleasant
Mount Wilson
Mount Wolf
Mount Zion
Mountville
Moylan
Murrell
Myerstown
Napiersville
Meiman
New Bridgeville
New Freedom
New Holland
New Park
New Schaefferstown
New Shaefferstown
Newmanstown
Newtown
Newtown Square
Newville
Norristown
North Cornwall
North Heidelberg
North York
Northbrook
Norwood
Ogden
Oppermans Corner
Ore Valley
Paoli
Parkside
Pendle Hill
Penllyn
Pennwyn
Penryn
Pierceville
Pikeland
Pine Ridge
Planebrook
Pleasant Hill
Pleasant View
Pleasureville
Plowville
Plumsock
Plymouth Meeting
Pocopson
Poplar Grove
Potosi
Prescott
Prospect Park
Prospectville
Queens Gate
Quentin
Radnor
Rahns
Railroad
Reamstown
Red Lion
Red Run
Rehersburg
Reinholds
Reistville
Relay
Rexmont
Rheems
Richland
Riddlewood
Ridley Park
Rinely
Robesonia
Rocherty
Rockdale
Rocky Hill
Rose Valley
Rothsville
Roundtown
Rowenna
Rutledge
Rye
Saginaw
Saint David's
Salunga
Schaeffestown
Schoeneck
Schubert
Sconnelltown
Seitzland
Seitzville
Seven Valleys
Shainline
Shartlesville
Sheffer
Sheridan
Shrewsbury
Silver Spring
Sinking Spring
Skippack
Skyline Heights
Snyder Corner
South Lebanon
South Media
South Wood Hills
Southwood Hills
Speedwell
Sporting Hill
Spring House
Spring Mill
Springmont
Springvale
Springville
Spry
Stacktown
Starview
Starview Heights
State Hill
Stevens
Stewartstown
Sticks
Stiltz
Stonybrook
Stonybrook Heights
Stouchsburg
Strafford
Strausstown
Strickhousers
Sticklerstown
Strinestown
Sugartown
Swarthmore
Swedeland
Swedesburg
Tanguy
Terre Hill
The Pines
Thornton
Three Tuns
Timber Hills
Tolna
Trainer
Trappe
Trooper
Twin Oaks
Tyler Run
Union Grove
Union Square
Upland
Upper Providence
Uwchland
Valley Forge Homes
Valley View
Villa Green
Village Green
Village Green-Green Ridge
Vinemont
Violet Hill
Vogansville
Wallingford
Ward
Washington Boro
Waterford
Waterloo Mills
Wawa
Wawaset
Wayne
Weaverland
Weidmanville
Wernersville
West Chester
West Conshohocken
West Goshen
West Lawn
West Norriton
West Wayne
West Wyomissing
West York
Westinghouse Village
Westtown
Wetherills Corner
White Oak
Whitehorse
Whiteland Crest
Whitfield
Whitford
Wiley
Williams
Willis Park
Willowburn
Wilshire
Windsor
Wintertown
Wintersville
Womelsdorf
Woodcrest
Woodland View
Woodlyn
Wrightsville
Wyndham Hills
Wyomissing
Yerkes
Yoe
York
Yorkana
Yorklyn
Yorkshire
Zebleys Corner
Zions View
What can helical (screw) piles be used for?
---
Helical piles are an anchoring solution capable of supporting the heaviest loads, and can be installed in all types of soils no matter what the environmental challenges.
Our products are designed to solidly support residential, commercial, industrial, and municipal projects.
What are the GoliathTech advantages?
Minimal impact to the landscape
Start building immediately after installation
Perfectly level structure
A screw pile installation: quick and easy!
---
While construction projects usually leave you tired, frustrated, and counting down the days, with GoliathTech's help, you'll find yourself at ease. The expertise of our certified installers, combined with the cutting-edge technology used by our team, allows us to gather and then calculate all the information that we need for the project's success; and ultimately, to leave you with a project that you've only imagined in your dreams.
Steps 2 and 3 is where the screw pile installation occurs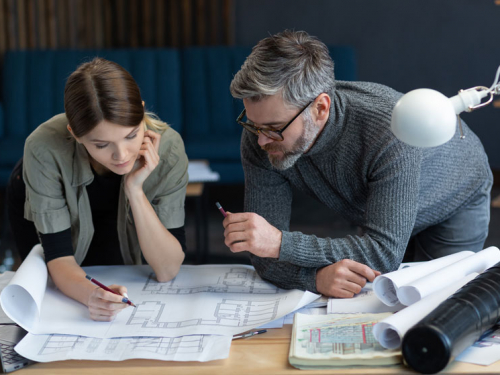 Step 1
Planning your project
First and foremost, it is essential to determine the nature of your project and the contractor who will build it, as well as the various needs associated with it. Evaluate the time, budget, and space available to you so that you can pass this information on to one of our certified installers, when the time comes.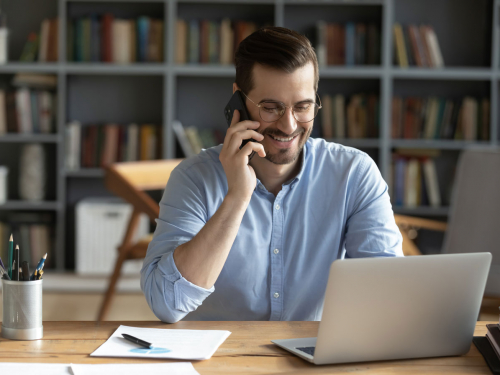 Step 2
Consultation and estimate
Our certified installers are waiting for your call! With the help of precise calculations and an analysis of the type of soil and the load to be supported, they will be able to provide you with an estimate of the cost of the product and will design a solution tailored to your needs.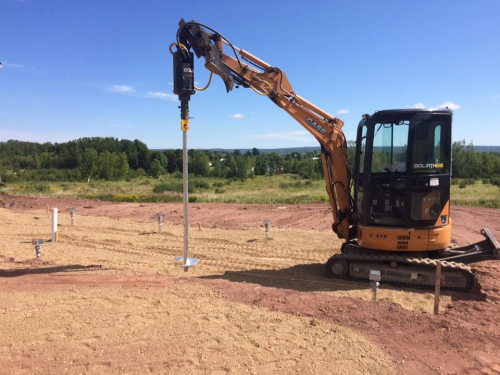 Step 3
Installation
The big day has finally arrived. The helical (screw) piles will be screwed in as deeply as possible. It's likely that during the installation, some technical details will need to be adjusted, such as the length of the piles or the size of the helices. Our experts know how to react quickly in order to ensure the absolute stability of your foundation.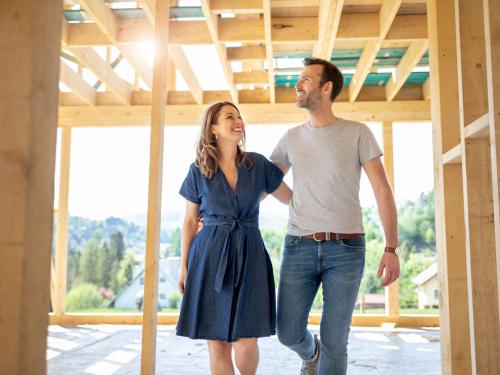 Step 4
Everything is ready for construction
There's no delay or clean-up required between the end of the screw pile installation and the start of construction. As soon as the last helical (screw) pile is anchored into the ground, your contractor can start building your project.
Types of applications: a helical pile foundation for incomparable anchorage
From deck to home foundations, our helical (screw) pile system is the best foundation solution for you.
No matter what your project is…
---
GoliathTech helical piles are ready
In order to provide you with a helical (screw) pile foundation solution that's designed to meet your needs and specific project, our network of certified installers and consultants make the most of their vast expertise in the field. Recognized for their know-how, they conform screw piles to meet the unique nature of your property and project, rather than offering you a solution... cast in concrete!