GoliathTech: A leader in the industry
---
Galvanized screw piles: Cutting-edge technology for all your projects
Our legendary helical (screw) piles are a great option for all your construction projects requiring a ground-anchored foundation system. Discover the GoliathTech advantage!
GoliathTech screw piles: Stronger than concrete
---
The choice is simple. So is installation.
Quick installation. Precision accuracy. Long-lasting quality. But it doesn't stop there. Similar to large screws, our helical (screw) piles are installed deep into the ground, below the frost level, to provide solid structural support for all your projects. Not only does this option offer resistance to movement and time, it's also a much better option than concrete post foundations and poured concrete foundations.
Here's why:
Rapid installation
Minimal impact to the landscape
No excavation
Start building immediately after installation
Perfectly level structure
Ideal for restricted spaces
Year-round installation
Removable and reusable
Low environmental footprint
Suitable in all soil conditions
No concrete required
30-year product warranty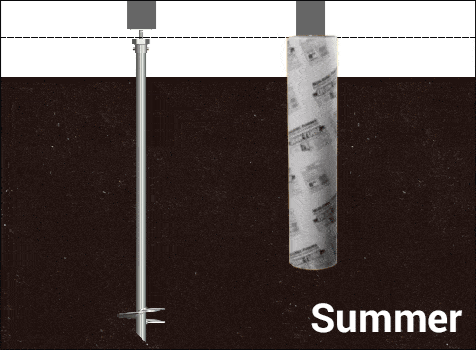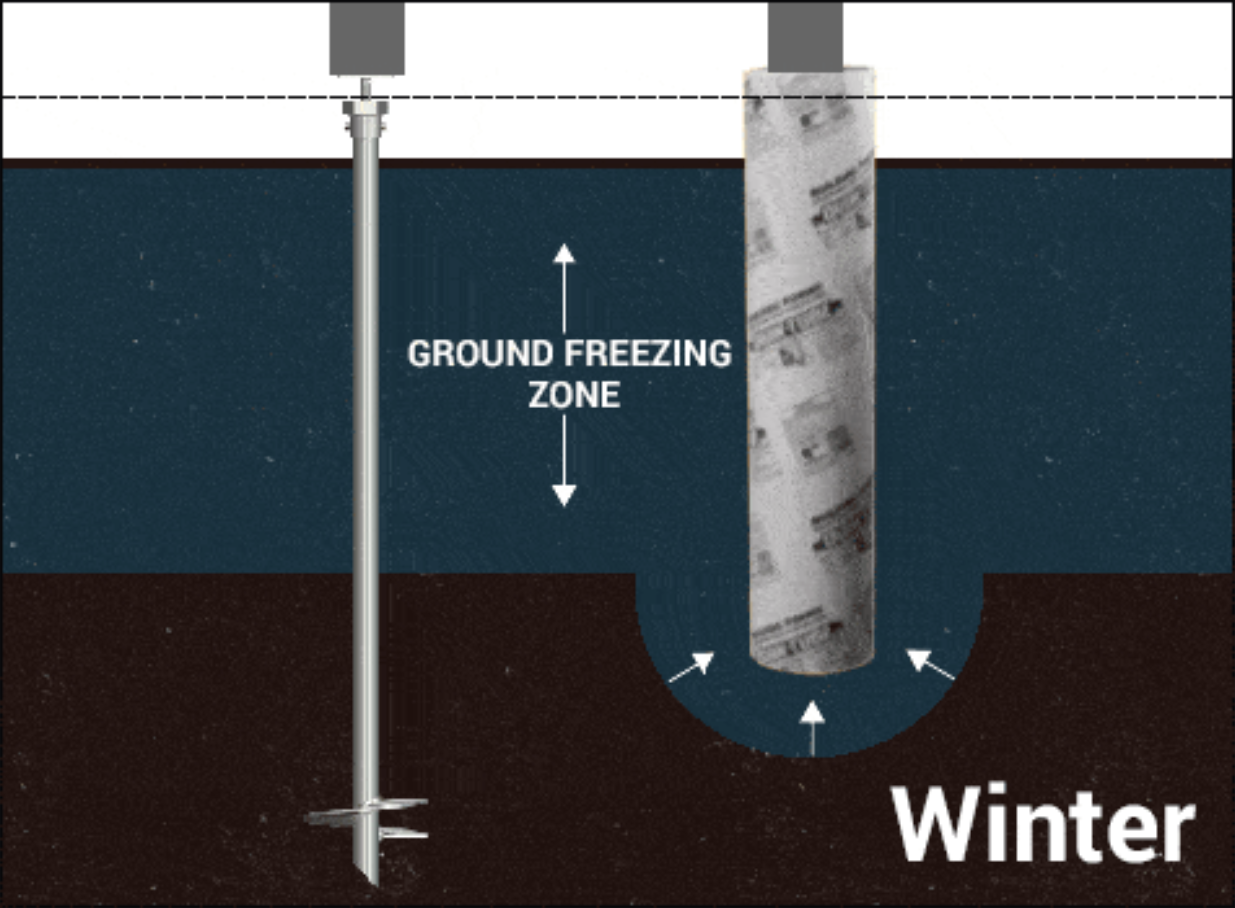 Types of applications: A screw pile foundation system that provides unbeatable support
---
Our helical (screw) piles offer the best anchoring system and support for all project types, from patios to home construction projects and more.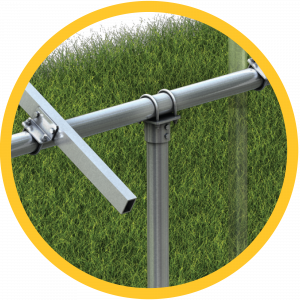 When it comes to installing solar panels with screw piles, the experts at GoliathTech are here to help you make an informed choice.
Solar Panels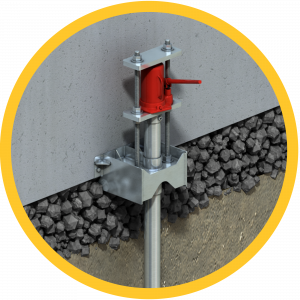 For residential or commercial foundation piling, GoliathTech's galvanized steel screw piles give you a solid foundation you can build on.
Underpinning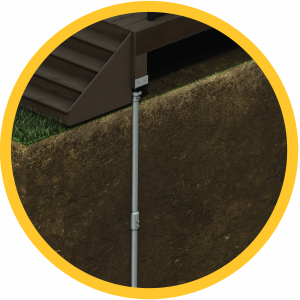 For the addition or renovation of a patio or deck on screw piles, GoliathTech offers simple and innovative solutions.
Decks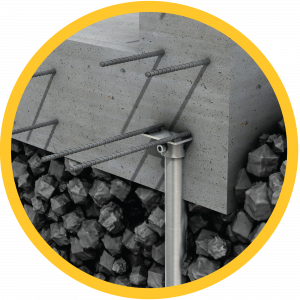 For your home foundation support, choose the technological superiority and ease of installation provided by GoliathTech helical (screw) piles.
Home Foundations
Benefits of GoliathTech screw piles
---
With so many different helical (screw) pile foundation options on the market, it can be difficult to find your way around. However, GoliathTech outperforms the competition by providing a product that surpasses the highest industry standards and features a galvanized steel finish, double protection, exclusive movement brakes, reinforced joints, and adjustable end caps. In short, nothing can move us. It's guaranteed.
Galvanized steel + ZN
Galvanized steel worthy of the biggest projects.
Our galvanizing process protects the steel from corrosion to ensure maximum product longevity. No matter where they are installed, GoliathTech screw piles will withstand the elements for years to come.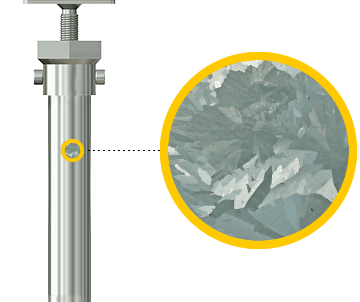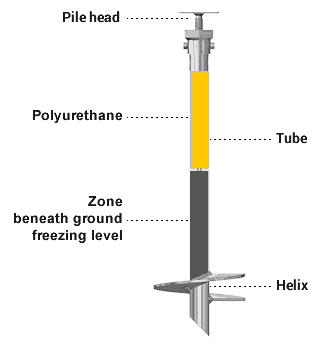 GoliathTech's Double Protection
Superior resistance to ground movement due to freezing and thawing… both inside and outside the pile.
GoliathTech screw piles are filled with polyurethane to prevent ice formation on the inside (except for piles with a diameter greater than 6 ⅝").

60Ksi steel piles also prevent rust formation, as they are fully galvanized to protect the tubes, heads and helices from physical deterioration (except for piles with diameters greater than 4 ½ in. which are designed from 55 Ksi steel).
Exclusive anchoring solution
A detail that makes all the difference.
GoliathTech helical (screw) pile heads are equipped with a nut-type fastening system. This innovative anchoring solution allows the structure to be attached directly to the piles, thus preventing lateral and vertical movement of the structure. In addition, it also offers a high resistance to tearing.
Zero movement*
Superior resistance to tearing

*Learn more about our industrial terms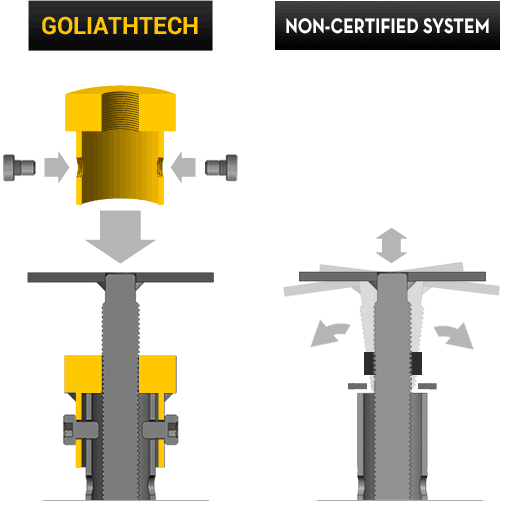 Our exclusive anchoring solution allows fasteners to penetrate the inside of the pile head and anchor directly to the tube. This ensures optimal stability.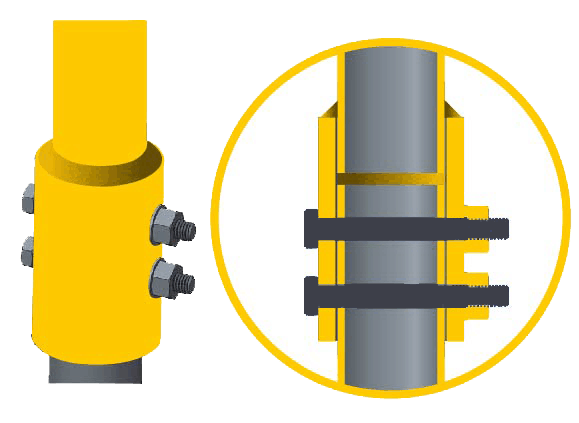 Joining piles is often indispensable to ensure a structure's strength and stability. The pile must be driven deep down to earth dense enough to support the structure of your project.
GoliathConnect Technology
From helical (screw) piles to reinforced joints
The GoliathConnect joint system allows a screw pile to be extended by connecting two tubes with stop bolts. Unlike what the competition offers, this innovation increases strength and eliminates any risk of movement* when a longer helical (screw) pile is needed.
*Learn more about our industrial terms
A screw pile for every project
---
GoliathTech offers a wide range of tubes and helices to suit the load to be supported and the soil type. This means that every GoliathTech helical (screw) pile is perfectly suited to your project.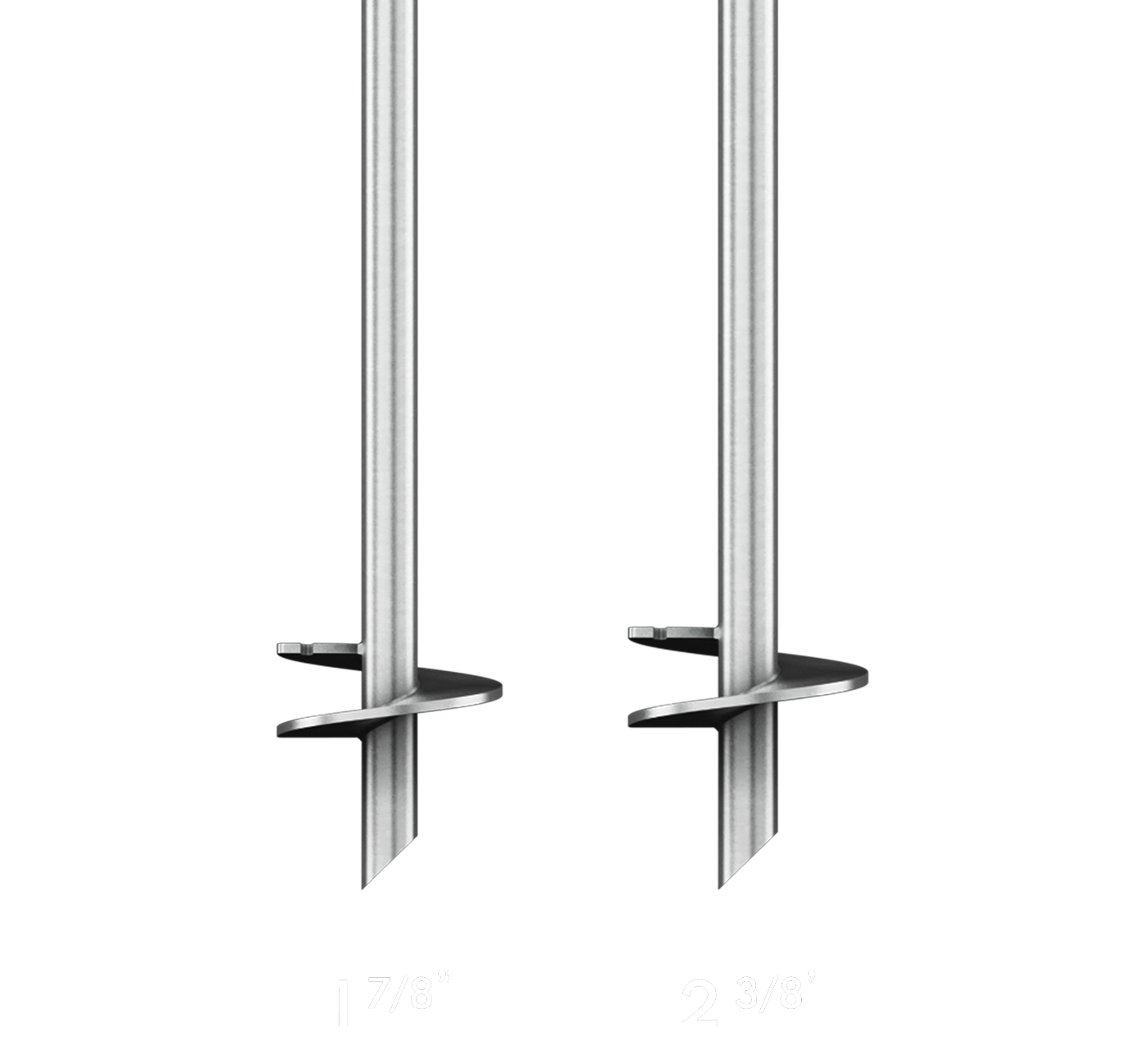 Example
Balconies and galleries
Patios
Sheds
Fences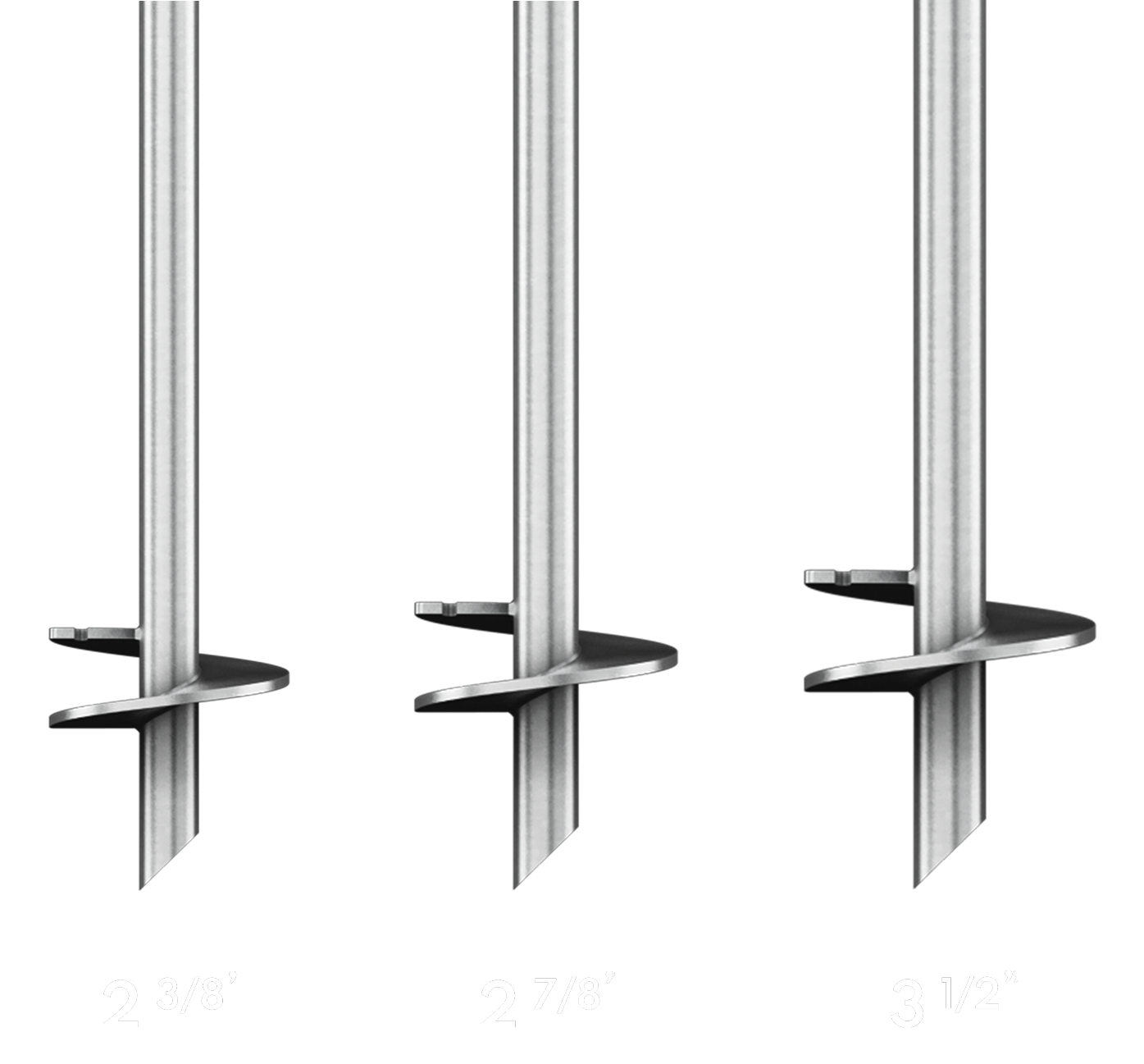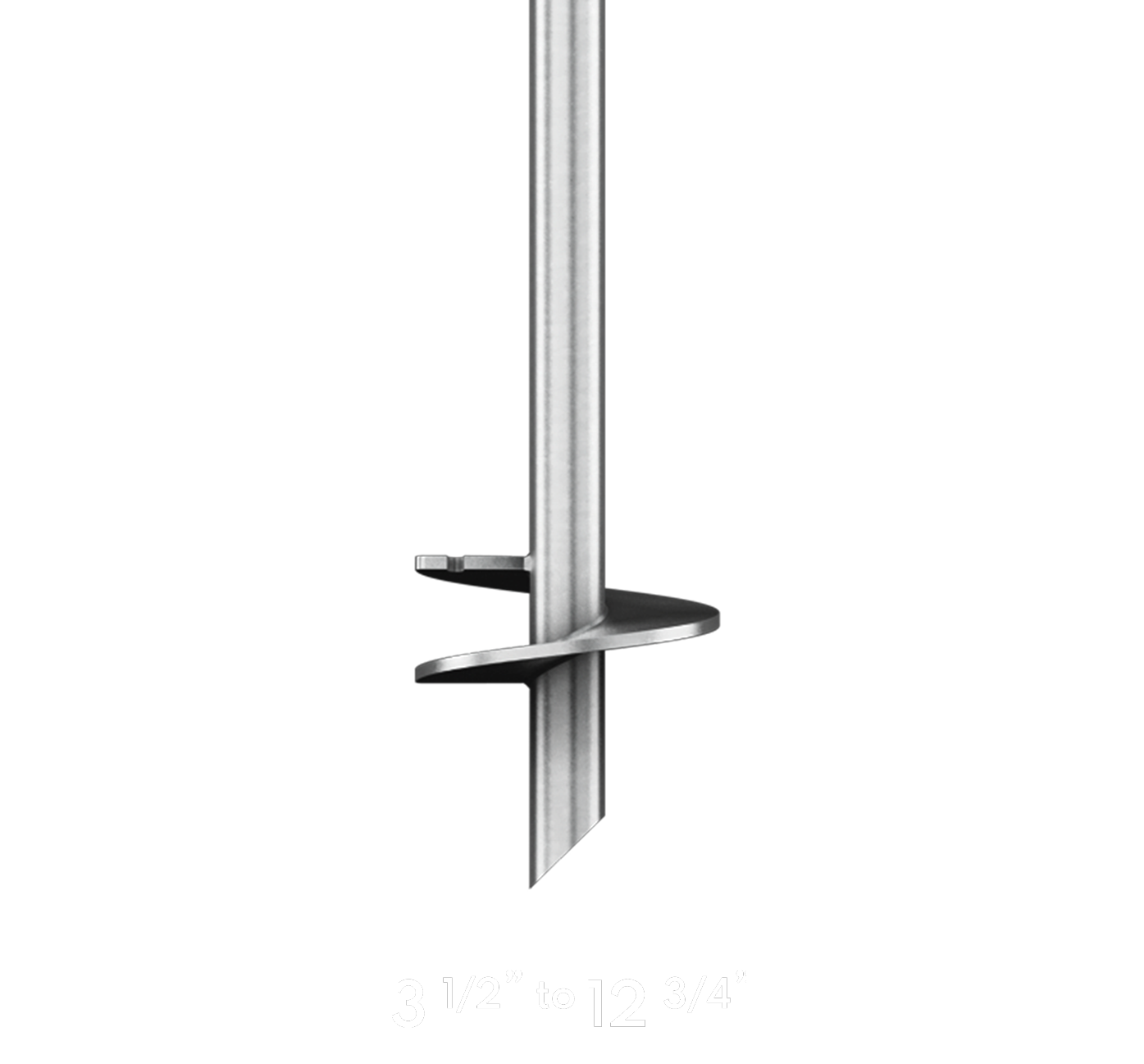 Example
Cabins
Permanent or temporary agricultural infrastructure
Extensions
Building foundations
Bridges
Helical pile diameter may vary depending on many factors. Refer to the Engineer's page for more information.
Why choose GoliathTech Helical (Screw) Piles?
---
GoliathTech: Expertise that pushes boundaries
---
GoliathTech has earned an international reputation as a world leader in helical (screw) piles. Our screw pile foundation systems are simple and technically innovative, earning them a prominent place in the industry.
Economical, robust, and durable, GoliathTech's products have a bright future. After many years of experience and countless achievements, the rigor that drives us remains unwavering. It stands the test of time. Just like our screw piles.
0
st
Best product in the helical pile industry
0
Over 150 certified installers globally
0
h
A helical pile installation takes very little time to execute*
*The time required to complete a helical pile installation may vary according to project size and complexity
From design to installation, GoliathTech combines engineering and innovation to ensure a solid foundation that surpasses the highest industry standards. Constantly on the lookout for the latest technological advances, our company holds all the certifications related to the construction sector, which sets it apart from the competition.
We understand the importance of requiring fully compliant helical (screw) piles, and we strive to offer the best products and services available to support your projects with integrity. You can rely on our expertise.
Our fully galvanized screw piles surpass all building material standards.
The GoliathTech Guarantee
---
A guarantee of quality over time
Because they are virtually indestructible, our helical (screw) piles will bear the weight of a wide range of architectural elements, no matter how big or small the project. With state-of-the-art technology, superior installation, and precise engineering calculations, we guarantee a flawless product for years to come.
Once anchored to the ground, our helical (screw) piles will not move* a muscle, giving you excellent structural stability and peace of mind.
*Learn more about our industrial terms
No matter what your project is…
---
GoliathTech helical piles are ready
In order to provide you with a helical (screw) pile foundation solution that's designed to meet your needs and specific project, our network of certified installers and consultants make the most of their vast expertise in the field. Recognized for their know-how, they conform screw piles to meet the unique nature of your property and project, rather than offering you a solution… cast in concrete!