GoliathTech Your Helical (Screw) Pile Installer - Lancaster
---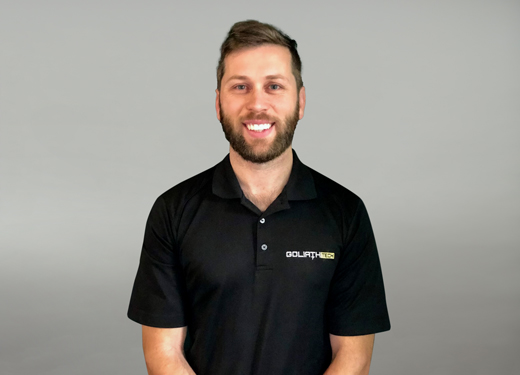 GoliathTech Lancaster - JLMiller Enterprises LLC.
22 Henrietta St Red Lion, Pennsylvania 17356
About Us
GoliathTech Lancaster is your certified installer for the cities of Lancaster, Coatesville, Willow Street, Downingtown, Millersville, Leola, Kennett Square, Oxford, Thorndale, and more. View more cities we serve below.
Cities served by your installer
Coatesville
Willow Street
Downingtown
Millersville
Leola
Kennett Square
Oxford
Thorndale
Parkesburg
Airville
Atglen
Auburn
Avondale
Bamford
Bareville
Barneston
Barnsley
Bartville
Baumgardner
Bausman
Beartown
Bellemont
Bethesda
Beverly Estates
Bird-in-Hand
Birdell
Black Horse
Bloomingdale
Blossom Hill
Boeckel Landing
Bondsville
Bowmansville
Bradford Hills
Brandamore
Brandywine Manor
Bridgeport
Brogue
Brownstown
Bryansville
Buck
Buck Run
Buena Vista
Buyerstown
Cains
Caln
Camargo
Cambridge
Cedar Knoll
Centerville
Chesterville
Chestnut Level
Chestnut Ridge
Chestnut View
Christiana
Chrome
Churchtown
Clearview
Clonmell
Cochranville
Colemanville
Collins
Collinsville
Colonial Manor
Compass
Conestoga
Conestoga Woods
Coopersville
Corner Ketch
Cornog
Country Club Heights
Creswell
Cupola
Daleville
Delta
Doe Run
Doe Run Village Historic District
Drumore
Eagleview
East Nantmeal
Eastland
Eastland Hills
Eden
Eden Heights
Edenton
Eldora
Elkview
Embreeville
Engleside
Ercildoun
Fairfield
Fairmount
Fertility
Fetterville
Fisherville
Five Points
Forestville
Franklin
Fruitville
Furniss
Gallagherville
Gap
Garden Hills
Georgetown
Glen Moore
Glen Roy
Glenmoore
Glenrose
Goosetown
Gordonville
Goshen
Grandview Heights
Guthriesville
Hamilton Park
Hamorton
Harmony Hill
Harristown
Hawksville
Hayesville
Hayti
Hensel
Hephzibah
Hessdale
Hickory Hill
Highrock
Highville
Hilltop Acres
Holtwood
Homeland
Homeville
Honey Brook
Hopewell
Humphreyville
Icedale
Intercourse
Iva
Jenkins Corner
Jennersville
Joanna
Joanna Heights
Kaolin
Kelton
Kemblesville
Kennett Square Historic District
Kenwick Village
Kinzers
Kirks Mills
Kirkwood
Kyleville
Lampeter
Landenberg
Landis Valley
Laurel Crossing
Leacock
Leaman Place
Lenover
Lewisville
Lime Valley
Limeville
Lincoln University
Linville Circle
Little Britain
Little Washington
Longwood
Lucky
Ludwigs Corner
Lyndell
Lyndon
Manor Ridge
Maple Grove
Marlboro
Martic Forge
Marticville
Martins Corner
Mascot
Mcsparran
Medenhall
Modena
Monterey
Morgantown
Mortonville
Mount Nebo
Mount Vernon
Mountain Top
Mt Nebo
Muddy Creek Forks
Nantmeal Village
Narvon
Neffsville
New Danville
New Garden
New London
New London Township
New Morgan
New Providence
New Texas
Nickel Mines
Ninepoints
Nottingham
Oak Shade
Oakryn
Oregon
Oyster Point
Paradise
Parkersville
Peacedale
Peach Bottom
Penn Hill
Penn Rose Park
Pequea
Phillipsville
Pleasant Grove
Pomeroy
Pomeroy Heights
Quaker Hills
Quarryville
Rawlinsville
Red Lion
Reeceville
Refton
Rockhill
Rockville
Rohrerstown
Romansville
Ronks
Rosedale
Roseville
Rossmere
Russellville
Sadsburyville
Safe Harbour
Salisbury Heights
Shenks ferry
Silver Spring
Simmonstown
Slab
Slackwater
Slate Hill
Smithville
Smoketown
Smyrna
Soudesburg
South Coatesville
South Hermitage
Springdell
Springville
Spruces
State Hill
Steelville
Stone Hill
Strasburg
Strickersville
Summerhill
Sunnyburn
Sunnyside
Suplee
Susquehanna Trails
Sylmar
Talmage
Tayloria
Toughkenamon
Towerville
Truce
Unicorn
Union
Unionville
Vintage
Wagontown
Wakefield
Weavertown
West Bangor
West Grove
West Lancaster
West Ridge
West Willow
Westwood
Wheatland
White Horse
White Rock
Wickerton
Willowdale
Windom
Witmer
Woodbine
Woodlawn
Woodville
Wrightsdale
York Furnace
Youngsburg
Zooks Corner
What can helical (screw) piles be used for?
---
Helical piles are an anchoring solution capable of supporting the heaviest loads, and can be installed in all types of soils no matter what the environmental challenges.
Our products are designed to solidly support residential, commercial, industrial, and municipal projects.
What are the GoliathTech advantages?
Minimal impact to the landscape
Start building immediately after installation
Perfectly level structure
A screw pile installation: quick and easy!
---
While construction projects usually leave you tired, frustrated, and counting down the days, with GoliathTech's help, you'll find yourself at ease. The expertise of our certified installers, combined with the cutting-edge technology used by our team, allows us to gather and then calculate all the information that we need for the project's success; and ultimately, to leave you with a project that you've only imagined in your dreams.
Steps 2 and 3 is where the screw pile installation occurs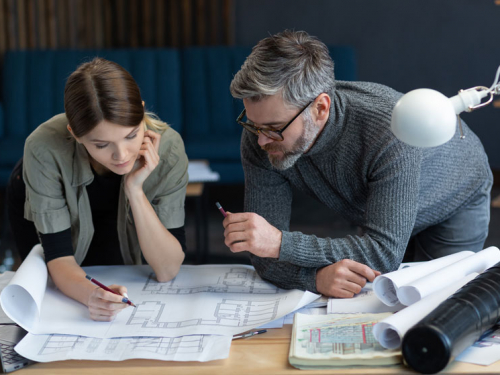 Step 1
Planning your project
First and foremost, it is essential to determine the nature of your project and the contractor who will build it, as well as the various needs associated with it. Evaluate the time, budget, and space available to you so that you can pass this information on to one of our certified installers, when the time comes.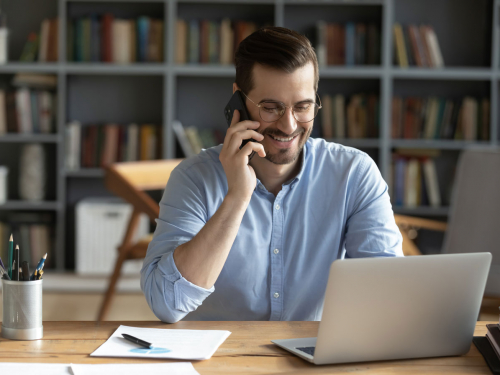 Step 2
Consultation and estimate
Our certified installers are waiting for your call! With the help of precise calculations and an analysis of the type of soil and the load to be supported, they will be able to provide you with an estimate of the cost of the product and will design a solution tailored to your needs.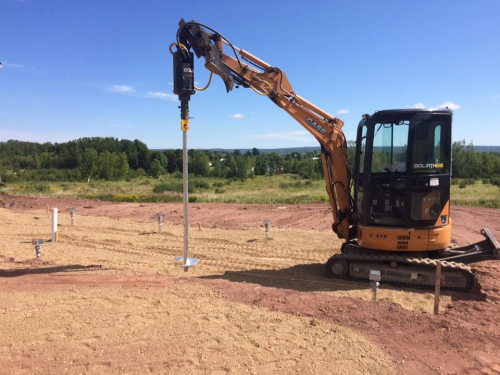 Step 3
Installation
The big day has finally arrived. The helical (screw) piles will be screwed in as deeply as possible. It's likely that during the installation, some technical details will need to be adjusted, such as the length of the piles or the size of the helices. Our experts know how to react quickly in order to ensure the absolute stability of your foundation.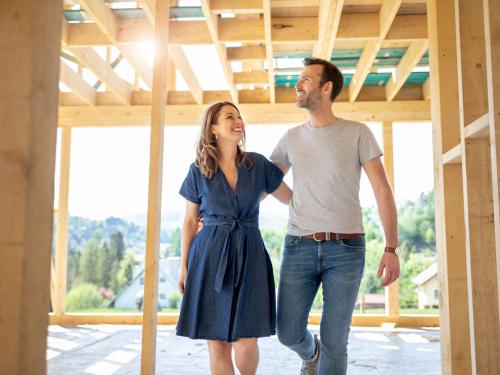 Step 4
Everything is ready for construction
There's no delay or clean-up required between the end of the screw pile installation and the start of construction. As soon as the last helical (screw) pile is anchored into the ground, your contractor can start building your project.
Types of applications: a helical pile foundation for incomparable anchorage
From deck to home foundations, our helical (screw) pile system is the best foundation solution for you.
No matter what your project is…
---
GoliathTech helical piles are ready
In order to provide you with a helical (screw) pile foundation solution that's designed to meet your needs and specific project, our network of certified installers and consultants make the most of their vast expertise in the field. Recognized for their know-how, they conform screw piles to meet the unique nature of your property and project, rather than offering you a solution... cast in concrete!