GoliathTech Connecticut Your Helical (Screw) Pile Installer - Connecticut
---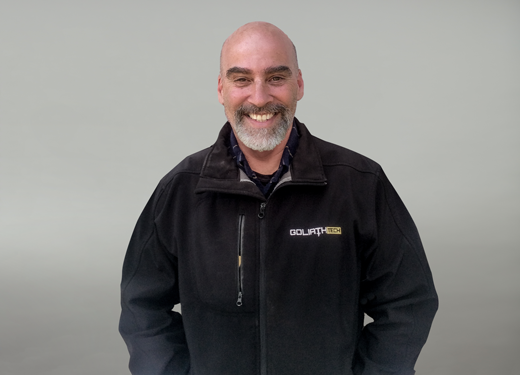 GoliathTech Connecticut - Hudson Valley Wind & Solar LLC
Connecticut
About Us
GoliathTech Connecticut is your certified installer for the cities of Bridgeport, Stamford, New Haven, Hartford, Waterbury, Norwalk, Danbury, New Britain, West Hartford, Meridan, and more. View more cities we serve below.
Cities served by your installer
Stamford
New Haven
Hartford
Waterbury
Norwalk
Danbury
New Britain
West Hartford
Meriden
Abington
Addison
Allentown
Allingtown
Allyns Point
Almyville
Amesville
Amston
Andover
Ansonia
Ashford
Aspetuck
Asylum Hill
Attawan Beach
Attawaugan
Atwoodville
Avon
Connecticut
Baileyville
Bakersville
Ballouville
Baltic
Bantam
Barkhamsted
Barry Square
Bayview
Beacon Falls
Beaver Hills
Beaverbrook
Beckettville
Bedlam Corner
Behind the Rocks
Belle Haven
Belltown
Berkshire Estates
Berlin
Beseck Lake
Bethany
Bethel
Bethlehem
Bethlehem Village
Birchwood
Bishops Corner
Black Hall
Black Point
Black Point Beach Cluster
Black Rock
Bloomfield
Blue Hills
Bolton
Boston
Boston Ave
Botsford
Bowers
Bozrah
Branchville
Branford
Branford Center
Bretton Heights
Bridgewater
Brightview
Bristol
Broad Brook
Brookfield
Brookfield Center
Brooklawn
Brooklyn
Brush Island
Buckingham
Buckley
Bulls Bridge
Bunker Hill
Burlington
Burnside
Burrville
Butlers Island
Byram
Connecticut
Canaan
Candlewood Knolls
Candlewood Lake Club
Candlewood Orchards
Candlewood Point
Candlewood Shores
Candlewood Springs
Cannondale
Canterbury
Canton
Canton Center
Canton Valley
Cedar Beach
Cedar Heights
Cedar Hill
Cedar Land
Cedarhurst
Center
Center Groton
Centerbrook
Centerville
Central Manchester
Central Village
Chaffeeville
Chaplin
Cheshire
Cheshire Village
Chester
Chester Center
Chippanee
Chippens Hill
City Point
Clarks Corner
Clarks Falls
Clay Arsenal
Clayton
Clinton
Clintonville
Cobalt
Colchester
Colebrook
Collinsville
Columbia
Conantville
Conning Towers-Nautilus Park
Cornwall Bridge
Cos Cob
Cottage Grove
Cove
Coventry
Coventry Lake
Cranbury
Crescent Beach
Cromwell
Crystal Lake
Connecticut
Danbury
Danielson
Darien
Dayville
Deep River
Deep River Center
Derby
Devon
Dixwell
Doaneville
Dodgingtown
Double Beach
Downtown
Drakeville
Durham
Durham Center
Dwight
Eagleville
Connecticut
East Berlin
East Bristol
East Brooklyn
East Canaan
East Cornwall
East Derby
East End
East Farmington Heights
East Farms
East Glastonbury
East Granby
East Haddam
East Hampton
East Hartford
East Hartland
East Haven
East Killingly
East Litchfield
East Lyme
East Morris
East Mountain
East New London
East Norwalk
East Plymouth
East Putnam
East River
East Rock
East Shore
East Side
East Side of Stamford
East Thompson
East Village
East Wallingford
East Willington
East Windsor Hill
East Woodstock
Eastford
Easton
Ebbs Corner
Edgewood
Ekonk
Ellington
Ellsworth
Elmville
Enfield
Enterprise Zone
Essex
Essex Village
Connecticut
Fabyan
Fair Haven
Fair Haven East
Fair Haven Heights
Fair Lawn
Fairfield
Fairmount
Falls Village
Farmington
Fenwick
Firetown
Fitchville
Five Points
Flanders
Floydville
Forbes Village
Forest Heights
Forestville
Foxon
Franklin
Frog Hollow
Connecticut
Gales Ferry
Gaylordsville
Georgetown
Germantown
Giants Neck
Gildersleeve
Gilead
Gilman
Glasgo
Glastonbury
Glastonbury Center
Glenbrook
Glenville
Golden Spur
Goodrich Heights
Goshen
Granby
Greene
Greenfield Hill
Greens Farms
Greenville
Greenwich
Griswold
Griswoldville
Grosvenor Dale
Groton
Groton Long Point
Grove Beach
Grover Hill
Guilford
Guilford Center
Gurleyville
Connecticut
Haddam
Hadlyme
Hale Court
Hallville
Hamburg
Hamden
Hampton
Hanover
Happyland
Harbor Point
Harbor View
Harborview
Harrisons
Harrisville
Hartford
Hartland
Harwinton
Hawks Nest Beach
Hawleyville
Hawthorne Terrace
Hayden
Hayestown
Hazardville
Hebron
Heritage Village
Hidden Lake
Higganum
High Ridge
Highland Park
Highwood
Hollywyle Park
Honeypot Glen
Hopeville
Hotchkiss Heights
Hotchkissville
Huntington
Hydeville
Connecticut
Indian Neck
Ivoryton
Jericho
Jewett City
Keeney
Kelseytown
Keney
Kensington
Kent
Kent Furnace
Kenyonville
Killingly Center
Killingworth
Kings Corner
Kinneytown
Knollcrest
Knollwood
Lake Pocotopaug
Lake View Terrace
Lakeside
Lakeville
Lakewood
Lattins Landing
Laurel Beach
Laysville
Lebanon
Ledyard
Ledyard Center
Leesville
Leetes Island
Lime Rock
Lisbon
Litchfield
Little City
Long Hill
Long Ridge
Long Wharf
Lords Point
Lordship
Lydallville
Lyme
Lyons Plain
Connecticut
Macedomia
Madison
Madison Center
Manchester
Manchester Green
Mansfield
Mansfield Center
Mansfield City
Mansfield Depot
Mansfield Four Corners
Mansfield Hollow
Marble Dale
Margerie Manor
Marion
Marlborough
Maromas
Martins
Mashantucket
Mashapaug
Mason's Island
Massapeag
Mayberry Village
Mechanicsville
Melrose
Melville Village
Meriden
Merrow
Mianus
Middle Beach
Middle Haddam
Middlebury
Middlefield
Middletown
Midway
Milford
Milford City
Milford Lawns
Mill Brook
Mill Hill
Mill Plain
Millbrook
Milldale
Millstone
Millville
Milton
Mixville
Mohegan
Momauguin
Monroe
Montowese
Moodus
Moosup
Morgan Point
Morningside
Morris
Morris Cove
Mount Carmel
Mount Hope
Murray
Myrtle Beach
Mystic
Connecticut
Naugatuck
Naugatuck Gardens
Nells Island
Nepaug
New Britain
New Canaan
New Fairfield
New Hartford
New Hartford Center
New Haven
New London
New Milford
New Preston
Newberry Corner
Newent
Newfield
Newfield Heights
Newhallville
Newington
Newington Junction
Newtown
Niantic
Nichols
Noank
Nook Farm
Norfolk
Noroton
Noroton Heights
North Ashford
North Bloomfield
North Branford
North Bridgeport
North Canaan
North Canton
North Cornwall
North End
North Franklin
North Granby
North Grosvenor Dale
North Haven
North Kent
North Meadows
North Mianus
North Stamford
North Stonington
North Thompsonville
North Westchester
North Wilton
North Windham
Northfield
Northford
Northville
Northwest Harwinton
Norwalk
Norwich
Norwichtown
Nut Plains
Connecticut
Oakdale
Oakdale Manor
Oakland Gardens
Oakville
Occum
Old Greenwich
Old Lyme
Old Lyme Shores
Old Mystic
Old Saybrook
Old Saybrook Center
Oneco
Orange
Orcutts
Oronoke
Oronoque
Oswegatchie
Overlook
Owenoke
Ox Hill
Oxoboxo River
Pachaug
Palestine
Palmertown
Parkville
Pawcatuck
Pemberwick
Pequabuck
Perkins Corner
Phoenixville
Pine Bridge
Pine Grove
Pine Meadow
Pine Orchard
Pine Rock Park
Plainfield Village
Plainville
Plantsville
Platts Mills
Pleasant Acres
Pleasant Valley
Pleasure Beach
Plymouth
Point O'Woods
Pomfret
Pomfret Center
Pomfret Landing
Pootatuck Park
Poquetanuck
Poquonock
Poquonock Bridge
Portland
Preston
Preston City
Prospect
Prospect Hill Historic District
Puddle Town
Putnam
Putnam Heights
Putney
Quaddick
Quaker Farms
Quaker Hill
Quarryville
Quebec
Quinebaug
Quinnipiac
Rawson
Redding
Redding Ridge
Resevoir
Reynolds Bridge
Ridgebury
Ridgefield
Ridgewood
Rising Corner
River Glen
Rivercliff
Riverside
Riversville
Riverton
Robertsville
Rock Ridge
Rockfall
Rockville
Rocky Hill
Rogers
Rowayton
Roxbury
Roxbury Falls
Sachem Head
Salem
Salisbury
Salmon Brook
Sandy Beach
Sandy Hook
Sanfordtown
Saugatuck
Saugatuck Shores
Saunders Point
Saybrook Manor
Saybrook Point
Scantic
Scitico
Scotland
Seaview Beach
Seymour
Shady Rest
Shailerville
Sharon
Sharon Valley
Sheldon Charter Oak
Shelton
Sherman
Sherman Corner
Sherwood Manor
Shippan
Shippan Point
Shorehaven
Short Beach
Silver Beach
Silvermine
Simsbury
Simsbury Center
Somers
Somersville
Sound View
South Britain
South Britain Historic District
South Canaan
South Coventry
South Ellsworth
South End
South Farms
South Glastonbury
South Green
South Kent
South Killingly
South Lyme
South Meadows
South Meriden
South Norfolk
South Norwalk
South West
South Wethersfield
South Willington
South Windham
South Windsor
South Woodstock
Southbury
Southington
Southport
Southwood Acres
Spencer
Sprague
Spring Hill
Springdale
St. Vincent
Stafford
Stafford District
Stafford Springs
Staffordville
Stamford
Stanwich
Stepney
Sterling
Stetson Corner
Stevenson
Stonington
Stony Creek
Storrs
Straitsville
Stratfield
Stratford
Suffield
Suffield Depot
Sunnyside
Taconic
Taftville
Talcottville
Talmadge Hill
Tariffville
Terramuggus
Terryville
The Centre
The Hill
The Hollow
Thomaston
Thompson
Thompsonville
Titicus
Tokeneke
Tolland
Torringford
Torrington
Town Hill
Town Plot Hill
Trails Corner
Trumbull
Turn Of River
Twin Lakes
Tyler Lake Heights
Uncasville
Union
Union City
Unionville
Upper Albany
Upper Stepney
Vernon
Vernon Center
Verplanck
Versailles
Village Hill
Voluntown
Waddell
Wallingford
Wallingford Center
Walnut Beach
Wapping
Warren
Warrenville
Washington
Waterbury
Waterford
Waterside
Watertown
Waterville
Wauregan
Weatogue
Welles Village
Wequetequock
West Ashford
West Avon
West Boulevard Historic District
West Cornwall
West End
West Goshen
West Granby
West Hartford
West Hartland
West Haven
West Mountain Historic District
West Mystic
West Norfolk
West Norwalk
West Redding
West River
West Rock
West Shore
West Side
West Side Hill
West Simsbur
West Stafford
West Suffield
West Thompson
West Torrington
West Wauregan
West Willington
West Woods
West Woodstock
Westbrook
Westbrook Center
Westfield
Westford
Weston
Westover
Westport
Westside Norwich
Westville
Wethersfield
Whigville
Whiskey Hill
Whitneyville
Wildmere Beach
Williams Crossing
Willimantic
Willington Hill
Wilsonville
Wilton
Wilton Center
Winchester
Winchester Center
Windham
Windsor
Windsor Locks
Windsorville
Winnipauk
Winsted
Winthrop
Wolcott
Woodbridge
Woodbury
Woodbury Center
Woodmont
Woodstock
Wooster Square
Yalesville
Yantic
What can helical (screw) piles be used for?
---
Helical piles are an anchoring solution capable of supporting the heaviest loads, and can be installed in all types of soils no matter what the environmental challenges.
Our products are designed to solidly support residential, commercial, industrial, and municipal projects.
What are the GoliathTech advantages?
Minimal impact to the landscape
Start building immediately after installation
Perfectly level structure
A screw pile installation: quick and easy!
---
While construction projects usually leave you tired, frustrated, and counting down the days, with GoliathTech's help, you'll find yourself at ease. The expertise of our certified installers, combined with the cutting-edge technology used by our team, allows us to gather and then calculate all the information that we need for the project's success; and ultimately, to leave you with a project that you've only imagined in your dreams.
Steps 2 and 3 is where the screw pile installation occurs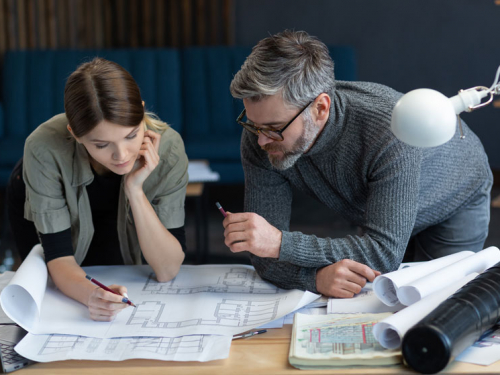 Step 1
Planning your project
First and foremost, it is essential to determine the nature of your project and the contractor who will build it, as well as the various needs associated with it. Evaluate the time, budget, and space available to you so that you can pass this information on to one of our certified installers, when the time comes.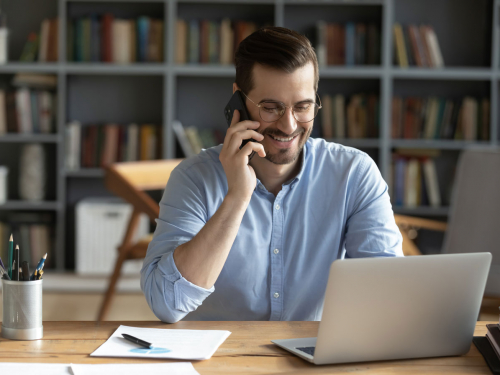 Step 2
Consultation and estimate
Our certified installers are waiting for your call! With the help of precise calculations and an analysis of the type of soil and the load to be supported, they will be able to provide you with an estimate of the cost of the product and will design a solution tailored to your needs.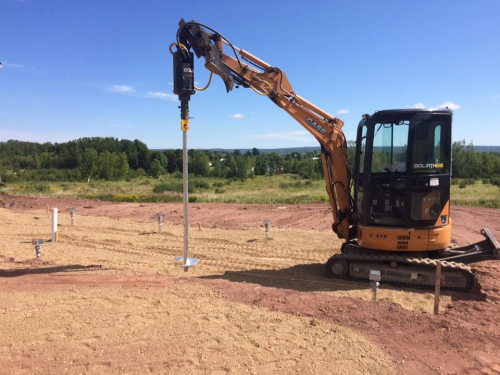 Step 3
Installation
The big day has finally arrived. The helical (screw) piles will be screwed in as deeply as possible. It's likely that during the installation, some technical details will need to be adjusted, such as the length of the piles or the size of the helices. Our experts know how to react quickly in order to ensure the absolute stability of your foundation.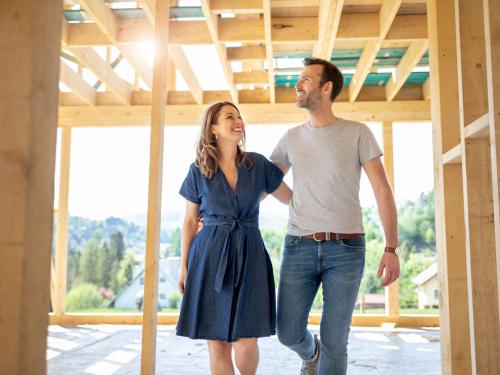 Step 4
Everything is ready for construction
There's no delay or clean-up required between the end of the screw pile installation and the start of construction. As soon as the last helical (screw) pile is anchored into the ground, your contractor can start building your project.
Types of applications: a helical pile foundation for incomparable anchorage
From deck to home foundations, our helical (screw) pile system is the best foundation solution for you.
No matter what your project is…
---
GoliathTech helical piles are ready
In order to provide you with a helical (screw) pile foundation solution that's designed to meet your needs and specific project, our network of certified installers and consultants make the most of their vast expertise in the field. Recognized for their know-how, they conform screw piles to meet the unique nature of your property and project, rather than offering you a solution... cast in concrete!