GoliathTech Your Helical (Screw) Pile Installer - East Massachusetts
---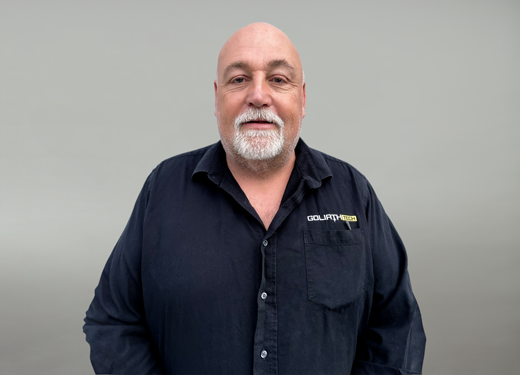 GoliathTech East Massachusetts
Billerica, Massachusetts 01821
About Us
GoliathTech East Massachusetts is your certified installer for the cities of Boston, Cambridge, Lowell, Quincy, Brockton, New Bedford, Lynn, Fall River, Lawrence, Newton and more. View more cities we serve below.
Cities served by your installer
Cambridge
Lowell
Quincy
Brockton
New Bedford
Lynn
Fall River
Lawrence
Newton
Abington
Acapesket
Accord
Acoaxet
Acton
Acushnet
Acushnet Center
Adams Shore
Adamsdale
Allerton
Allston
Amesbury
Amesbury Town City
Andover
Annisquam
Apponagansett
Arlington
Arlington Heights
Ashburnham
Ashby
Ashdod
Ashland
Ashley Heights
Ashmont
Assinippi
Assonet
Assonet Bay Shores
Atlantic
Attleboro
Attleboro Falls
Auburndale
Avon
Ayer
Ayers Village
Babson Park
Back Bay
Bakers Grove
Baldwinville
Ballardvale
Barnstable
Barsntable Town City
Barrowsville
Bass River
Bass Rocks
Bayview
Beachmont
Beacon Hill
Beaver Brook
Bedford
Bedford Springs
Beechwood
Bellevue
Bellingham
Belmont
Belvidere
Bennetts Corner
Berkley
Beverly
Beverly Cove
Beverly Farms
Billerica
Black Rock
Blackstone
Bleachery
Bliss Corner
Blue Hills
Bourne
Bournedale
Boxboro
Boxford
Bradford
Braintree
Braintree Highlands
Braintree Town City
Braleys
Brayton Point
Brewster
Briarwood Beach
Bridgewater
Brigadoon Village
Brighton
Brookline
Brookline Village
Brooks Place
Brookville
Brownell Corner
Browns Point
Brushwood
Bryantville
Buena Vista Shores
Buffington Corner
Bullardville
Burlington
Buzzards Bay
Byfield
East Massachusetts
Campello
Canton
Canton Junction
Carlisle
Carver
Cataumet
Cedar Bushes
Cedarville
Centerville
Centralville
Chppaquiddick
Chappaquoit
Charles River Grove
Charlestown
Chartley
Chatham
Chelmsford
Chelsea
Chestnut Hill
Chilmark
Chiltonville
Churchill Shores
City Mills
City Point
Clarendon Hills
Clevelandtown
Clicquot
Clifton
Cliftondale
Cochesett
Cochituate
Cohasset
Cole Corner
Collinsville
Concord
Cordaville
Cottage Hill
Cottage Park
Cotuit
Country View Estates
Court Park
Coury Heights
Craigville
Craigville Beach
Crescent Beach
Crooks Corner
Cummaquid
Cuttyhunk
East Massachusetts
Danvers
Danversport
Dartmouth
Davisville
Dedham
Dennis
Dennis Port
Devens
Devenscrest
Dighton
Dorchester
Dorchester Center
Dover
Dracut
Dunstable
Duxbury
East Acton
East Arlington
East Billerica
East Blackstone
East Boston
East Boxford
East Braintree
East Brewster
East Bridgewater
East Cambridge
East Carver
East Dedham
East Dennis
East Fairhaven
East Falmouth
East Foxboro
East Freetown
East Gloucester
East Harwich
East Holliston
East Junction
East Lynn
East Mansfield
East Marion
East Massachusetts
East Milton
East Orleans
East Pembroke
East Pepperell
East Sandwich
East Taunton
East Templeton
East Walpole
East Wareham
East Weymouth
Eastham
Easton
Easton Center
Eastondale
Eastview Park
Eastville
Eddyville
Edgartown
Edgeworth
Egypt
Ellisville
Elm Square
Elmwood
Endicott
Essex
Everett
East Massachusetts
Fairhaven
Fairmount
Falmouth
Falmouth Heights
Farm Hill
Faulkner
Fayville
Felchville
Fields Corner
Fieldston
First Cliff
Fitchburg
Five Corners
Forest Hills
Forest Park
Forestdale
Forge Village
Fort Devens
Foxboro
Foxborough
Foxvale
Framingham
Framingham Center
Franklin
Franklin Park
Franklin Town City
Fuller Shores
Gardner
Gates Crossing
Gay Head
Georgetown
Germantown
Gleasondale
Glendale
Glenridge
Gloucester
Goodrichville
Graniteville
Gray Gables
Green Harbor
Greenbush
Greenlodge
Greenwood
Grosvenor Corner
Groton
Grove Hall
Groveland
East Massachusetts
Halfway Pond
Halifax
Halifax Beach
Hamilton
Hamilton Beach
Hancock Village
Hanover
Hanover Center
Hanson
Happy Hills
Harbor Beach
Harding
Harrubs Corner
Harthaven
Harvard
Harwich
Harwich Center
Harwich Port
Hastings
Hatchville
Hathorne
Haverhill
Head of Westport
Heaven Heights
Herbonville
Highland
Highland Lake
Highlands
Hilltop Acres
Hingham
Hingham Center
Holbrook
Holliston
Holly Woods
Hopedale
Hopkinton
Hortonville
Houghs Neck
Hovery Corner
Howe
Huckleberry Corner
Huckleberry Shores
Hudson
Hull
Humarock
Hyannis
Hyannis Port
Hyde Park
East Massachusetts
Idlewell
Idlewood
Indian Shore
Ipswich
Ironstone
Island Creek
Islington
Jamaica Plain
Jeffries Point
Katama
Kempton Croft
Kendal Green
Kent Park
Kenwood
Kings Forest
Kingsbury Beach
Kingston
Knollmere
East Massachusetts
Lagoon Heights
Lake Forest Park
Lakeside
Lakeview
Lakeview Heights
Lakeville
Lakewood Park
Lancaster
Lanesville
Le Count Hollow
Leino Park
Peominster
Lexington
Lincoln
Linden
Lindenwood
Linwood
Little Nahant
Little Neck
Littleton
Littleton Common
Lobsterville
Lokerville
Long Plain
Lowell Junction
Lower Mills
Lower Village
Lunenburg
Lynnfield
Lynnhurst
East Massachusetts
Madaket
Magnolia
Malden
Manchester
Manleys Corner
Manomet
Manomet Beach
Manomet Bluffs
Mansfield
Mansfield Center
Maple Park
Maplewood
Mara Vista
Marblehead
Marblehead Neck
Marion
Marion Center
Marlboro
Marlborough
Marshfied Hills
Marstons Mills
Mashpee
Mashpee Neck
Masons Corner
Matfield
Mattapan
Mattapoisett
Mattapoisett Center
Maynard
Mayo Beach
Medfield
Medfield Junction
Medford
Medway
Megansett
Melrose
Melrose Highlands
Menauhant
Mendon
Menemsha
Merrimac
Merrimacport
Merrymount
Methuen
Middleborough
Middleborough Center
Middleton
Midland
Milford
Millerville
Millis
Millville
Milton
Milton Center
Milton Village
Minot
Mishawum
Monomoscoy Island
Monomoy
Monponsett
Montello
Montserrat
Monument Beach
Morseville
Mount Auburn
Mount Bowdoin
Mount Pleasant
Myricks
East Massachusetts
Nabnasset
Nahant
Natucket
Nashaquitsa
Natick
Needham
Needham Heights
Nelsons Grove
Nelsons Shore
Neponset
New Boston
New Seabury
New Town
New Village
Newburyport
Newton Center
Newton Highlands
Newton Lower Falls
Newton Upper Falls
Newtonville
Nonantum
Nonquitt
Norfolk
North Abington
North Acton
North Andover
North Andover Center
North Ashburnham
North Attleboro
North Bellingham
North Beverly
North Billerica
North Brighton
North Cambridge
North Carver
North Chatham
North Chelmsford
North Dartmouth
North Dighton
North Duxbury
North Eastham
North Easton
North Falmouth
North Hanover
North Harwich
North Lakeville
North Leominster
North Marshfield
North Middleboro
North Milford
Morth Natick
North Pembroke
North Pepperell
North Plymouth
North Plympton
North Quincy
North Randolph
North Reading
North Rehoboth
North Salem
North Saugus
North Scituate
North Seekonk
North Stoughton
North Sudbury
North Swansea
North Tewksbury
North Tisbury
North Truro
North Uxbridge
North Westport
North Weymouth
North Wilmington
North Woburn
Northbridge
Northbridge Center
Northwest Harwich
Norton
Norton Center
Norton Grove
Norwell
Norwood
Nutting Lake
East Massachusetts
Oak Bluffs
Oak Grove
Oak Island
Oakdale
Oakland Vale
Ocean Bluff
Ocean Bluff Brant Rock
Ocean Grove
Ocean Heights
Old City
Old Silver Beach
Oldham Pines
Oldham Village
Onset
Onset Station
Orient Heights
Orleans
Osterville
Otis Afb
Otter River
Overbrook
Oyster Harbors
Parkwood Beach
Patuisset
Pawtucketville
Payson Park
Peabody
Pembroke
Pepperell
Perryville
Piety Corner
Pigeon Cove
Pilgrim Heights
Pine Bluffs
Pine Island
Pine Lake
Pine Rest
Pinefield
Pinehurst
Pinehurst Beach
Piney Point Beach
Pingryville
Plainfield
Plainville
Pleasant Lake
Plimptonville
Plumbush
Plummer Corner
Plymouth
Plympton
Pocasset
Poccomo
Point Independence
Point Of Pines
Point Shirley
Polpis
Ponakin Mill
Pondville
Pope Beach
Popponesset
Popponesset Island
Precinct
Prides Crossing
Priscilla Beach
Provincetown
East Massachusetts
Quaise
Quidnet
Quincy Center
Quincy Point
Quissett
Rakeville
Randolph
Raynham
Raynham Center
Reading
Readville
Rehoboth
Reservoir
Revere
Rexhame
Rings Island
Rio Vista
Riverdale
Rivermoor
Riverside
Rochester
Rock
Rock Harbor
Rockland
Rockport
Rocks VIllage
Rockville
Roslindale
Rowley
Roxbury
Roxbury Crossing
Royalston
East Massachusetts
Saconesset Hills
Sagamore
Sagamore Beach
Sagamore Highlands
Salem
Salem Neck
Salisbury
Salisbury Beach
Salisbury Plains
Sandwich
Santuit
Saugus
Savin Hill
Saxonville
Scituate
Scorton Shores
Scott Hill Acres
Sea View
Seabrook
Second Cliff
Seconsett Island
Seekonk
Segreganset
Sharon
Sharon Heights
Shawkemo
Shawsheen Heights
Shawsheen Village
Sheldonville
Shell Beach
Shepardville
Sherborn
Sherwood Forest
Shimmo
Shirley
Shirley Center
Shore Acres
Siasconset
Silver Beach
Silver Hill
Silver Lake
Silver Shell Beach
Sippewisset
Smith Mills
Somerset
Somerville
South Acton
South Ashburnham
South Attleboro
South Bellingham
South Billerica
South Boston
South Braintree
South Byfield
South Carver
South Chatham
South Chelmsford
South Dartmouth
South Dennis
South Duxbury
South Easton
South Foxboro
South Georgetown
South Groveland
South Hamilton
South Hanover
South Hanson
South Harwich
South Hingham
South Lawrence
South Lowell
South Lynnfield
South Mashpee
South Middleboro
South Middleton
South Milford
South Natick
South Orleans
South Peabody
South Quincy
South Rehoboth
South Royalston
South Stoughton
South Sudbury
South Swansea
South Walpole
South Wareham
South Wellfleet
South Westport
South Weymouth
South Wilmington
South Yarmouth
Southborough
Southfield
Southville
Spindleville
Springdale
Squantum
Standish
Staples Shore
Still River
Stoneham
Stoughton
Stow
Sudbury
Surfside
Swampscott
Swansea
Swansea Center
Swifts Beach
Symmes Corner
East Massachusetts
Tahanto Beach
Tapleyville
Taunton
Teaticket
Templeton
Tewksbury
The Green
The Pinehills
The Pines
Thomastown
Thumpertown Beach
Tihonet
Tinkertown
Tinkhamtown
Tonset
Topsfield
Touisset
Town Hall
Townsend
Townsend Harbor
Tozier Corner
Tremont
Truro
Tyngsboro
Unionville
Uphams Corner
Upton
Upton West
Uxbridge
Vallersville
Valley View
Vineyard Haven
Vineyard Highlands
Waban
Wachusett
Wakeby
Wakefield
Wakefield Junction
Walnut Hill
Walpole
Waltham
Waltham Highlands
Wamesit
Wampum Corner
Ward Hill
Wareham
Wareham Center
Warrentown
Watertown
Waterville
Wauwinet
Waverly
Wayland
Wedgemere
Weir Village
Wellesley
Wellesley Farms
Wellesley Fells
Wellesley Hills
Wellfleet
Wellington
Wellville
Wenham
West Abington
West Acton
West Andover
West Barnstable
West Beford
West Boxford
West Bridgewater
West Chatham
West Chelmsford
West Chop
West Concord
West Dennis
West Duxbury
West Falmouth
West Fitchburg
West Foxboro
West Gloucester
West Groton
West Hanover
West Harwich
West Hingham
West Hyannisport
West Leominster
West Lynn
West Manchester
West Mansfield
West Medford
West Medway
West Natick
West Newbury
West Netwon
West Peabody
West Quincy
West Roxbury
West Royalston
West Somerville
West Stoughton
West Tisbury
West Townsend
West Upton
West Wapole
West Wareham
West Wrentham
West Yarmouth
Westborough
Westdale
Westford
Westlands
Westminster
Weston
Westport
Westport Factory
Westport Point
Westview
Westwood
Wethersfield
Weweantic
Weymouth
Weymouth Heights
Weymouth Landing
Weymouth Town City
Whalom
Wheelockville
White City
White Horse Beach
White Island Shores
Whitinsville
Whitman
Whittenton
Wilmington
Winchendon
Winchendon Springs
Winchester
Winchester Highlands
Winthrop Town City
Woburn
Wollaston
Woodland
Woods Hole
Woodville
Wrentham
Wyoming
Yarmouth
Yarmouth Port
What can helical (screw) piles be used for?
---
Helical piles are an anchoring solution capable of supporting the heaviest loads, and can be installed in all types of soils no matter what the environmental challenges.
Our products are designed to solidly support residential, commercial, industrial, and municipal projects.
What are the GoliathTech advantages?
Minimal impact to the landscape
Start building immediately after installation
Perfectly level structure
A screw pile installation: quick and easy!
---
While construction projects usually leave you tired, frustrated, and counting down the days, with GoliathTech's help, you'll find yourself at ease. The expertise of our certified installers, combined with the cutting-edge technology used by our team, allows us to gather and then calculate all the information that we need for the project's success; and ultimately, to leave you with a project that you've only imagined in your dreams.
Steps 2 and 3 is where the screw pile installation occurs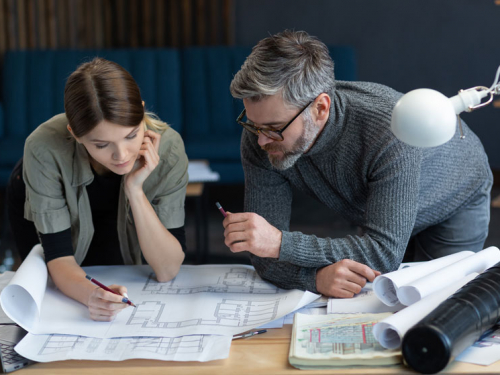 Step 1
Planning your project
First and foremost, it is essential to determine the nature of your project and the contractor who will build it, as well as the various needs associated with it. Evaluate the time, budget, and space available to you so that you can pass this information on to one of our certified installers, when the time comes.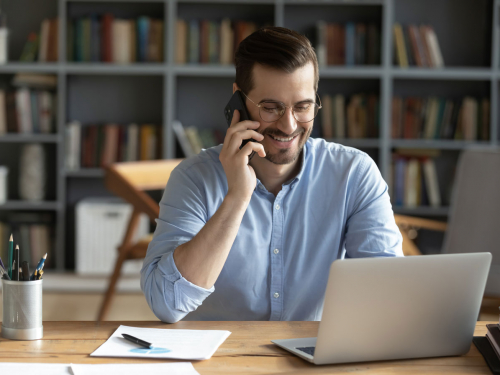 Step 2
Consultation and estimate
Our certified installers are waiting for your call! With the help of precise calculations and an analysis of the type of soil and the load to be supported, they will be able to provide you with an estimate of the cost of the product and will design a solution tailored to your needs.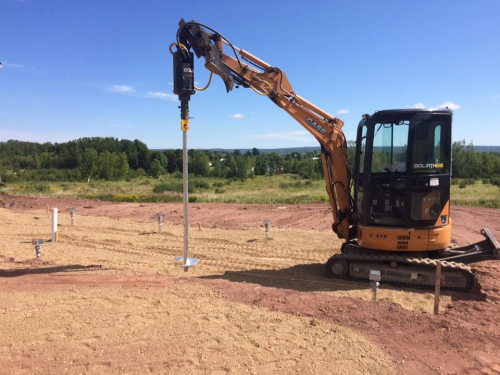 Step 3
Installation
The big day has finally arrived. The helical (screw) piles will be screwed in as deeply as possible. It's likely that during the installation, some technical details will need to be adjusted, such as the length of the piles or the size of the helices. Our experts know how to react quickly in order to ensure the absolute stability of your foundation.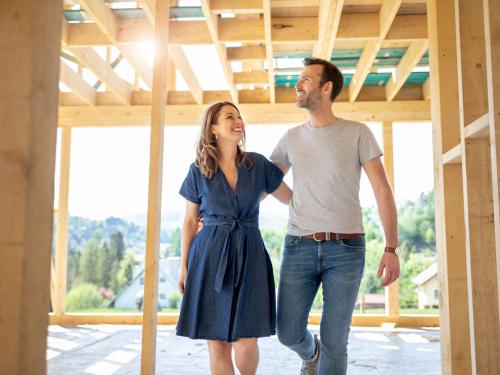 Step 4
Everything is ready for construction
There's no delay or clean-up required between the end of the screw pile installation and the start of construction. As soon as the last helical (screw) pile is anchored into the ground, your contractor can start building your project.
Types of applications: a helical pile foundation for incomparable anchorage
From deck to home foundations, our helical (screw) pile system is the best foundation solution for you.
No matter what your project is…
---
GoliathTech helical piles are ready
In order to provide you with a helical (screw) pile foundation solution that's designed to meet your needs and specific project, our network of certified installers and consultants make the most of their vast expertise in the field. Recognized for their know-how, they conform screw piles to meet the unique nature of your property and project, rather than offering you a solution... cast in concrete!