GoliathTech Your Helical (Screw) Pile Installer - Indianapolis
---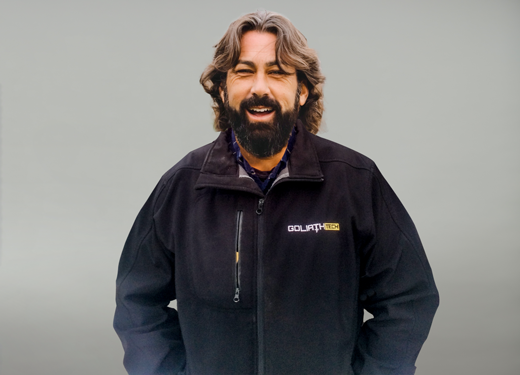 GoliathTech Indianapolis
8516 W Washington St Indianapolis, Indiana 46231
About Us
GoliathTech Indianapolis is your certified installer for the cities of Indianapolis, Greenwood, Plainfield, Brownsburg, Franklin, Avon, Shelbyville, Speedway, Martinsville, Danville, and more. View more cities we serve below.
Cities served by your installer
Adams
Addison Meadows
Adler Grove
Admiral's Cove
Advance
Airport
Allisonville
Allman
Ameriplex
Amity
Amo
Anita
Arcadia
Arden
Arlington Woods
Arsenal Heights
Audubon Gardens
Augusta
Augusta Gardens
Avalon Hill
Avon
Avon Creek Estates
Avon Trails
Baden Manor
Bakers Corner
Ballinshire Estates
Banta
Bargersville
Barnard
Bates-Hendricks
Bay Landing
Bay Ridge
Bayview
Bean Creek
Beanblossom
Beaumont on the Green
Beech Brook
Beech Grove
Beechler Estates
Belle Union
Belleville
Bengal
Bentwood
Bethany
Big Springs
Bloomfield Lake Estates
Blue Ridge
Bluffs
Boggstown
Bosart Brown
Boxley
Brendonridge
Brendonwood
Brent Woods
Briarwood
Bridgefield
Bridgeport
Brightwood
Broad Ripple
Brockton
Brookfield
Brookhaven
Brooklyn
Brookmoor
Brookville Heights
Brownsburg
Buck Creek
Bud
Buffalo Creek
Butler Tarkington
Camby
Cameron Meadows
Canterbury
Carmel
Carpentersville
Carson Heights
Cartersburg
Castleton
Castleton Farms
Cedar Park
Cedar Springs
Centerton
Chapel Glen
Chapel Hill Village
Charlevoix Lake
Chatham-Arch
Chesapeake
Chesterton
Cheswick
Chetwynd
Chippewa Lakes
Christian Park
Cicero
Clare
Clayton
Clearwater
Clermont
Clermont Heights
Clover Village
Coatesville
Cobblestone
Cold Springs
College Commons
College Meadows
College Park
Community Heights
Cope
Copperfield
Cordy Sweetwater Lakes
Cornelius
Cottage Home
Country View
Creekside Woods
Crestview Heights
Critchfield
Crooked Creek Civic League
Crooked Creeks
Crown Center
Crown Hill
Crows Nest
Crystal Pointe
Cumberland
Danville
Darby Court
Decatur
Deep Creek
Delaware South
Delaware Trails
Deming
Deville Place
Devington
Devon
Dover
Downtown
Drexel Gardens
Driftwood Hills
Eagle Cove
Eagle Creek
Eagle Creek Woods
Eagle Nest
Eagle Village
Eagledale
Eagles Watch
Eagletown
Eaglewood Estates
East Avalon Hills
East Gate
East Warren
Eastside
Eastwood
Elizaville
Emerson Heights
Eminence
Emrichsville
Englewood
English Crossing
Exchange
Fairfax
Fairfield Heights
Fairgrounds
Fairland
Fall Creek
Fall Creek Manor
Far Eastside
Far Northside
Farhill Woods
Farley
Farmington
Fayette
Feather Cove
Fewell Rhoades
Fields
Fieldstone and Brookstone
Fillmore
Fincastle
Fishers
Five Points
Flat Branch Estates
Fletcher Place
Forest Commons
Forest Hill
Forest Knoll
Forest Manor
Fox Hill
Foxfire
Franklin
Franklin Gardens
Friends and Neighbors
Friendswood
Fruitdale
Gadsden
Gale
Galludet
Garden City
Garfield Park
Gasburg
Gateway West
Geist
Geist Valley Estates
Glen Cove
Glendale
Glenns Valley
Glenroy Village
Grace Tuxedo Park
Grand View Acres
Green Meadows
Greenbriar
Greenwood
Greythorne
Groveland
Guion Creek
Hadley
Hall
Harding
Harrison Ridge
Haughville
Hawthorne
Hazelrigg
Hazelwood
Helmsburg
Hendricks
Heritage Lake
Herr
High Knoll Estates
Highwoods
Hildebrand Village
Hill Valley
Hill Valley Estates
Hillside
Historic Meridan Park
Holaday Hills and Dales
Holy Cross
Home Place
Homecroft
Hortonville
Hunters Ridge
Huntington Communities
Huntwick
Huron Lakes
Hynsdale
Indian Lake
Indianapolis
International marketplace
Irongate
Irvington
Ivt Hills
Jamestown
Jolietville
Joppa
Kennedy King
Kensington Commons
Kessler Commons
Key Meadows
Keystone at the Crossing
Kinder
Kingsley
Knighthood Grove
Knighthood Village
Ladoga
Lake Hart
Lake Maxinhill Estate
Lakeside
Lamong
Lapland
Lawrence
Lebanon
Liberty Creek North
Liberty Creek South
Limestone Springs
Lincolnwood
Linden Wood
Little Flower
Little Point
Lizton
London
London Heights
Lynhurst
Mahalasville
Mapleton
Maplewood
Marian
Marietta
Marion
Mars Hill
Martindale
Martinsville
Max
Maxwell
McCarty
McDaniel
Meadowlark
Mechanicsburg
Meiks
Meridan Highland
Meridan Hills
Meridan Woods
Meridan Woods Park
Michigan Highland
Milledgeville
Miller
Millersburg
Millersville
Misty Lake
Monrovia
Montclair
Mooresville
Morgantown
Near Eastside
Near Northside
Near Southeast
Near Westside
Needham
New Augusta
New Bethel
New Britton
New Brunswick
New Mayersville
New Palestine
New Ross
New Whiteland
New Winchester
Nineveh
Noblesville
Nora
North Crows Nest
North Kessler Manor
North Perry
North Ridge Village
North Salem
North Square Neighborhood
North Willow Farms
Northeastwood
Northern Meadows
Northfield
Northwood Hills
Oak Hill
Oakland Hills at Geist
Oakland Woods
Oaklandon
Old Bargersvillle
Old Southside
Omega
Orchard Park
Oxbow
Painted Hills
Park 100
Park Fletcher
Park Meadow
Park Valley Estates
Parkersburg
Parkview
Peoga
Perry Manor
Perry Township
Persimmon Creek
Persimmon Ridge
Pickard
Pickwick Commons
Pike
Pine Ridge Estates
Pittsboro
Plainfield
Plano
Pleasant View
Poplar Grove
Princes Lakes
Providence
Questend
Raccoon
Ransom Place
Ravenswood
Raymond Park
Reagan Park
Reds Corner
Reno
Richling Acres
Richmond Hill
Ridge Hills Trails
Riverside
Riverwood
Roachdale
Rocklane
Rocky Ripple
Rolling Ridge
Rosedale Hills
Rosewood
Rosston
Royalton
Rumford Eastwat Manor
Russell Lake
Samaria
Scarborough Lake
Scarborough Village
Shannondale
Shelburne
Shelbyville
Shelton Heights
Shepherd
Sheridan
Sherman Commons
Sherwood Forest
Six Points
Smith Valley
Smithland
Snacks
South Emerson
South Franklin
South Perry
South Village
Southdale
Southeast
Southeast Manor
Southeast Village
Southeast Warren
Southern Dunes
Southern Homes
Southern Oaks
Southern Springs
Southgate Farms
Southport
Spearsville
Speedway
Spring Hill
St. Joseph Historic Neighborhood
St. Vincent
Stable Chase Estates
Steinmeier Estates
Stilesville
Stones Crossing
Stout Field
Stringtown
Sugar Creek
Sunblest
Sundown Manor
Sungate
Sunshine Gardens
Sycamore Heights
Sylvan Ridge
Taggart
Terhune
The Timbers of Indianapolis
The Village of Orchard Park
The Village of West Clay
Thorntown
Tilden
Traders Point
Trafalgar
Tuxedo Park
Ulen
University Heights
Upper Canal
Urmeyville
Valley Mills
Venerable Flackville
Walden Trace
Wanamaker
Warfleigh
Warren
Warren Park
Warren Woods
Waterloo
Watson Farms
Waugh
Waverly
Waverly Woods
Waycross
West Edgewood
West Indianapolis
West Newton
West Side
Westchester Estates
Westfield
Westridge
Westwood
Whispering Pines
Whiteland
Whitestown
Wholesale District
Wichita Hill
Wilbur
Wildwood
Wildwood Farms
Williams Creek
Willowbrook Estates
Winchester Village
Windcombe
Winton Meadows
Wolff
Woodcreek Commons
Woodcreek Crossing
Woodcrest
Woodland Springs
Woodland Trails
Woodruff Place
Wynbrooke
Wynnedale
Yorkshire
Young
What can helical (screw) piles be used for?
---
Helical piles are an anchoring solution capable of supporting the heaviest loads, and can be installed in all types of soils no matter what the environmental challenges.
Our products are designed to solidly support residential, commercial, industrial, and municipal projects.
What are the GoliathTech advantages?
Minimal impact to the landscape
Start building immediately after installation
Perfectly level structure
A screw pile installation: quick and easy!
---
While construction projects usually leave you tired, frustrated, and counting down the days, with GoliathTech's help, you'll find yourself at ease. The expertise of our certified installers, combined with the cutting-edge technology used by our team, allows us to gather and then calculate all the information that we need for the project's success; and ultimately, to leave you with a project that you've only imagined in your dreams.
Steps 2 and 3 is where the screw pile installation occurs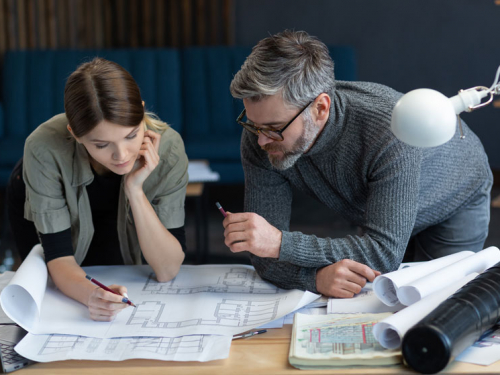 Step 1
Planning your project
First and foremost, it is essential to determine the nature of your project and the contractor who will build it, as well as the various needs associated with it. Evaluate the time, budget, and space available to you so that you can pass this information on to one of our certified installers, when the time comes.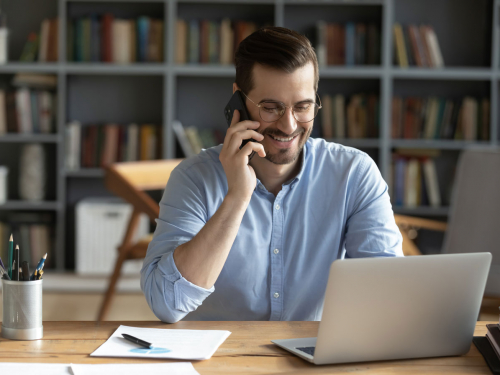 Step 2
Consultation and estimate
Our certified installers are waiting for your call! With the help of precise calculations and an analysis of the type of soil and the load to be supported, they will be able to provide you with an estimate of the cost of the product and will design a solution tailored to your needs.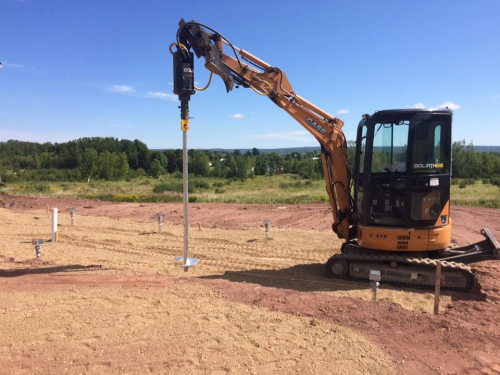 Step 3
Installation
The big day has finally arrived. The helical (screw) piles will be screwed in as deeply as possible. It's likely that during the installation, some technical details will need to be adjusted, such as the length of the piles or the size of the helices. Our experts know how to react quickly in order to ensure the absolute stability of your foundation.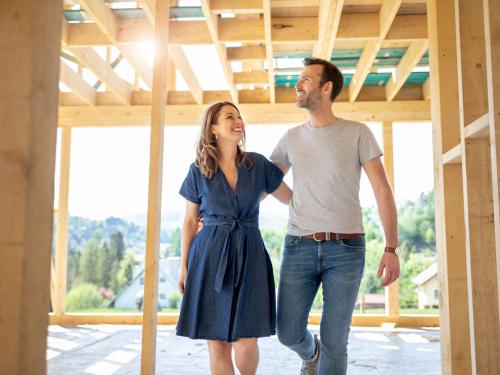 Step 4
Everything is ready for construction
There's no delay or clean-up required between the end of the screw pile installation and the start of construction. As soon as the last helical (screw) pile is anchored into the ground, your contractor can start building your project.
Types of applications: a helical pile foundation for incomparable anchorage
From deck to home foundations, our helical (screw) pile system is the best foundation solution for you.
No matter what your project is…
---
GoliathTech helical piles are ready
In order to provide you with a helical (screw) pile foundation solution that's designed to meet your needs and specific project, our network of certified installers and consultants make the most of their vast expertise in the field. Recognized for their know-how, they conform screw piles to meet the unique nature of your property and project, rather than offering you a solution... cast in concrete!