GoliathTech Your Helical (Screw) Pile Installer - Abitibi
---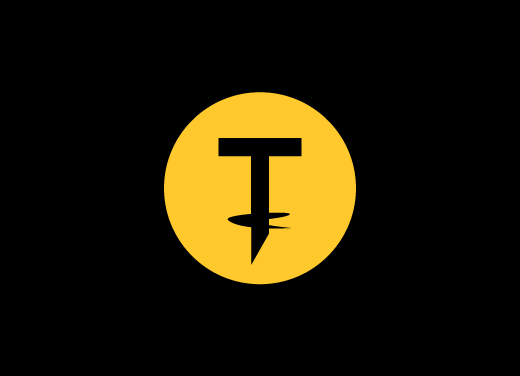 GoliathTech Abitibi - Excavation Giroux & Fils Inc.
832 Rue du Rivage Rouyn-Noranda, Quebec J0Z 1P0
About Us
GoliathTech Abitibi is your certified installer for the cities of Val-D'or, St-Lambert, Amos, La Sarre, Malartic, Senneterre, Macamic, Ville-Marie, Témiscaming, Barraute, and more. View more cities we serve below.
Cities served by your installer
Val-d'or
St-lambert
Amos
La sarre
Malartic
Senneterre
Macamic
Ville-marie
Témiscaming
Barraute
Notre-dame-du-nord
Rivière-héva
Palmarolle
Trécesson
Lorrainville
Senneterre paroisse
St-bruno-de-guigues
Ste-germaine-boulé
St-félix-de-dalquier
Preissac
Duhamel-ouest
Taschereau
St-marc-de-figuery
Dupuy
Landrienne
Ste-gertrude-manneville
Normétal
La corne
Kipawa
St-mathieu-d'harricana
Duparquet
Béarn
Poularies
Laverlochère
St-édouard-de-fabre
Laforce
Berry
Clermont
Gallichan
La motte
St-dominique-du-rosaire
St-eugène-de-guigues
Roquemaure
Clerval
Ste-hélène-de-mancebourg
Guérin
La reine
Angliers
Fugèreville
Belleterre
Latulipe-et-gaboury
Chazel
Authier-nord
Rémigny
Authier
La vallée-de-l'or
Belcourt
Launay
La morandière
Moffet
Val-st-gilles
Champneuf
Rochebaucourt
Témiscamingue
Abitibi-ouest
Abitibi
Pontiac mrc
Rouyn-noranda
Nédélec
Rapide-danseur
Rapides-des-joachims
Sheenboro
What can helical (screw) piles be used for?
---
Helical piles are an anchoring solution capable of supporting the heaviest loads, and can be installed in all types of soils no matter what the environmental challenges.
Our products are designed to solidly support residential, commercial, industrial, and municipal projects.
What are the GoliathTech advantages?
Minimal impact to the landscape
Start building immediately after installation
Perfectly level structure
A screw pile installation: quick and easy!
---
While construction projects usually leave you tired, frustrated, and counting down the days, with GoliathTech's help, you'll find yourself at ease. The expertise of our certified installers, combined with the cutting-edge technology used by our team, allows us to gather and then calculate all the information that we need for the project's success; and ultimately, to leave you with a project that you've only imagined in your dreams.
Steps 2 and 3 is where the screw pile installation occurs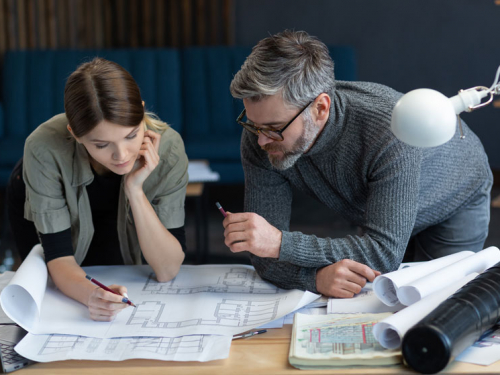 Step 1
Planning your project
First and foremost, it is essential to determine the nature of your project and the contractor who will build it, as well as the various needs associated with it. Evaluate the time, budget, and space available to you so that you can pass this information on to one of our certified installers, when the time comes.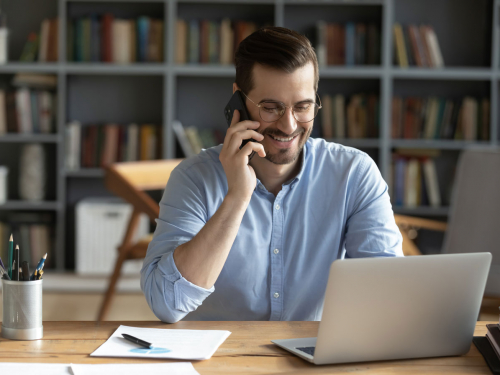 Step 2
Consultation and estimate
Our certified installers are waiting for your call! With the help of precise calculations and an analysis of the type of soil and the load to be supported, they will be able to provide you with an estimate of the cost of the product and will design a solution tailored to your needs.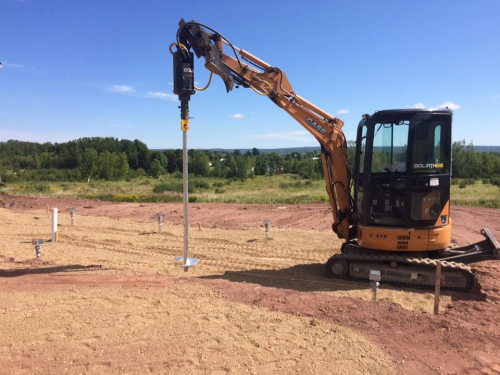 Step 3
Installation
The big day has finally arrived. The helical (screw) piles will be screwed in as deeply as possible. It's likely that during the installation, some technical details will need to be adjusted, such as the length of the piles or the size of the helices. Our experts know how to react quickly in order to ensure the absolute stability of your foundation.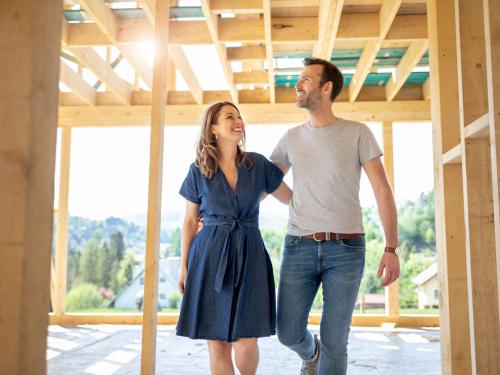 Step 4
Everything is ready for construction
There's no delay or clean-up required between the end of the screw pile installation and the start of construction. As soon as the last helical (screw) pile is anchored into the ground, your contractor can start building your project.
Types of applications: a helical pile foundation for incomparable anchorage
From deck to home foundations, our helical (screw) pile system is the best foundation solution for you.
No matter what your project is…
---
GoliathTech helical piles are ready
In order to provide you with a helical (screw) pile foundation solution that's designed to meet your needs and specific project, our network of certified installers and consultants make the most of their vast expertise in the field. Recognized for their know-how, they conform screw piles to meet the unique nature of your property and project, rather than offering you a solution... cast in concrete!