GoliathTech Your Helical (Screw) Pile Installer - Toronto
---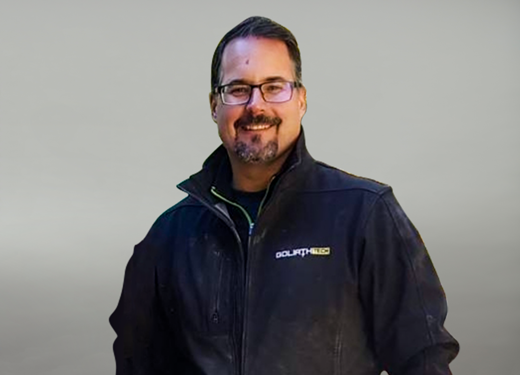 GoliathTech Toronto - Your Deck Company
Richmond Hill, Ontario L4E 1A2
About Us
GoliathTech Toronto is your certified installer for the cities of Toronto, Mississauga, Brampton, Markham, Vaughan, Richmond Hill, Oshawa, Barrie, Whitby, Ajax, and more. View more cities we serve below.
Cities served by your installer
Toronto
Mississauga
Brampton
Markham
Vaughan
Richmond Hill
Oshawa
Barrie
Whitby
Ajax
Adjala-Tosorontio
Agincourt
Agincourt North
Airlie
Albion
Alcona
Alder
Aldred's Beach
Alexandra Park
Allenby
Allimil
Almira
Ancaster
Angus
Ansnorveldt
Applewood Acres
Applewood Hills
Armour Heights
Ashburn
Atha Road
Athlone
Audley North
Aurora
Avening
Avondale
Toronto
Baldwin
Balfour Beach
Ballantrae
Ballycroy
Balsam
Banda
Barrillia Park
Bathurst Manor
Baxter
Bayview Glen
Bayview Village
Beach Hill
Baeton
Beaumonde Heights
Bedford Park
Beeton
Belford
Bellgravia
Bellhaven
Ben Jungle
Bendale
Bendale South
Bendale-Glen Andrew
Bennington Heights
Berczy Village
Bermondsey
Bethesda
Beverley Glen
Beverley Acres
Beverley Heights
Beverley Isles
Birch Cliff
Birch Cliff Heights
Birchmount Park
Black Bank
Black Creek
Blackwater
Blake
Bloomington
Bloor West Village
Bogarttown
Bolton
Bond Head
Borden
Box Grove
Bracondale Hill
Bradens Bay
Bradford
Bramalea
Bramalea Woods
Bramley
Brampton
Branson
Brentwood
Briar Hill
Briars Park
Bridle Path
Brighton Beach
Brimley
Brimley Forest
Britannia
Broadview North
Brock
Brockton Village
Brookhaven
Brooklin
Brookside
Brougham
Brown Hill
Browns Corners
Brunswick
Burketon Station
Burnhamthrope
Burton
Buttonville
Cabbagetown
Cachet
Cadmus
Caesarea
Caledon
Caledonia
Cannington
Caribou Park
Carleton
Carnegie Beach
Carrville
Casa Loma
Cashtown Corners
Cathedraltown
CD Farquharson
Cedar Grove
Cedar Harbour
Cedar Shores
Cedar Valley
Cedarbrae
Cedarvale
Cedarville
Centennial
Central Oshawa
Chaplin Estates
Cherry
Cherrywood
Clairea
Clairville
Clanton Park
Clarington
Clarkes Hollow
Clarks Corners
Clearview
Clearview Heights
Cliffcrest
Cliffside
Coleraine
Colgan
Colwell
Concord
Connor
Cookstown
Coppin's Corners
Corktown
Coronation Gardens
Corso Italia
Coulson
Coulson's Hill
Courtice
Craighurst
Creemore
Crescent Beach
Cricket Club
Crown Hill
Curran Hall
Dagmar
Dalston
Danforth
Darlington
Davenport
Davisville Village
Dean Park
Deer Park
Deerhurst
Derryville
Dickson Hill
Dixie
Don Mills
Don Valley Village
Donevan
Dorset Park
Dovercourt Park
Downsview
Duffins Bay
Dunedin
Dunkerron
Duntroon
Earlscourt
East Bayfront
East Chinatown
East Gwillimbury
East Oro
East Willowdale
East York
Eastbourne
Eastdale
Edgar Edbert
Eglington East
Eglington West
Egypt
Elder Mills
Elder Station
Elgin Mils
Elmgrove
Elms
Enfield
Enniskillen
Epsom
Erin Mills
Essa
Everett
Eversley
Fairbank
Fairport
Fallingbrook
Farewell
Fashion District
Fennell
Fergus Hill Estate
Filey Beach
Fleetwood
Flemingdon Park
Forest Hill
Forest Hill North
Fralick's Beach
Franklin
Franklin Beach
Frasers Corners
Georgina
German Mills
Gerrow's Beach
Gilchrist
Gilford Beach
Gilson's Point
Glasgow
Glen Huron
Glen Long
Glen Major
Glen Park
Glencairn
Glenfield
Glenville
Golden Mile
Goldhawk
Golfdale
Goodwood
Gormley
Governor's Bridge
Grahamsville
Graydon Hall
Green River
Greenhills
Greensborough
Greenwood
Grenful
Guildwood
Guthrie
Hagerman's Corner
Hammertown
Hampton
Happy Valley
Harbord Village
Harbourfront
Harmony
Harwood
Hawkestone
Henry Farm
Heritage Park
High Park North
High Park-Swansea
Highfield
Highland Beach
Highland Creek
Hillcrest Village
Hillside
Hockley Valley
Hoggs Hollow
Holland Landing
Holly Park
Holt
Honey's Beach
Hope
Horseshoe Valley
Humber Summit
Humberlea
Humbermede
Humberwood
Hunron Sussex
Innisfil
Inisfil Heights
Ionview
Iroquois
Ivy
Jack Lake
Jamestown
Jane and Finch
Jane Heights
Jarratt
Jefferson
Jones
Junction Triangle
Junction-Wallace
Kawartha Lakes
Kedron
Keenansville
Kensington Market
Keswick
Kettleby
King
King City
King Creek
Kingcross Estates
Kinghorn
Kingsview Village
Kipling Heights
Kleinburg Station
Koreatown
Toronto
Lake Wilcox
Lakeside
Lakeside Beach
Lakeview
Lambton
Lambton Baby Point
L'Amoreaux West
Langstaff
Lansing
Laskay
Lavender
Lawrence Heights
Lawrence Manor
Lawrence Park South
Layton
Leacock
Leaside
Leaskdale
Lemonville
Leslieville
Liberty Village
Lifford
Lincolnville
Linton
Lisle
Little Italy
Little Tibert
Lloydtown
Locust Hill
Loretto
Toronto
Macedonian Village
Malton
Malvern
Malvern East
Manchester
Manilla
Maple
Maple Hill
Maple Leaf
Maple Valley
Marina Estates
Markville East
Marsh Hill
Martin Farm
Martinville
Marvin Heights
Maryvale
Maskinonge Park
McGregor Park
McLaren's Beach
McLaughlin
Meadowvale
Medonte
Middlefiedl
Midland Park
Midtown Toronto
Milliken
Mineola
Mississauga Valley
Mitchel Corners
Mitchell Square
Mongolia
Moore Park
Morningside
Morningside Heights
Mossington Park
Mt Albert
Mt Dennis
Mt Horeb
Mt Joy
Mt Olive
Mt Pleasant
Mt Pleasant West
Mt Zion
Mulmur
Musselman's Lake
Nantyr
Nashville
Nestleton
Nestleton Station
New Lowell
New Scotland
New Tecumseth
Newmarket
Newton Robinson
Newtonbrook
Newtonbrook East
Niagara
Nicolston
Nobleton
North Bendale
North Fairbank
North Toronto
North York
Northwood
Nortown
Nottawa
Oak Ridges
Oakdale
Oakridge
O'Connor
Old East York
Old malton Village
Old Rexdale
Old Toronto
O'Neil
Orchard Grove
Oro
Oro Lea Beach
Oshawa
Palgrave
Palm Beach
Palmertson
Pape Village
Parkdale
Parkside Beach
Parkview
Parkway Forest
Parkwoods
Parma Court
Patterson
Peel Village
Pefferlaw
Pelham Park
Pelmo Park
Penville
Pickering
Pickering Beach
Pickering Village
Pine Grove
Pine Orchard
Pine Point
Pinecrest
Pinedale
Pinkerton
Playter Estates
Pleasant View
Pleasantville
Port Lands
Port Perry
Port Union
Port View Beach
Pottageville
Preston Lake
Prince Albert
Prospect
Purple Hill
Purpleville
Quaker
Quantztown
Rafferty's Corners
Randall
Randwick
Rathnelly
Ravenshoe
Raymerville
Regent Park
Rexdale
Rich Hill
Richmond Gardens
Richmond Park
Richvale
Richview
Richview Park
Ridgewood
Riverdale
Riverside
Rockcliffe-Smythe
Rockwood Village
Roberta Park
Roncesvalles
Rosebank Station
Rosedale
Roselands
Rosemont
Roseville
Rouge
Rouge Park
Rugby
Runnymede
Ruskview
Rustic
Saintfield
Samac
Sandford
Scarborough
Scarborough City Centre
Scarborough Junction
Scarborough Village
Schomberg
Schomberg Heights
Scugog
Scugog Centre
Scugog Point
Seagrave
Seaton Village
Shanty Bay
Sharon
Sheldon
Sherwood
Sherwood Park
Shirley
Siloam
Silver Hills
Silverthorn
Simcoeside
Singhampton
Smithdale
Smithfield
Smythe Park
Snowball
Solina
Sonya
South Cedarbrae
South Hill
South Toronto
South Unionville
South Wynhurst
Southwood
Springwater
Squires Beach
St. Andrews
St. Clair West Village
St. James Town
Stayner
Steeles
Stevenson
Stonehaven
Stouffville
Strange
Streetsville
Strongville
Sullivan
Summerville
Sunderland
Sunnidale
Sunnidale Corners
Sunrise Beach
Sunset Corners
Sunset View
Sutton
Swansea
Syme
Tam O'Shanter
Tarragon Village
Taunton
Terra Nova
Teston
The Annex
The Beach Triangle
The Beaches
The Elms
The Pocket
Then Junction
Thistletown
Thompsonville
Thorncliffe
Thorncliffe Park
Thornhill
Thornton
Tioga
Todmorden Village
Topham
Toronto
Tottenham
Trevorton Park
Trinity-Bellwoods
Udora
Unionville
Upper Beaches
Upper Jarvis
Utica
Utopia
Uxbridge
Vachell
Vallentyne
Vandorf
Vanier
Vellore
Victoria Corners
Victoria Village
Viewlake
Village at York University
Vine
Vinegar Hill
Virginia
Virginia Beach
Vista Heights
Vivian
Vroomanton
Waddington Beach
Warren Park
Websterville
Wesley Corners
West Bend
West Essa
West Franklin
West Hill
West Humber Estates
West Lynde
West Queen
West Rouge
Westminster
Westney Heights
Westwood
Wexford
Whitby Shores
Whitechurch
White Haven
White Rose
Whitevale
Wick
Wilfrid
Williams Point
Williamsburg
Willowdale
Willowridge
Windfields
Winston Park
Wismer Commons
Woburn North
Woodbine Gardens
Woodbine Heights
Woodhill
Yonge and Lawrence
York
York Heights
York Mills
York University Heights
Yorkdale
Yorkville
Ypres
Zephyr
What can helical (screw) piles be used for?
---
Helical piles are an anchoring solution capable of supporting the heaviest loads, and can be installed in all types of soils no matter what the environmental challenges.
Our products are designed to solidly support residential, commercial, industrial, and municipal projects.
What are the GoliathTech advantages?
Minimal impact to the landscape
Start building immediately after installation
Perfectly level structure
A screw pile installation: quick and easy!
---
While construction projects usually leave you tired, frustrated, and counting down the days, with GoliathTech's help, you'll find yourself at ease. The expertise of our certified installers, combined with the cutting-edge technology used by our team, allows us to gather and then calculate all the information that we need for the project's success; and ultimately, to leave you with a project that you've only imagined in your dreams.
Steps 2 and 3 is where the screw pile installation occurs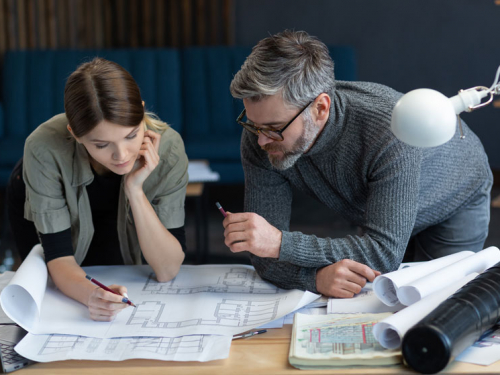 Step 1
Planning your project
First and foremost, it is essential to determine the nature of your project and the contractor who will build it, as well as the various needs associated with it. Evaluate the time, budget, and space available to you so that you can pass this information on to one of our certified installers, when the time comes.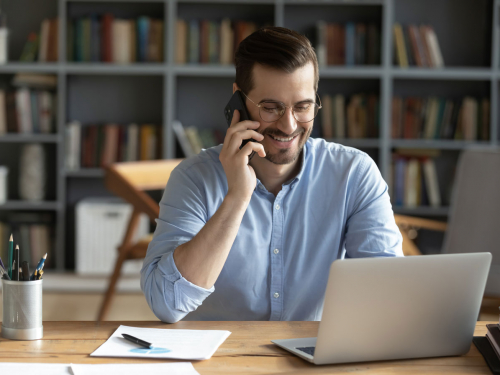 Step 2
Consultation and estimate
Our certified installers are waiting for your call! With the help of precise calculations and an analysis of the type of soil and the load to be supported, they will be able to provide you with an estimate of the cost of the product and will design a solution tailored to your needs.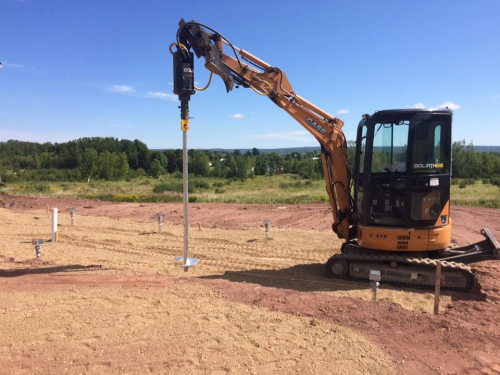 Step 3
Installation
The big day has finally arrived. The helical (screw) piles will be screwed in as deeply as possible. It's likely that during the installation, some technical details will need to be adjusted, such as the length of the piles or the size of the helices. Our experts know how to react quickly in order to ensure the absolute stability of your foundation.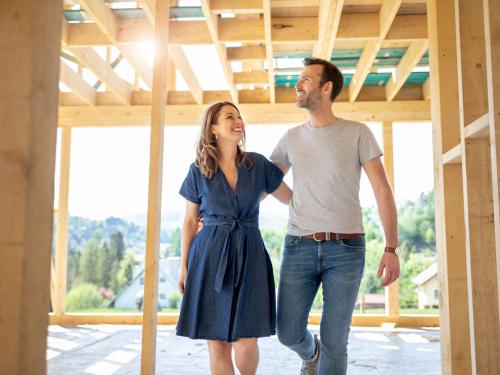 Step 4
Everything is ready for construction
There's no delay or clean-up required between the end of the screw pile installation and the start of construction. As soon as the last helical (screw) pile is anchored into the ground, your contractor can start building your project.
Types of applications: a helical pile foundation for incomparable anchorage
From deck to home foundations, our helical (screw) pile system is the best foundation solution for you.
No matter what your project is…
---
GoliathTech helical piles are ready
In order to provide you with a helical (screw) pile foundation solution that's designed to meet your needs and specific project, our network of certified installers and consultants make the most of their vast expertise in the field. Recognized for their know-how, they conform screw piles to meet the unique nature of your property and project, rather than offering you a solution... cast in concrete!