GoliathTech Your Helical (Screw) Pile Installer - Piedmont
---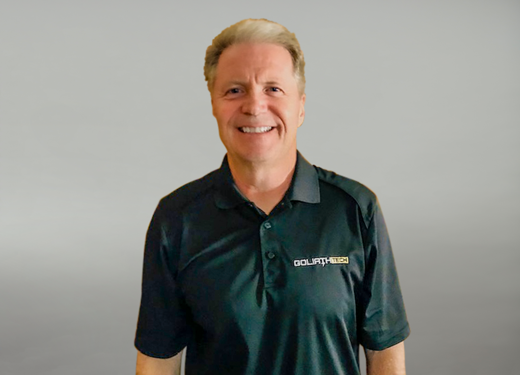 GoliathTech Piedmont
Concord, North Carolina 28025
About Us
GoliathTech Piedmont is your certified installer for the cities of Charlotte, Concord, Huntersville, Kannapolis, Mooresville, Cornelius, Matthews, Statesville, Mint Hill, Harrisburg, and more. View more cities we serve below.
Cities served by your installer
Charlotte
Concord
Huntersville
Kannapolis
Mooresville
Cornelius
Matthews
Statesville
Mint Hill
Harrisburg
Allen
Barium Springs
Barriers Mill
Becton Park
Bells Crossroads
Birkdale Village
Bradfield Farms
Cabarrus
Caldwell
Celeste Hinkel
Centerview
Clear Creek
Cold Springs
Cold Water
College Downs
Coventry Woods
Crater Park
Croft
Davidson
Davis Lake
Denver
Derita
Doolie
East Forest
East Monbo
Eastfield
Eastland
Eastway
Elmwood
Enochville
Eufola
Farm Pond
Fisher Town
Flows Store
Georgeville
Glass
Grove Park
Hamilton Circle
Harris
Hemphill
Henderson Circle
Hickory Grove
Hickory Ridge
Hicks Crossroads
Hidden Valley
Highland Creek
Hopewell
Houston
Hunters Pointe
Idlewild
Idlewild Farms
Idlewild South
Jackson Park
Lake Norman of Catawba
Landis
Locust
Mallard Creek
Marlwood
Marlwood Acre
Mayhew
Mazeppa
Midland
Mineral Springs
Moss Creek
Mount Mourne
Mount Pleasant
Mt Mourne
Mt Pleasant
Nevin Community
Newell
Newell South
North Concord
North Sharon Amity
Oak Forest
Odell School
Oswalt
Piedmont
Pine Ridge
Poplar Tent
Prosperity Church Road
Providence Estates East
Reddman Road
Rimer
Roberta Mill
Rockwell Park
Rocky River
Royal Oaks
Rumple Road
Shady Brook
Shannon Park
Shepherds
Sherrills Ford
Shinnville
Silverwood
Slater Road
Statesville West
Terrell
Torance
Triangle
Troutman
University City North
Watts Crossroads
West Brook
West Concord
West Statesville
West Sugar Creek
Westover
Westport
Wilgrove
Wilora Lake
Wilson Heights
Withrow Downs
Piedmont
What can helical (screw) piles be used for?
---
Helical piles are an anchoring solution capable of supporting the heaviest loads, and can be installed in all types of soils no matter what the environmental challenges.
Our products are designed to solidly support residential, commercial, industrial, and municipal projects.
What are the GoliathTech advantages?
Minimal impact to the landscape
Start building immediately after installation
Perfectly level structure
A screw pile installation: quick and easy!
---
While construction projects usually leave you tired, frustrated, and counting down the days, with GoliathTech's help, you'll find yourself at ease. The expertise of our certified installers, combined with the cutting-edge technology used by our team, allows us to gather and then calculate all the information that we need for the project's success; and ultimately, to leave you with a project that you've only imagined in your dreams.
Steps 2 and 3 is where the screw pile installation occurs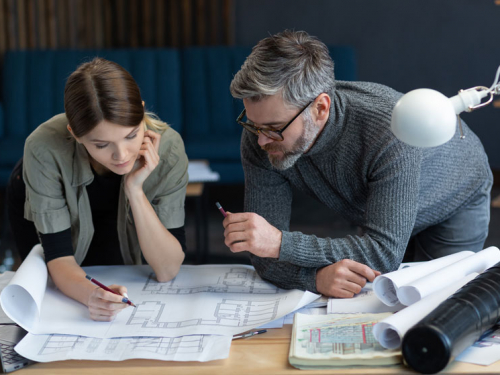 Step 1
Planning your project
First and foremost, it is essential to determine the nature of your project and the contractor who will build it, as well as the various needs associated with it. Evaluate the time, budget, and space available to you so that you can pass this information on to one of our certified installers, when the time comes.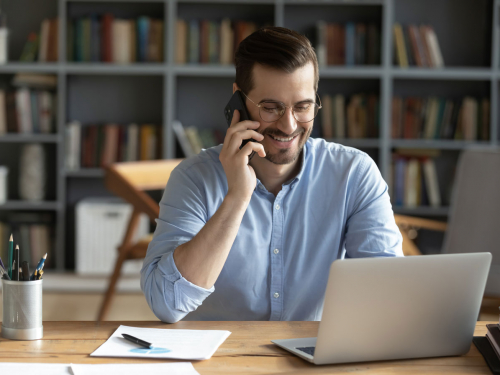 Step 2
Consultation and estimate
Our certified installers are waiting for your call! With the help of precise calculations and an analysis of the type of soil and the load to be supported, they will be able to provide you with an estimate of the cost of the product and will design a solution tailored to your needs.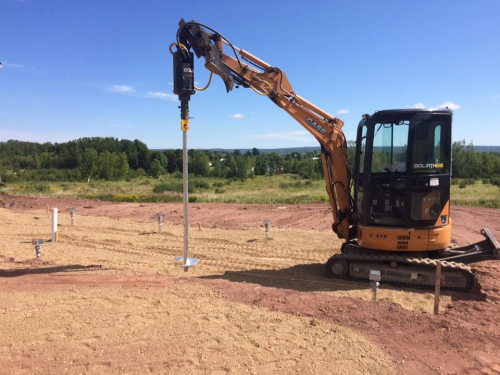 Step 3
Installation
The big day has finally arrived. The helical (screw) piles will be screwed in as deeply as possible. It's likely that during the installation, some technical details will need to be adjusted, such as the length of the piles or the size of the helices. Our experts know how to react quickly in order to ensure the absolute stability of your foundation.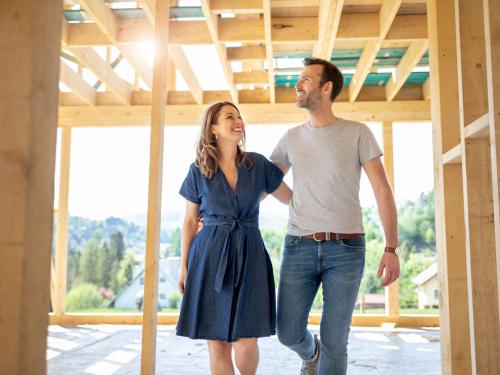 Step 4
Everything is ready for construction
There's no delay or clean-up required between the end of the screw pile installation and the start of construction. As soon as the last helical (screw) pile is anchored into the ground, your contractor can start building your project.
Types of applications: a helical pile foundation for incomparable anchorage
From deck to home foundations, our helical (screw) pile system is the best foundation solution for you.
No matter what your project is…
---
GoliathTech helical piles are ready
In order to provide you with a helical (screw) pile foundation solution that's designed to meet your needs and specific project, our network of certified installers and consultants make the most of their vast expertise in the field. Recognized for their know-how, they conform screw piles to meet the unique nature of your property and project, rather than offering you a solution... cast in concrete!