GoliathTech Your Helical (Screw) Pile Installer - New Hampshire
---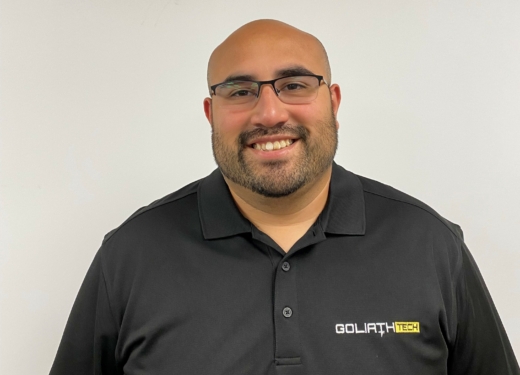 GoliathTech New Hampshire
91 Lawrence Rd. Salem, New Hampshire 03079
About Us
GoliathTech New Hampshire is your certified installer for the cities of Manchester, Nashua, Concord, Dover, Rochester, Salem, Keene, Derry, Portsmouth, Laconia, and more. View more cities we serve below.
Cities served by your installer
Nashua
Concord
Dover
Rochester
Salem
Keene
Derry
Portsmouth
Laconia
Lebanon
Newmarket
Claremont
Londonderry
Somersworth
Durham
Exeter
Hampton
Berlin
Milford
Hanover
Franklin
Hudson
Pembroke
Goffstown
Swanzey
South Hooksett
Suncook
Litchfield
East Merrimack
Hooksett
Pinardville
Plymouth
Newport
Allenstown
Littleton
Northfield
Farmington
Hampton Beach
Raymond
Jaffrey
Conway
Tilton-Northfield
Wolfeboro
Meredith
Henniker
Deerfield
Ashland
Tilton Northfield
Peterborough
Hillsborough
Moultonborough
Colebrook
Epping
New London
Troy
Belmont
Lincoln
Bristol
North Conway
Plaistow
Sanbornville
Lancaster
New Hampton
Gorham
Merrimack
North Walpole
Bethlehem
Deering
Holdernes
Pittsfield
Winchester
Milton
Woodsville
Enfield
Middleton
Amherst
Madbury
Thornton
Bedford
Hinsdale
Alton
Contoocook
Wilton
Whitefield
Tilton
Walpole
North Woodstock
Antrim
West Swanzey
Rollinsford
Bartlett
Warner
Center Ossipee
Canaan
Bennington
Gilmanton
Melvin Village
Charlestown
Greenville
Kingston
Marlborough
Fitzwilliam
Groveton
Newfields
Alton Bay
North Hampton
Newington
Lisbon
Seabrook Beach
East Hampstead
North Swanzey
Sunapee
Atkinson
Millville
Pelham
Bradford
Rye
New Castle
Loudon
Franconia
Greenland
Seabrook
Stratham
Milton Mills
Union
Alstead
Monroe
Sullivan
Canobie Lake
Derry Village
Fremont
Greenfield
Hampstead
Hancock
New Boston
New Ipswich
Stoddard
West Stewartstown
Campton
Columbia
Dublin
Danville
East Derry
North Stratford
Winnisquam
Center Sandwich
Brookline
Chester
North Salem
Reeds Ferry
Westville
Wolfeboro Falls
Gilsum
Plainfield
Candia
Center Harbor
Hampton Falls
Tamworth
Lyme
Little Boars Head
Carroll
Grasmere
Harrisville
Hollis
Meriden
Newton
Northwood
Sandown
Spofford
Warren
West Chesterfield
West Peterborough
Westport
Twin Mountain
Andover
Ossipee
Center Tuftonboro
Marlow
Mont Vernon
Haverhill
Shelburne
Chesterfield
Orford
Ashuelot
Rumney
Chocorua
Atkinson Heights
Auburn
Bath
Brentwood
Center Conway
East Lempster
Kearsarge
North Haverhill
Northwood Narrows
Severance
Silver Lake
South Wolfeboro
Temple
West Ossipee
Dorchester
Lyman
Orfordville
Etna
Freedom
Guild
Hopkinton
Pittsburg
Kellyville
North Pelham
Suissevale
Grafton
Jackson
New Durham
Goshen
West Rindge
Barnstead
East Andover
East Swanzey
Intervale
West Alton
West Henniker
Center Barnstead
East Sullivan
Redstone
West Epping
Wilmot Flat
Cornish Flat
Sanbornton
Alexandria
Barrington
Canaan Street
Canterbury
Danbury
Deerfield Center
East Alstead
East Kingston
Mirror Lake
Mount Sunapee
Nelson
North Sanbornton
Rindge
Rye Beach
Salisbury
Smithtown
South Barnstead
South Lyndeboro
Weare
West Deering
West Wilton
Gossville
Wentworth
North Sutton
Nottingham
Rumney Depot
Wakefield
Westmoreland
Stewartstown
Canaan Center
Cascade
Center Strafford
Grantham
Hill
Madison
North Chichester
South Danville
West Rye
Kensington
Northwood Ridge
Sugar Hill
Orange
Dunbarton
Gilford
Munsonville
Woodstock
Georges Mills
North Newport
Easton
Drewsville
Glen
Northwood Center
Croydon
Acworth
Chesham
Chichester
Deerfield Parade
East Candia
East Rindge
Epsom
Francestown
Happy Valley
High Bridge
Jefferson
Lochmere
Mason
North Branch
North Brookline
North Londonderry
Onway Lake
Pike
Plaice Cove
Randolph
South Acworth
South Brookline
South Merrimack
Sutton
West Center Harbor
West Hampstead
Wilton Center
Blodgett Landing
Langdon
East Westmoreland
Enfield Center
Foyes Corner
Piermont
South Tamworth
Boscawen
Center Effingham
Milan
Potter Place
Stark
West Nottingham
West Thornton
Windham
East Haverhill
Errol
Hebron
Lempster
South Sutton
West Campton
Effingham
Waterville Valley
Beebe River
Chase Village
Cornish Center
East Barrington
Groton
Newbury
Noone
Riverdale
Smithville
Wallis Sands
West Rumney
Windham Depot
Albany
East Holderness
South Weare
East Conway
Benton
Bridgewater
East Unity
East Wakefield
Unity
Richmond
South Hampton
South Newbury
State Line
Surry
Wendell
West Canaan
East Hebron
Rye North Beach
Sandwich
South Effingham
Snowville
Brookfield
Clinton Village
Cornish Mills
Glencliff
Glendale
Lee
Lyndeborough
Marshall Corner
Meadows
Mill Hollow
North Sandwich
North Village
Northumberland
Percy
Salisbury Heights
Sharon
Squantum
Swiftwater
Thorntons Ferry
Washington
Water Village
Webster
West Milan
West Plymouth
West Unity
Whittier
Wilmot
Wonalancet
Woodman
Davisville
Pages Corner
Dalton
Elmwood
Scotland
South Chatham
Bowkerville
Cold River
Cushman
East Grafton
Short Falls
West Barrington
Ellsworth
Christian Hollow
East Sutton
West Hopkinton
Winona
Clinton Grove
Elkins
North Chatham
Rivercrest
Springfield
Stinson Lake
Beans Island
East Grantham
North Wilmot
South Deerfield
Tuftonboro
Waterloo
West Springfield
Wilsons Mills
Chatham
Landaff Center
South Charlestown
Burkehaven
Passaconaway
Wawbeek
Bretton Woods
Dixville Notch
Middle Dam
Atlantic Heights
Bagley
Bersum Gardens
Blair
Bonds Corner
Bow Center
Bow Mills
Box Corner
Bradford Center
Brentwood Corners
Broad Acres
Bungy
Camp Hedding
Campton Hollow
Campton Lower Village
Campton Upper Village
Center Haverhill
Central Park
Cheever
Chicks Corner
Christian Shore
Cilleyville
Clark Landing
Converseville
Cornish City
Crawford House
Cricket Corner
Crystal
Deephaven
East Alton
East Concord
East Deering
East Milford
East Plainfield
East Rochester
East Sandwich
East Tilton
East Washington
East Wilder
East Wolfeboro
Eastview
Elwyn Park
Fabyan
Fabyan House
Gaza
Gerrish
Gilmans Corner
Glenmere
Goffs Falls
Gonic
Goodrich Falls
Goose Hollow
Grange
Granite
Great Boars Head
Happy Corner
Hastings
Hell Hollow
Hill Center
Horse Corner
Jady Hill
Jones Corner
Joslin
Kelwyn Park
Kidderville
Lakeport
Langs Corner
Laskey Corner
Leavitts Hill
Lincoln Park
Livermore
Lockhaven
Maplewood
Martin
Mascoma
Meadowbrook
Melrose Corner
Melvin Mills
Mill Village
New Rye
North Beach
North Danville
North Grantham
North Groton
North Pembroke
North Richmond
North Rochester
North Wolfeboro
Noyes Terrace
Nuttings Beach
Pannaway Manor
Parker Hill
Pearls Corner
Penacook
Pendleton Beach
Pequawket
Pierce Bridge
Ponemah
Puckershire
Quaker City
Quincy
Quinttown
Rand
Riverhill
Riverside
Robinson Corner
Roby
Ryder Corner
Sachem Village
Salem Depot
Sawyers
Snumshire
South Conway
South Cornish
South Keene
South Kingston
South Lee
South Milford
South Stoddard
The Glen
Thomas
Trapshire
Upper Kidderville
Varnumtown
Wadley Falls
Webster Lake
Webster Place
Weirs Beach
Wentworth Acres
West Andover
West Claremont
West Concord
West Drummer
West Gonic
West Lebanon
West Salisbury
West Windham
Whiteface
Willey House
Wolfeboro Center
Woodmere
What can helical (screw) piles be used for?
---
Helical piles are an anchoring solution capable of supporting the heaviest loads, and can be installed in all types of soils no matter what the environmental challenges.
Our products are designed to solidly support residential, commercial, industrial, and municipal projects.
What are the GoliathTech advantages?
Minimal impact to the landscape
Start building immediately after installation
Perfectly level structure
A screw pile installation: quick and easy!
---
While construction projects usually leave you tired, frustrated, and counting down the days, with GoliathTech's help, you'll find yourself at ease. The expertise of our certified installers, combined with the cutting-edge technology used by our team, allows us to gather and then calculate all the information that we need for the project's success; and ultimately, to leave you with a project that you've only imagined in your dreams.
Steps 2 and 3 is where the screw pile installation occurs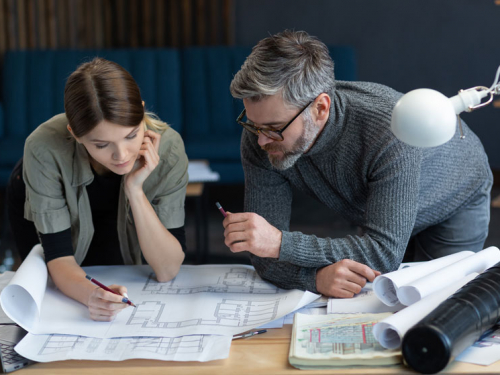 Step 1
Planning your project
First and foremost, it is essential to determine the nature of your project and the contractor who will build it, as well as the various needs associated with it. Evaluate the time, budget, and space available to you so that you can pass this information on to one of our certified installers, when the time comes.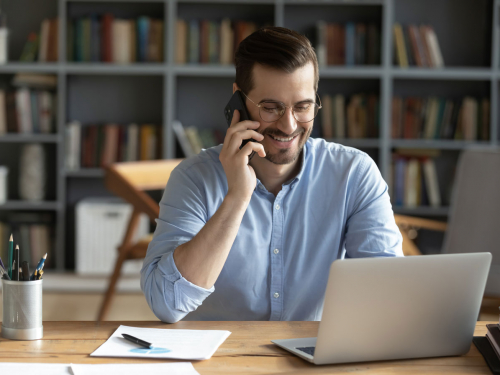 Step 2
Consultation and estimate
Our certified installers are waiting for your call! With the help of precise calculations and an analysis of the type of soil and the load to be supported, they will be able to provide you with an estimate of the cost of the product and will design a solution tailored to your needs.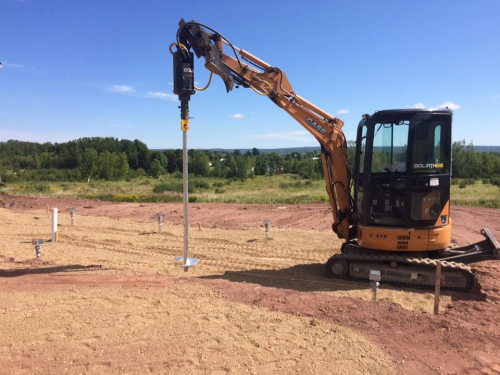 Step 3
Installation
The big day has finally arrived. The helical (screw) piles will be screwed in as deeply as possible. It's likely that during the installation, some technical details will need to be adjusted, such as the length of the piles or the size of the helices. Our experts know how to react quickly in order to ensure the absolute stability of your foundation.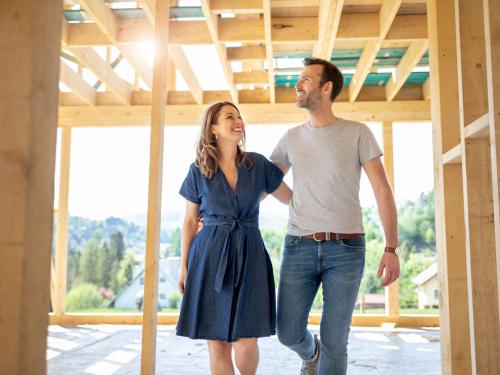 Step 4
Everything is ready for construction
There's no delay or clean-up required between the end of the screw pile installation and the start of construction. As soon as the last helical (screw) pile is anchored into the ground, your contractor can start building your project.
Types of applications: a helical pile foundation for incomparable anchorage
From deck to home foundations, our helical (screw) pile system is the best foundation solution for you.
No matter what your project is…
---
GoliathTech helical piles are ready
In order to provide you with a helical (screw) pile foundation solution that's designed to meet your needs and specific project, our network of certified installers and consultants make the most of their vast expertise in the field. Recognized for their know-how, they conform screw piles to meet the unique nature of your property and project, rather than offering you a solution... cast in concrete!