GoliathTech Your Helical (Screw) Pile Installer - Miami
---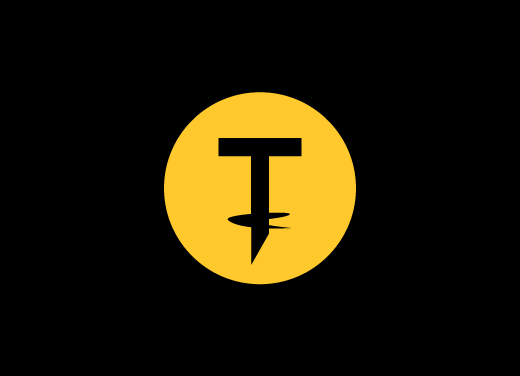 GoliathTech Miami - Ace Foundation Inc
11950 W Dixie Hwy Miami, Florida 33161
About Us
GoliathTech Miami is your certified installer for the cities of Miami, Hialeah, Pembroke Pines, Hollywood, Miramar, Miami Gardens, Davie, Miami Beach, Kendall, Doral, and more. View more cities we serve below.
Cities served by your installer
Hialeah
Pembroke Pines
Hollywood
Miramar
Miami Gardens City
Davie
Miami Beach
Kendall
Doral Corridor
Aladdin City
Alameda
Alandco
Allapattah
Amelia District
Andover
Andover Golf Estates
Andover Lakes Estates
Arapahoe
Atlantic Heights
Aventura
Baker Homestead
Bal Harbour
Bay Harbor Islands
Bay Shore
Belle Meade Island
Beverly Park
Beverly Terrace
Bird Key
Biscaya Island
Biscayne Bay Sea
Biscayne Bay View
Biscayne Gardens
Biscayne Island
Biscayne Landing
Biscayne Park
Biscayne Point
Boulevard Heights
Brickell
Brickell Key
Brownsville
Buena Vista
Bunche Park
Carol City
Carver Ranches
Chicken Key
Chinese Village
City Center
Coconut Grove
Coconut Grove Manor
Coconut Grove WH Center
Coconut One
Cocoplum
Cooper City
Coral
Coral Gables
Coral Groves
Coral Terrace
Coral Way
Coral Way Village
Country Club
Country Club Section
Country Walk
Crafts
Cutler
Cutler Bay
Cutler Bay Town
Cutler Ridge
Dania
Dania Beach
Dania Beach City
Davie
Deering Bay
Dodge Island
Doral
Douglas
Downtown Miami
Draft Dodge Island
Driftwood
East Coral Gables
East Little Havana
East Miramar
East Hialeah
East Hollywood
East Kendall
East Davie
East Doral
East Homestead
East Cutler Bay Town
East Hallandale
East Richmond Heights
Eastern Shores
Edgewater
Edison Center
El Portal
Emerald Hills
Fisher Island
Flagami
Flagler
Flamingo
Fountainebleau
Forest Lake
French Country Village
Gladeview
Glenvar Heights
Golden Beach
Golden Gate
Golden Glades
Golden Isles
Golden Triangle
Goulds
Granada
Grapeland Heights
Hacienda Village
Hallandale Beach
Hallandale Beach City
Hialeah
Hialeah Gardens
Hibiscus Island
High Pines
Highland Gardens
Hibiscus Island
High Pines
Highland Gardens
Highland Lakes
Hillcrest
Hollywood
Hollywood Beach
Hollywood Beach Gardens
Hollywood Hills
Hollywood Lakes
Hollywood South Central beach
Homestead
Homestead Base
Howard
Indian Creek
Indian Creek Village
Isla Dorada
Islandia
Italian Village
Ives Estates
Jest Island
Kendale Lakes
Kendall
Kendall West
Key Biscayne
Keystone Islands
King's Bay
La Gorce
La Gorce Island
Lake Eden
Lake Forest
Lake Lucerne
Lake by the Bay
Legion Picnic Islands
Leisure City
Lemon City
Liberia
Liberty Square
Little Gables
Little Haiti
Little Havana
Little River
Ludlam
Lummus
Mapleridge
Mashta Island
Medley
Melaleuca Gardens
Mid-Beach
Miramar
Miramar Boulevard
Model City
Morningside
Morningside Picnic Islands
Naranja
Nautilius Isle
Nautilius
Norland
Normandy Isles
Normandy Shores
North Bay Island
North Bay Village
North Beach
North Central
North Island
North Miami
North Hialeah
North Miramar
North Davie
North Kendall
North Doral
North Miami Beach
North Perry Airport
North Beach
North Central
North Island
North Miami Beach
North Perry Airport
Northeast Coconut Grove
Oakridge
Ojus
Olympia Heights
Opa-Locka
Opa-Locka North
Overtown
Palm Springs Estates
Palm Springs North
Palmetto Bay
Palmetto Bay Village
Park East
Parkside
Pembroke Park
Pembroke Pines
Pennsuco
Perrine
Pinecrest
Pinewood
Pinewood Park
Playland Estates
Playland Isles
Ponce-Davis
Princeton
Quail Heights
Ravenwood Estates
Richmond Heights
Richmond West
Riviera
Rockdale
Royal Poinciana
San Marco Island
San Marco Islands
San Marino Island
San Marino Islands
San Souci Estates
Sandspur Island
Sans Souci
Scott Lake
Seminola
Shenandoah
Silver Bluff Estates
Silver Palm
Silverlakes
South Beach
South Island
South Miami
South Miami Heights
South Hialeah
South Pembroke Pines
South Hollywood
South Miramar
South Davie
South Kendall
South Doral
South of Fifth
Southeast Gables
Southwest Ranches
Spring Garden
Star Island
Suniland
Sunny Isles
Sunny Isles Beach
Sunny Isles Beach City
Sunrise Harbour
Sunset
Sunset Acres
Sunshine Acres
Surfside
Sweetwater
Sweetwater City
Tahiti
Tamiami
The Crossings
The Hammocks
Three Lakes
Town Gate
Town park Estates
Town Square
Treasure Island
Uleta
University of Miami
University Park
Upper East Side
Venetian Islands
Virginia Gardens
Virginia Key
Washington Park
West Flager
West Hollywood
West Little River
West Miami
West Hialeah
West Pembroke Pines
West Miramar
West Davie
West Kendall
West Doral
West Park
West Park City
West Perrine
Westchester
Westgate
Westview
Westwood Lakes
Wynwood
What can helical (screw) piles be used for?
---
Helical piles are an anchoring solution capable of supporting the heaviest loads, and can be installed in all types of soils no matter what the environmental challenges.
Our products are designed to solidly support residential, commercial, industrial, and municipal projects.
What are the GoliathTech advantages?
Minimal impact to the landscape
Start building immediately after installation
Perfectly level structure
A screw pile installation: quick and easy!
---
While construction projects usually leave you tired, frustrated, and counting down the days, with GoliathTech's help, you'll find yourself at ease. The expertise of our certified installers, combined with the cutting-edge technology used by our team, allows us to gather and then calculate all the information that we need for the project's success; and ultimately, to leave you with a project that you've only imagined in your dreams.
Steps 2 and 3 is where the screw pile installation occurs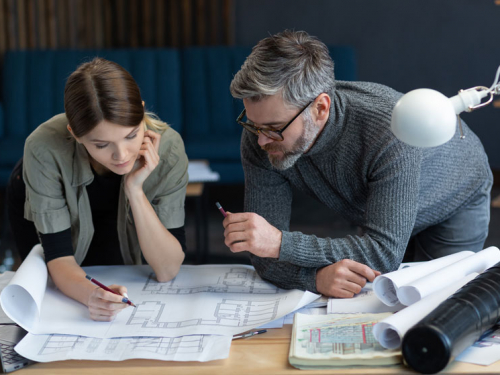 Step 1
Planning your project
First and foremost, it is essential to determine the nature of your project and the contractor who will build it, as well as the various needs associated with it. Evaluate the time, budget, and space available to you so that you can pass this information on to one of our certified installers, when the time comes.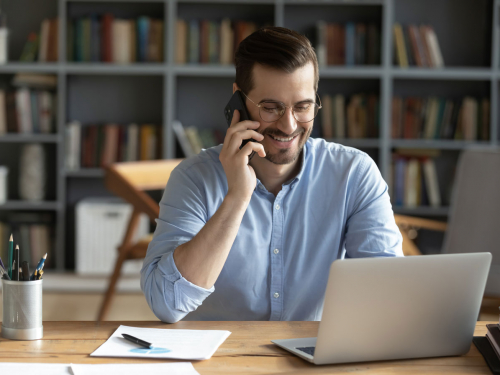 Step 2
Consultation and estimate
Our certified installers are waiting for your call! With the help of precise calculations and an analysis of the type of soil and the load to be supported, they will be able to provide you with an estimate of the cost of the product and will design a solution tailored to your needs.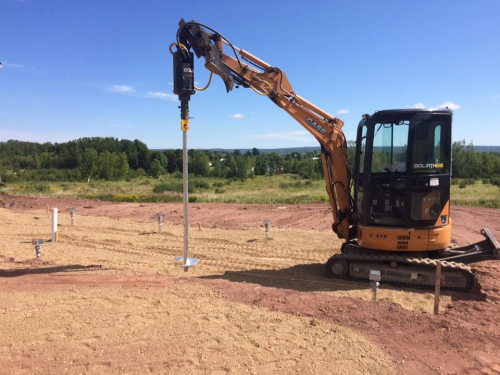 Step 3
Installation
The big day has finally arrived. The helical (screw) piles will be screwed in as deeply as possible. It's likely that during the installation, some technical details will need to be adjusted, such as the length of the piles or the size of the helices. Our experts know how to react quickly in order to ensure the absolute stability of your foundation.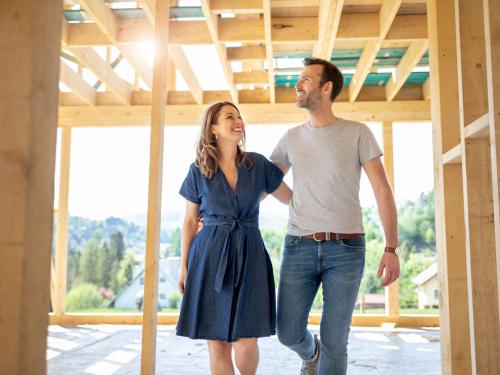 Step 4
Everything is ready for construction
There's no delay or clean-up required between the end of the screw pile installation and the start of construction. As soon as the last helical (screw) pile is anchored into the ground, your contractor can start building your project.
Types of applications: a helical pile foundation for incomparable anchorage
From deck to home foundations, our helical (screw) pile system is the best foundation solution for you.
No matter what your project is…
---
GoliathTech helical piles are ready
In order to provide you with a helical (screw) pile foundation solution that's designed to meet your needs and specific project, our network of certified installers and consultants make the most of their vast expertise in the field. Recognized for their know-how, they conform screw piles to meet the unique nature of your property and project, rather than offering you a solution... cast in concrete!