GoliathTech Your Helical (Screw) Pile Installer - Sudbury
---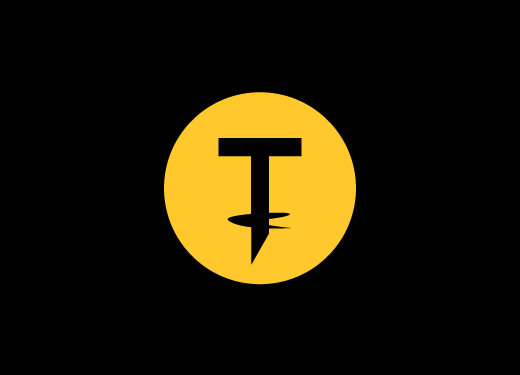 GoliathTech Sudbury - Vision Design and Development
770 Dominion Drive Hanmer, Ontario P3P 0A7
About Us
GoliathTech Sudbury is your certified installer for the cities of Greater Sudbury, West Nipissing, Elliot Lake, Northeastern Manitoulin, Espanola, Blind River, Sables-Spanish River, French River, Markstay-Warren, Central Manitoulin, and more. View more cities we serve below.
Cities served by your installer
West Nipissing
Elliot Lake
Northeastern Manitoulin
Espanola
Blind River
Sables-Spanish Rivers
French River
Markstay-Warren
Central Manitoulin
Adamsdale
Advance
Alban
Algo
Algoma
Algoma Mills
Anderson Lake
Ansonia
Assiginack
Azilda
Bailey Corners
Baldwin
Bar River
Barrie Island
Barrydowne
Basin Mines
Bass Creek
Beaver Lake
Beech Beach
Belanger
Bell Grove
Bidwell
Big Lake
Bigwood
Billings
Birch Island
Biscotasing
Blezard Valley
Blind River
Boland's Bay
Boninville
Bowser's Corner
Brennan Harbour
Britainville
Brodie
Bruce Mines
Bruce Station
Burpee
Callum
Cambrian Heights
Campement d'Ours Island
Capreol
Carol Richard Park
Carr's Landing
Carterton
Cartier
Casimir
Chapleau
Chartrand Corner
Chelmsford
Cloudslee
Clover Valley
Cockburn Island
Cold Springs
Coniston
Creighton
Cutler
Dawson Island
Day Mills
Dayton
Dean Lake
Denlou
Desbarats
Devon
Dill Siding
Dinner Point Depot
Dog Patch
Dokis
Don Lita
Dowling
Drury
Dryden's Corner
Dunnet's Corner
Dunns Valley
Eads Bush
Echo Bay
Echo River
Elizabeth Bay
Elliot Lake
Elmview
Espanola
Estaire
Evansville
Fernlee
Foleyet
Fort La Cloche
Foxey
French River
Frood Mine
Garson
Garson Junction
George Island
Gibraltar
Gogema
Goldenburgh
Gordon Lake
Gordon
Gore Bay
Green Bay
Grimsthrope
Groundhog River
Hagar
Hanmer
Harmony
Havilah
Hilly Grove
Hilton
Hilton Beach
Honora
Huron Shores
Hyman
Ice Lake
Iron Bridge
Island Lake
Jamot
Joburke
Jocelyn
Johnson
Kagawong
Kentvale
Killarney
Kynoch
Laird
Larchwood
Laurentien
Lavigne
Lawson Quarry
Lee Valley
Leeburn
Little Britain
Little Curner
Little Rapids
Lively
Livingstone Creek
Lockerby
Lo-Ellen
Long Bay
Lorne
Lunge Lodge
MacLennan
Manitoulin
Manitoulin Island
Manitowaning
Markstay
Massey
Mattagami
McBean Harbour
McCharles Lake
M'Chigeeng
McKerrow
Meldrum Bay
Michael's Bay
Mikkola
Milford Haven
Milnet
Mindemoya
Minnow Lake
Monetville
Monument Corner
Moonlight Beach
Morrisville
Nairn
Nairn Centre
Naighton
Neebish
Nestorville
Nickel Centre
Nickeldale
Noëlville
North Monetville
Northeastern Manitoulin and the Islands
Notre Dame du Lac
Oak Island
Oja
Old Spring Bay
Onaping
Onaping Falls
Phir
Ostrom
Ouellette
Outlook
Palomar
Parkinson
Parkwood
Patton
Perivale
Phelans
Pine Island
Pinecrest
Pleasant Valley
Plummer
Poplar
Port Findlay
Portlock Island
Providence Bay
Renabie
Rheault
Richards Landing
Rivière Veuve
Robinson
Robinson Subdivision
Rock Lake
Rockville
Romford
Rutter
Rydal Bank
Sables-Spanish River
Sailors Encampment
Saint Cloud
Sandfield
Sellwood
Serpent River
Sheguiandah
Sherwood
Shining Tree
Silver Water
Simard
Skead
Snowville
South Baymouth
Sowerby
Spanish
Spragge
Sprecher
Spring Bay
Squirrel Town
St Joseph
St Joseph Island
St-Charles
Stinson
Sucker Creek Landing
Sudbury
Sudbury District
Sudbury Townships
Suez
Sugar lsland
Sultan
Sylvan Valley
Tarbutt
Tehkummah
Tenby Bay
The Donovan
The Four Corners
The Island
The North Shore
The Slash
Thessalon
Timiskaming
Tionaga
Tobacco Lake
Turbine
Turner
Val Caron
Val Therese
Valley East
Walden
Walford
Wanup
Warren
Webbwood
West Arm
West Nipissing
Westree
Wharncliffe
Whitefish
Whitefish Falls
Willisville
Windy Lake
Wolseley Bay
Worthington
Sudbury
What can helical (screw) piles be used for?
---
Helical piles are an anchoring solution capable of supporting the heaviest loads, and can be installed in all types of soils no matter what the environmental challenges.
Our products are designed to solidly support residential, commercial, industrial, and municipal projects.
What are the GoliathTech advantages?
Minimal impact to the landscape
Start building immediately after installation
Perfectly level structure
A screw pile installation: quick and easy!
---
While construction projects usually leave you tired, frustrated, and counting down the days, with GoliathTech's help, you'll find yourself at ease. The expertise of our certified installers, combined with the cutting-edge technology used by our team, allows us to gather and then calculate all the information that we need for the project's success; and ultimately, to leave you with a project that you've only imagined in your dreams.
Steps 2 and 3 is where the screw pile installation occurs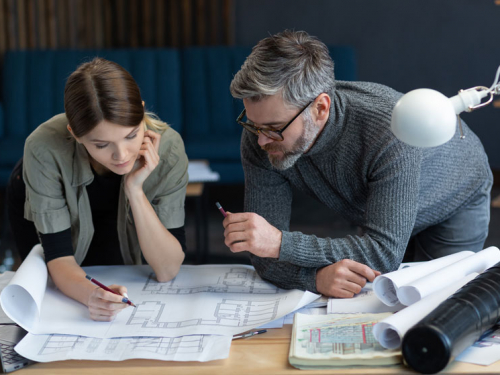 Step 1
Planning your project
First and foremost, it is essential to determine the nature of your project and the contractor who will build it, as well as the various needs associated with it. Evaluate the time, budget, and space available to you so that you can pass this information on to one of our certified installers, when the time comes.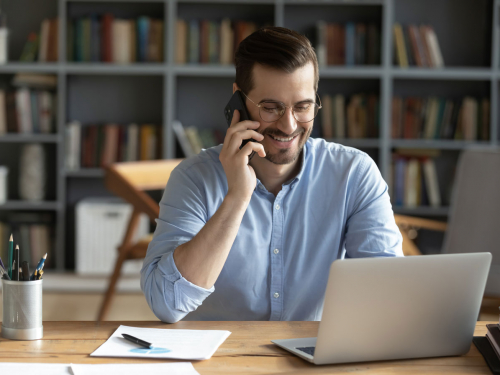 Step 2
Consultation and estimate
Our certified installers are waiting for your call! With the help of precise calculations and an analysis of the type of soil and the load to be supported, they will be able to provide you with an estimate of the cost of the product and will design a solution tailored to your needs.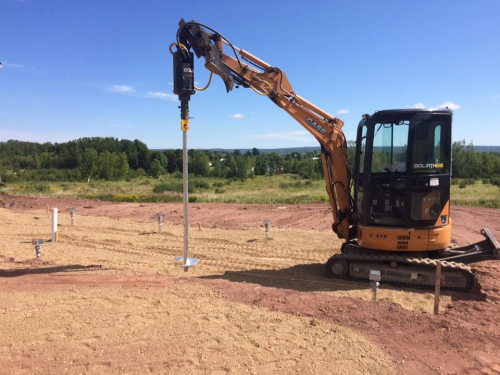 Step 3
Installation
The big day has finally arrived. The helical (screw) piles will be screwed in as deeply as possible. It's likely that during the installation, some technical details will need to be adjusted, such as the length of the piles or the size of the helices. Our experts know how to react quickly in order to ensure the absolute stability of your foundation.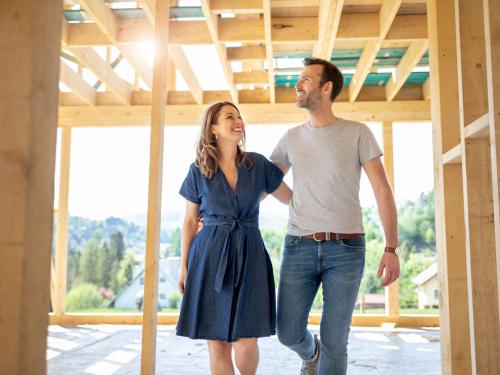 Step 4
Everything is ready for construction
There's no delay or clean-up required between the end of the screw pile installation and the start of construction. As soon as the last helical (screw) pile is anchored into the ground, your contractor can start building your project.
Types of applications: a helical pile foundation for incomparable anchorage
From deck to home foundations, our helical (screw) pile system is the best foundation solution for you.
No matter what your project is…
---
GoliathTech helical piles are ready
In order to provide you with a helical (screw) pile foundation solution that's designed to meet your needs and specific project, our network of certified installers and consultants make the most of their vast expertise in the field. Recognized for their know-how, they conform screw piles to meet the unique nature of your property and project, rather than offering you a solution... cast in concrete!