GoliathTech Your Helical (Screw) Pile Installer - Northeast Ontario
---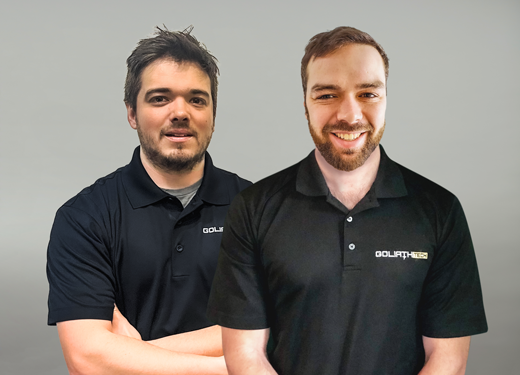 GoliathTech Northeast Ontario - PAD Systems Inc.
88 Father Costello Dr Schumacher, P.O. BOX 40, Ontario P0N 1G0
About Us
GoliathTech Northeast Ontario is your certified installer for the cities of Sault Ste. Marie, Timmins, Kapuskasing, Kirkland Lake, Cochrane, Hearst, Iroquois Falls, Wawa, Black River-Matheson, Moosonee, and more. View more cities we serve below.
Cities served by your installer
Sault Ste. Marie
Kapuskasing
Kirkland Lake
Cochrane
Hearst
Iroquois Falls
Wawa
Black River-Matheson
Moosonee
Abitibi
Abitibi Canyon
Agawa Bay
Algoma
Anjigami
Anthony
Aunor
Bourkes
Bremmer Island
Brower
Buskegau
Calstock
Chaput Hughes
Cheminis
Clute
Coppell
Dalton
Delnite
Diamond Lake
Dobie
Dome
Driftwood
Dubreauilville
Fauqier
Fire Reiver
Fort Albany
Franz
Frederickhouse
Fryatt
Garden River
Gauthier
Genier
Glendale
Gold Centre
Goldthorpe
Goulais Mission
Grant
Grégoires Mill
Gros Cap
Gutelius
Hallebourg
Harty
Hawk Junction
Hearst
Helen Junction
Heyden
Holtyre
Hornepayne
Horseshoe Bay
Hunta
Ile Parisienne
Island Falls
Island Lake
Jacksonboro
Jogues
Karalash Corners
Kashechewan
Kearns
Kenogami Lake
King Lebel
Larder Lake
Larocque
Leach Island
Lepage
Little Long Rapids
Lowther
Marter
Matachewan
Matheson
Mattice
McGarry
Michipicoten
Missanabie
Montreal Island
Montreal River Harbour
Moonbeam
Mahma
Northeast Ontario District
Oba
Ogoki
Opasatika
Otter Rapids
Pagwa River
Palmquist
Penhall
Preston East
Prince
Ramore
Reesor
Rosegraove
Sand Bay
Searchmont
Sesekinika
Shillington
Ship Sands Island
Siderite Junction
Smoky Falls
Smooth Rock Falls
Strickland
The Cache
Timiskaming
Tomstown
Trembley
Val Côté
Val Gagné
Val Rita
Vimy Ridge
Virginiatown
Watabeag
Wawa
Wawaitin Falls
White River
What can helical (screw) piles be used for?
---
Helical piles are an anchoring solution capable of supporting the heaviest loads, and can be installed in all types of soils no matter what the environmental challenges.
Our products are designed to solidly support residential, commercial, industrial, and municipal projects.
What are the GoliathTech advantages?
Minimal impact to the landscape
Start building immediately after installation
Perfectly level structure
A screw pile installation: quick and easy!
---
While construction projects usually leave you tired, frustrated, and counting down the days, with GoliathTech's help, you'll find yourself at ease. The expertise of our certified installers, combined with the cutting-edge technology used by our team, allows us to gather and then calculate all the information that we need for the project's success; and ultimately, to leave you with a project that you've only imagined in your dreams.
Steps 2 and 3 is where the screw pile installation occurs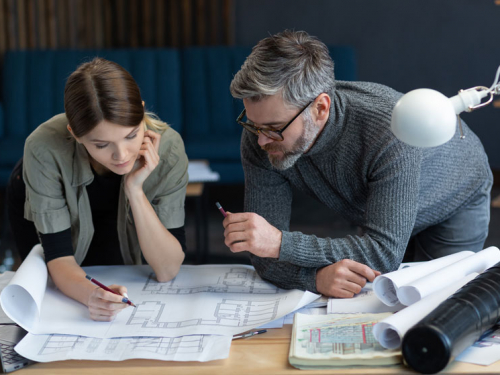 Step 1
Planning your project
First and foremost, it is essential to determine the nature of your project and the contractor who will build it, as well as the various needs associated with it. Evaluate the time, budget, and space available to you so that you can pass this information on to one of our certified installers, when the time comes.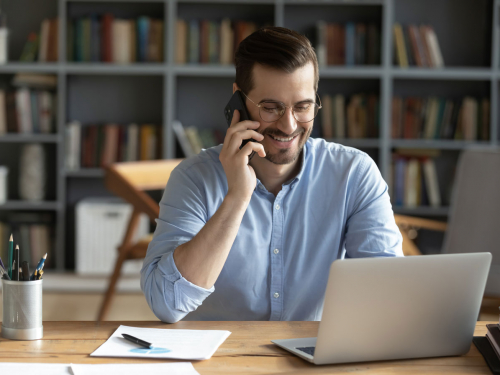 Step 2
Consultation and estimate
Our certified installers are waiting for your call! With the help of precise calculations and an analysis of the type of soil and the load to be supported, they will be able to provide you with an estimate of the cost of the product and will design a solution tailored to your needs.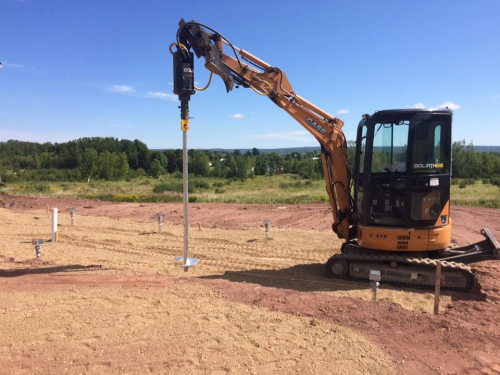 Step 3
Installation
The big day has finally arrived. The helical (screw) piles will be screwed in as deeply as possible. It's likely that during the installation, some technical details will need to be adjusted, such as the length of the piles or the size of the helices. Our experts know how to react quickly in order to ensure the absolute stability of your foundation.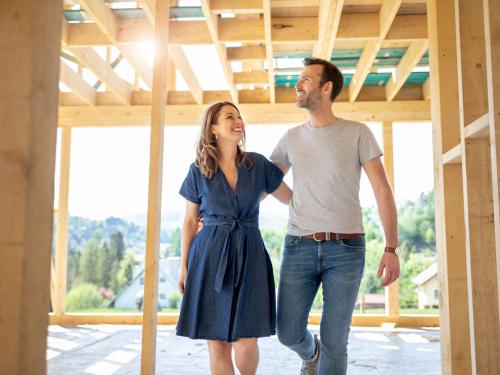 Step 4
Everything is ready for construction
There's no delay or clean-up required between the end of the screw pile installation and the start of construction. As soon as the last helical (screw) pile is anchored into the ground, your contractor can start building your project.
Types of applications: a helical pile foundation for incomparable anchorage
From deck to home foundations, our helical (screw) pile system is the best foundation solution for you.
No matter what your project is…
---
GoliathTech helical piles are ready
In order to provide you with a helical (screw) pile foundation solution that's designed to meet your needs and specific project, our network of certified installers and consultants make the most of their vast expertise in the field. Recognized for their know-how, they conform screw piles to meet the unique nature of your property and project, rather than offering you a solution... cast in concrete!