GoliathTech Your Helical (Screw) Pile Installer - Allentown
---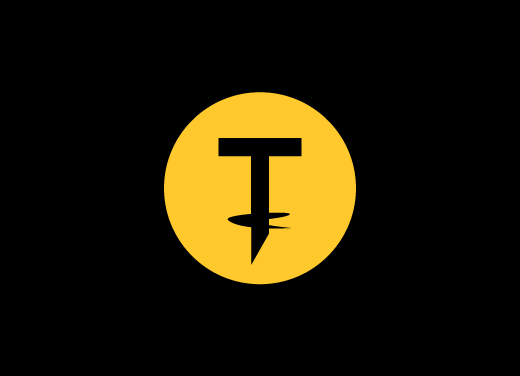 GoliathTech Allentown - East Penn Foundations Inc
Emmaus, Pennsylvania 18049
About Us
GoliathTech Allentown is your certified installer for the cities of Allentown, Bethlehem, Fullerton, Whitehall, Emmaus, Northampton, Middletown, Quakertown, Lower Saucon, Ancient Oaks, and more. View more cities we serve below.
Cities served by your installer
Fullerton
Whitehall
Emmaus
Northampton
Middletown
Quakertown
Lower Saucon
Ancient Oaks
1st Ward
6th Ward
7th Street
Albany
Albrightsville
Alburtis
Allentown
Alton Park
Amity
Ancient Oaks
Andreas
Applebachsville
Aquashicola
Arlington Knolls
Arndts
Ashfield
Balliettsville
Beaver Meadows
Beersville
Berlinsville
Best Station
Bethlehem
Bethlehem View
Bingen
Blakeslee
Bloomingdale
Bowers
Bowmanstown
Breinigsville
Brick Tavern
Brodhead
Buck Mountain
Bungalow Park
Bursonville
Butztown
California
Catausqua
Cementon
Center Valley
Cetronia
Chain
Chapel
Chapman
Cherryville
Chestnut Hill
Christmas
Claussville
Coaldale
Coffeetown
Colesville
Coopersburg
Coplay
Corning
Crackersport
Danielsville
Dannersville
Delps
Delta Manor
DeSales University
Dewey Heights
Dillingerville
Dorneyville
Dorset
Dryville
Durham
Durham Furnace
Dutch Hill
Eagle Point
East Allentown
East Greenville
East Hills
East Texas
East Weissport
Eckley
Eckville
Edgemont
Egypt
Eight Ward
Emerald
Emmaus
Emmaus Junction
Evergreen Park
Fairview
Farmersville
Farmington
Ferndale
Fernridge
Finland
Five Points
Fogelsville
Forest Inn
Fountain Hill
Franklin Park
Fredericksville
Freemansburg
Freidens
Freidensville
Fruitville
Fullerton
Gauff Hill
Germans
Germansville
Geryville
Ginther
Greenwalds
Grimville
Gruversville
Guth
Guthsville
Haafsville
Hacklebernie
Hamilton District
Hamilton Park
Hancock
Hanover
Harlem
Harpeys
Harrity
Hauto
Hecktown
Hecla
Hellertown
Henningsville
Hensingersville
Hereford
Hillside
Hilltop
Hinterleiter
Hokendauqua
Holiday Pocono
Holiday Poconos
Home Park
Hometown
Hoppenville
Hosensack
Howersville
Howertown
Hudsondale
Hynemansville
Indian Mountain Lake
Indianland
Ironton
Jacksonville
Jamestown
Jim Thorpe
Jonesville
Jordan Valley
Jugtown
Kaywin
Kempton
Kepner
Kernsville
Kintnersville
Klines Corner
Klinesville
Kreidersville
Kresgeville
Krocksville
Krumsville
Kuhnsville
Kutztown
Kutztown University
Lanark
Lansford
Laurys Station
Leather Station
Leather Corner Post
Lehigh Furnace
Lehigh Gap
Lehighton
Leibeyville
Leighton
Leithsville
Lenhartsville
Lewistown
Limeport
Lincoln Park
Little Gap
Locust Valley
Long Run
Longsdale
Longswamp
Lower Allentown
Lower Longswamp
Lower Saucon
Lynnport
Lynnville
Lyon Valley
Lyons
Macada
Macungie
Mantz
Mantzville
Maple Grove
Maxatawny
McKeansburg
Mechanicsville
Meckesville
Mertztown
Meyersville
Middletown
Midway Manor
Milford Square
Miller Manor
Minesite
Monterey
Mosser Village
Mosserville
Mountainville
Mumbauersville
Narrowsville
Neffs
Nesquehoning
New Allentown
New Columbus
New Mahoning
New Ringgold
New Smithville
New Tripoli
Newhard
Newkirk
Newside
Newtown
Normal Square
North Catasauqua
Nroth Weissport
Northampton
Old Allenwood
Old Zionsville
Orefield
Ormrod
Overlook Springs
Packerton
Packerton Junction
Paletown
Palm
Palmerton
Palmerton East
Park Ridge
Park Way Manor
Parkside Courts
Parryville
Passer
Pennsburg
Pennsville
Perkiomen Heights
Petersville
Pleasant Corners
Pleasant Valley
Point Phillip
Polk Valley
Powder Valley
Preserve
Quakake
Quaker City
Quakertown
Rauschs
Red Hill
Red Lion
Redington
Rextown
Reynolds
Rich Hill
Richlandtown
Reigelsville
Ringtown
Rising Sun
Rittenhouse Gap
Rittersville
Ritterville
Rockdale
Rockport
Rockville
Rocky Valley
Rose Garden
Rosedale
Ruchsville
Ruppsville
Saegersville
Sayre Park
Scherersville
Schnecksville
Schoenersville
Schofer
Seemsville
Seidersville
Seiple
Seipstown
Seisholtzville
Shankweilers
Shelly
Shimmersville
Shimmerville
Sierra View
Sigmund
Slate Valley
Slatedale
Slatefield
Slateville
Slatington
Snyders
South Allentown
South Poplar
South Side Historic District
South Tamaqua
South Terrace
Spinnerstown
Spring Creek
Spring Valley
Springtown
St. Paul's Park
Strafore Estates
Steel City
Steinsburg
Steinsville
Stemlersville
Sterlingworth
Stetlersville
Stiles
Still Creek
Stines Corner
Stoddartsville
Stony Run
Summit Hill
Summit Lawn
Switzer
Tamanend
Tamaqua
Topton
Towamensing Trails
Trachsville
Treichlers
Trexler
Trexlertown
Trumbauersville
Uhlerstown
Union Hill
Union Terrace
University Heights
Upper Black Eddy
Vera Cruz
Virginville
Wagnerville
Walbert
Walcksville
Walnutport
Wanamakers
Wassergass
Weatherly
Weaversville
Weidasville
Weilersville
Weissport
Weissport East
Wellington
Wennersville
Werleys Corner
Wescosville
West Catasauqua
West End Theatre District
West Park
West Penn
West Side
Westgate Hills
Whitehall
Wilbur
William Penn Manor
Williamstown
Woodlawn
Wydnor
Youngsville
Zionhill
Zionsville
What can helical (screw) piles be used for?
---
Helical piles are an anchoring solution capable of supporting the heaviest loads, and can be installed in all types of soils no matter what the environmental challenges.
Our products are designed to solidly support residential, commercial, industrial, and municipal projects.
What are the GoliathTech advantages?
Minimal impact to the landscape
Start building immediately after installation
Perfectly level structure
A screw pile installation: quick and easy!
---
While construction projects usually leave you tired, frustrated, and counting down the days, with GoliathTech's help, you'll find yourself at ease. The expertise of our certified installers, combined with the cutting-edge technology used by our team, allows us to gather and then calculate all the information that we need for the project's success; and ultimately, to leave you with a project that you've only imagined in your dreams.
Steps 2 and 3 is where the screw pile installation occurs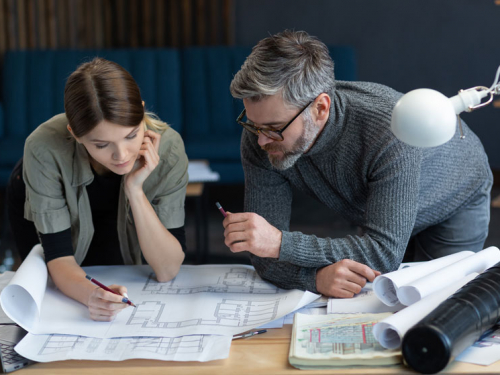 Step 1
Planning your project
First and foremost, it is essential to determine the nature of your project and the contractor who will build it, as well as the various needs associated with it. Evaluate the time, budget, and space available to you so that you can pass this information on to one of our certified installers, when the time comes.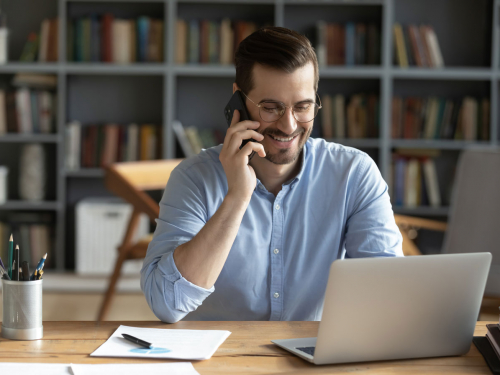 Step 2
Consultation and estimate
Our certified installers are waiting for your call! With the help of precise calculations and an analysis of the type of soil and the load to be supported, they will be able to provide you with an estimate of the cost of the product and will design a solution tailored to your needs.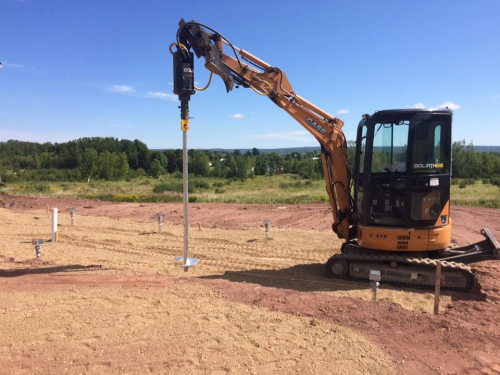 Step 3
Installation
The big day has finally arrived. The helical (screw) piles will be screwed in as deeply as possible. It's likely that during the installation, some technical details will need to be adjusted, such as the length of the piles or the size of the helices. Our experts know how to react quickly in order to ensure the absolute stability of your foundation.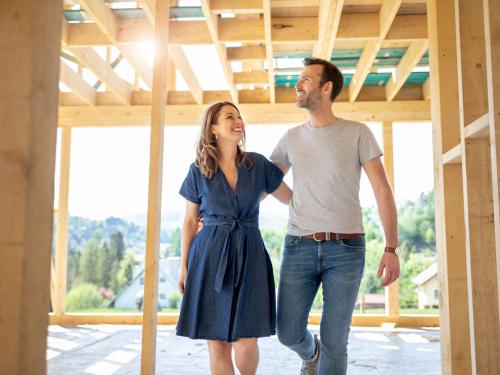 Step 4
Everything is ready for construction
There's no delay or clean-up required between the end of the screw pile installation and the start of construction. As soon as the last helical (screw) pile is anchored into the ground, your contractor can start building your project.
Types of applications: a helical pile foundation for incomparable anchorage
From deck to home foundations, our helical (screw) pile system is the best foundation solution for you.
No matter what your project is…
---
GoliathTech helical piles are ready
In order to provide you with a helical (screw) pile foundation solution that's designed to meet your needs and specific project, our network of certified installers and consultants make the most of their vast expertise in the field. Recognized for their know-how, they conform screw piles to meet the unique nature of your property and project, rather than offering you a solution... cast in concrete!