GoliathTech Your Helical (Screw) Pile Installer - North West NB
---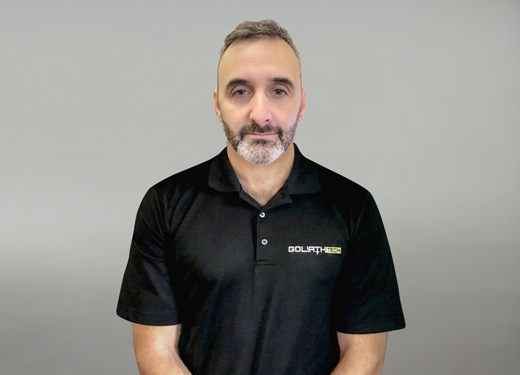 GoliathTech North West NB
St-Basile, New Brunswick E7C 2A3
About Us
GoliathTech North West NB is your certified installer for the cities of Edmundston, Grand Falls, Drummond, St-Quentin, Kent, Rivière-du-Loup, Témiscouata-sur-le-lac, St-Antonin, La Pocatière, St-Pascal, and more. View more cities we serve below.
Cities served by your installer
Drummond
St-Quentin
Kent
Rivière-du-Loup
Témiscouata-sur-le-Lac
St-Antonin
La Pocatière
St-Pascal
North West NB
Aberdeen
Adams Gluch
Anderson Road
Andover
Anfield
Argosy
Argyle
Armond
Aroostook
Arthurette
Ashland
Aubut
Auclair
Avondale
Bairdsville
Baker Brook
Bannon
Bath
Bayonne
Beaconsfield
Beaufort
Beckin Settlement
Bedford Road
Beech Glen
Bell Grove
Bellefleur
Bellefleur Station
Beveridge
Beincourt
Biggar Ridge
Bloomfield
Blue Bell
Blue Bell Corner
Blue Hill
Blue Mountain Bend
Bois-des-Bel
Bon Accord
Boundary
Bradley Corner
Bretagne
Brighton
Bristol Junction
Brookville
Bubartown
Burgess Settlement
Burntland Brook
Cabano
Cacouna
Cacouna-Est
Cacouna-Station
Cacouna-Sud
Caldwell
Camp Harmony
Canton
Canton-des-Roches
Carlingford
Carlisle
Carlow
Caron Brook
Carvell
Centre Glassville
Centreville
Chapmanville
Charleston
Chemin-du-Lac
Ciquart
Clair
Clearview
Cloverdale
Coldstream
Comeau Ridge
Concession-de-Baker-Brook
Concession-des-Bouchard
Concession-des-Lang
Concession-des-Ouellette
Concession-des-Viel
Connell
Connors
Coombers Road
Costigan
Courchesne
Couturier
Craig Flats
Crombie Settlement
Currie
Currie Road
Cyr Junction
North West NB
Davis Mill
Dawsonville
Deerville
Déglis
Denmers
Denmark
Desjardins Road
Dessaint
Deuxième-Sault
Digby Corner
Domaine-Héco
Dover Hill
DSL de Drummond
East Centreville
East Cloverdale
East Coldstream
East Glassville
Eatonville
Eldon
Ennemond
Ennishone
Entreprise
Esdraelon
Everett
Fatima
Fielding
Five Fingers
Flemming
Florenceville-Bristol
Foley Brook
Foreston
Four Falls
Fourche-à-Clark
Francoeur
Giberson Settlement
Gillespie Settlement
Gladwyn
Glassville
Glenwood
Good Corner
Gordon
Gordonsville
Grand Falls Portage
Grandbois
Grand-Bras
Grandmaison
Grand-Ruisseau
Greenfield
Gregg Settlement
Grève-D'Amours
Grève-Fatima
Grève-Morency
Grimmer
North West NB
Halfway Depot
Harrison Brook Settlement
Hartly Settlement
Hayden Ridge
Hazen
Hemphill Corner
Highlands
Hillandale
Hilldale Corner
Holliday
Holmesville
Howard Brook
Hunters Corner
Inman
Ivry
Jalbert
Jardine Brook
Jericho
Johnville
Juniper
Kamouraska
Kedgwick
Kedgwick Nord
Kedgwick Ouest
Kedgwick River
Kedgwick Sud
Kenneth
Ketchum Ridge
Kilburn
Kilfoil
Killoween
Kincardine
Kintore
Knowlesville
Knoxford
La Fourche-à-Hélène
La Rallonge
La Réserve
La Résurrection
La Société
La Suce
La Tarte
Lac Baker
Lac-de-l'Est
Lac-des-Aigles
Lac-Légaré
Lac-Thibeault
Lac-Unique
Lake Edward
Lakeville
Lamy
Lamy-Sud
Lansdowne
L'Anse-au-Persil
Lapointe
Lapointe-Station
Le Bocage
Le Moulin-du-Seigneur
Le Quatre-Cents-Pieds
Le Ravage
Le Reste-de-Cacouna
Lejeune
Leonard Colony
Les Basques
Les Étroites
Les Étroites-Nord
Les Rapids
Levesque
Levesque Settlement
Limerick
Linton Corner
L'Isle Verte
Listerville
Lockharts Mill
Long Settlement
Longley
Lorne
Lots-Renversés
Lower Anfield
Lower Bloomfield
Lower California
Lower Greenfield
Lower Kintore
Lower Knoxford
Lower Perth
Lower Portage
Lower Royalton
Lower Windsor
North West NB
Madawaska
Mainstream
Maliseet
Mann Siding
Maple View
Maplehurst
Martin Siding
McCluskey
McGrath Corner
McKeaghan
McLaughlin
McManus Siding
McMonagle Corner
Moedford
Menneval
Miller Line Cache
Millerville
Mineral
Monquart
Montagne-de-la-Croix
Montagne-des-Roy
Montagne-des-Therrien
Mont-Carmel
Moose Mountain
Morell Siding
Moulin-à-Albert
Moulin-Morneault
Mt Delight
Mt Pleasant
Muniac
Murphy Corner
New Denmark
New Denmark Corner
Nicteau
North West NB
North Ridge
North View
Notre-Dame-de-Lourdes
Notre-Dame-des-Neiges
Notre-Dame-des-Sept-Douleurs
Notre-Dame-du-Lac
Notre-Dame-du-Portage
Oakland
Odell
Orchards Corner
Oxbow
Packington
Patrieville
Peel
Pelletier
Pelletiers Mill
Perth
Perth-Andover
Petite-Réserve
Petite-Rivière-à-la-Truite
Petit-Ouest
Picard
Piccadilly
Pied-du-Lac
Piercemont
Pinniquine
Plaster Rock
Pohénégamook
Pointe-aux-Originaux
Pointe-de-Rivière-Ouelle
Poitras Siding
Portage-du-Lac
Pouliot
Price Road
Prime
Quai-à-Mousse
Quai-de-Saint-Juste
Quaker Brooks
Quartier-Saint-Thomas
Quatre-Coins
Quatre-Milles
Quisibis
Rang Sept-et-Huit
Rang-Cinq-et-Six
Rang-de-Lavoie
Rang-des-Bossé
Rang-des-Bourgoin
Rang-des-Collin
Rang-des-Couturier
Rang-des-Deschêne
Rang-des-Morneault
Rand-Dix-Huit
Rang-Double-Nord
Rang-Double-Sud
Rang-Douze-Nord
Rang-Douze-Sud
Rang-Quatorze
Rang-Saint-David
Rang-Saint-Grégoire
Rang-Saint-Joseph
Rang-Seize
Rang-Sept
Raudot
Recul-à-Rankin
Red Rapids
Riley Brook
Riou
River de Chute
River de Chute Siding
Rivière-Bleue
Rivière-Cabano
Rivière-Creuse
Rivière-des-Caps
Rivière-Manie
Rivière-Ouelle
Rivière-Ouelle-Station
Rivière-Plate
Rvière-Trois-Pistoles
Rivière-Verte
Robinsonville
Rockland
Route-de-Sault
Rowena
Royalton
Route-du-Sault
Rowena
Royalton
Ruisseau-Noir
Saint Almo
Saint André
Saint Hilaire
Saint Leonard
Saint Thomas
Saint-Amand
Saint-Andé
Saint-André-Station
Saint-Antonin
Saint-Arsène
Saint-Athanase
Saint-Bruno-de-Kamouraska
Saint-Cyprien
Saint-Denis de la Bouteillerie
Sainte-Anne-de-Madawska
Sainte-Françoise
Sainte-Hélène-de-Kamouraska
Saint-Éleuthère
Saint-Éloi
Saint-Elois-Station
Saint-Éloi-Station
Saint-Épiphane
Sainte-Rita
Saint-Eusèbe
Saint-Eusèbe-Ouest
Saint-François de Madawaska
Saint-Gabriel-Lalemant
Saint-Germain
Saint-Guy
Saint-Honoré
Saint-Honoré-de-Temiscouata
Saint-Hubert
Saint-Hubert-de-Rivière-du-Loup
Saint-Jean-de-Dieu
Saint-Jean-de-la-Lande
Saint-Joseph-de-Kamouraska
Saint-Juste-du-Lac
Saint-Léonard-Parent
Saint-Louis-du-Ha! Ha!
Saint-Mathieu-de-Rioux
Saint-Médard
Saint-Michel-du-Squatec
Saint-Modeste
Saint-Modeste-Station
Saint-Pacôme
Saint-Pacôme-Station
Saint-Paul-de-la-Croix
Saint-Philippe-de-Néri
Sainte-Pierre-de-Lamy
Saint-Quentin
Saint-Simon-sur-Mer
Salmonhurst Corner
Siegas
Siegas Lake Settlement
Simonds
Sirois
Sisson
Sisson Brook
Sisson Ridge
Six-Milles
Soucy
South Gordonsville
South Johnville
South Knowlesville
South Ridge
Squaw Cap
Strong Corner
Sully
Summerfield
Summit Depot
Sweeney Settlement
Tarrtown
Thibault
Three Brooks
Tilley
Tinker
Tracey Mills
Tracey Depot
Trois-Pistoles
Trou-à-Gardner
Trou-à-Pépette
Turner Settlement
Tweedie
Two Brooks
Undine
Upper California
Upper Kintore
Upper Knoxford
Upper Royalton
Upper Wicklow
Val Oakes
Val-Lambert
Val-Nadeua
Vauban
Veneer
Verbois
Verret
Village-Blier
Village-de-la-Blague
Violette Settlement
Violette Station
Wakem Corner
Wapske
Weaver
West Glassville
Weston
Whites Brook
Whitworth
Wicklow
Williamstown
Wilmot
Windsor
Woodville
What can helical (screw) piles be used for?
---
Helical piles are an anchoring solution capable of supporting the heaviest loads, and can be installed in all types of soils no matter what the environmental challenges.
Our products are designed to solidly support residential, commercial, industrial, and municipal projects.
What are the GoliathTech advantages?
Minimal impact to the landscape
Start building immediately after installation
Perfectly level structure
A screw pile installation: quick and easy!
---
While construction projects usually leave you tired, frustrated, and counting down the days, with GoliathTech's help, you'll find yourself at ease. The expertise of our certified installers, combined with the cutting-edge technology used by our team, allows us to gather and then calculate all the information that we need for the project's success; and ultimately, to leave you with a project that you've only imagined in your dreams.
Steps 2 and 3 is where the screw pile installation occurs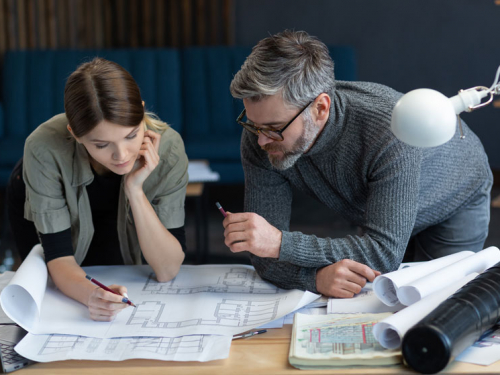 Step 1
Planning your project
First and foremost, it is essential to determine the nature of your project and the contractor who will build it, as well as the various needs associated with it. Evaluate the time, budget, and space available to you so that you can pass this information on to one of our certified installers, when the time comes.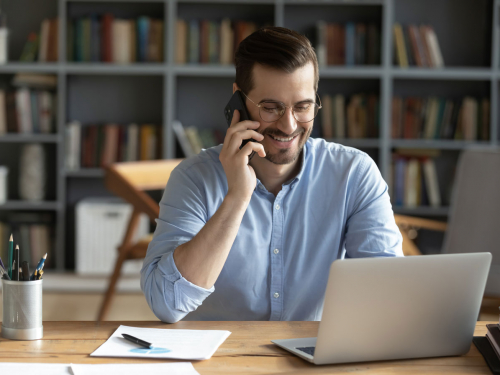 Step 2
Consultation and estimate
Our certified installers are waiting for your call! With the help of precise calculations and an analysis of the type of soil and the load to be supported, they will be able to provide you with an estimate of the cost of the product and will design a solution tailored to your needs.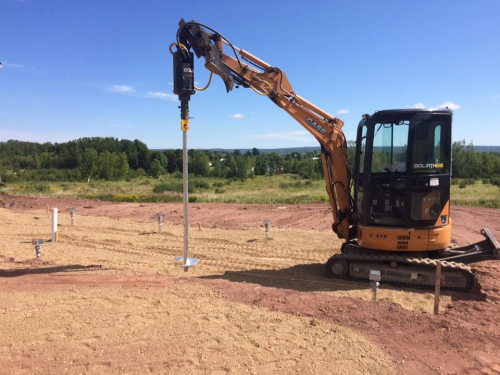 Step 3
Installation
The big day has finally arrived. The helical (screw) piles will be screwed in as deeply as possible. It's likely that during the installation, some technical details will need to be adjusted, such as the length of the piles or the size of the helices. Our experts know how to react quickly in order to ensure the absolute stability of your foundation.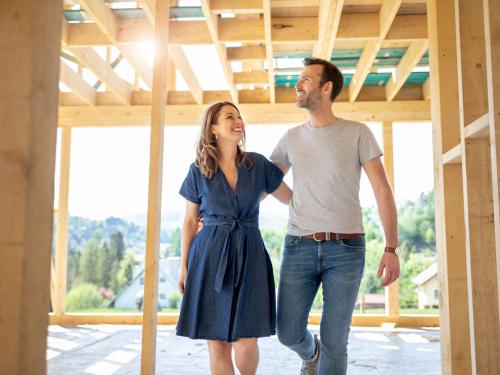 Step 4
Everything is ready for construction
There's no delay or clean-up required between the end of the screw pile installation and the start of construction. As soon as the last helical (screw) pile is anchored into the ground, your contractor can start building your project.
Types of applications: a helical pile foundation for incomparable anchorage
From deck to home foundations, our helical (screw) pile system is the best foundation solution for you.
No matter what your project is…
---
GoliathTech helical piles are ready
In order to provide you with a helical (screw) pile foundation solution that's designed to meet your needs and specific project, our network of certified installers and consultants make the most of their vast expertise in the field. Recognized for their know-how, they conform screw piles to meet the unique nature of your property and project, rather than offering you a solution... cast in concrete!