GoliathTech Your Helical (Screw) Pile Installer - Chaudière-Appalaches
---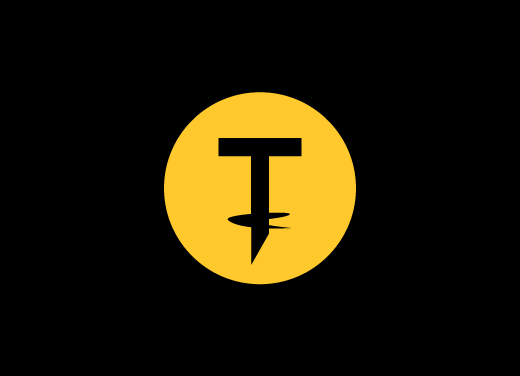 GoliathTech Chaudière-Appalaches - LMB Excavation
960 Rue Principale Saint-Sylvestre, Quebec G0S 3C0
About Us
GoliathTech Chaudière-Appalaches is your certified installer for the cities of Victoriaville, St-Georges, Thetford Mines, St-Apollinaire, St-Lambert-De-Lauzon, Plessisville, Princeville, Lac-Mégantic, Cookshire-Eaton, St-Agapit, and more. View more cities we serve below..
Cities served by your installer
Victoriaville
St-Georges
Thetford Mines
St-Apollinaire
St-Lambert-De-Lauzon
Plessisville
Princeville
Lac-Mégantic
Cookshire-Eaton
St-Agapit
East Angus
St-Christophe-D'arthabaska
Stoke
Notre-Dame-De-Lourdes
Adstock
Plessisville Paroisse
St-Gilles
Weedon
St-Martin
Ste-Croix
St-Bernard
St-Victor
St-Éphrem-De-Beauce
Laurier-Station
Disraeli
East Broughton
St-Gédéon-De-Beauce
St-Ferdinand
Dudswell
St-Flavien
La Guadeloupe
St-Joseph-De-Coleraine
Frontenac
St-Antoine-De-Tilly
St-Benoît-Labre
Lyster
Lambton
St-Honoré-De-Shenley
Nantes
Laurierville
Ste-Anne-Du-Sault
St-Valère
St-Norbert-D'arthabaska
St-Édouard-De-Lotbinière
St-Wenceslas
Disraeli Paroisse
Bury
St-Louis-De-Blandford
Ste-Agathe-De-Lotbinière
St-Pierre-Les-Becquets
St-Narcisse-De-Beaurivage
Westbury
St-Janvier-De-Joly
St-Patrice-De-Beaurivage
Daveluyville
St-Sylvestre
Notre-Dame-Des-Bois
Ste-Eulalie
Beaulac-Garthby
Stratford
Val-Alain
Dosquet
Inverness
Chesterville
St-Pierre-De-Broughton
Ham-Nord
Notre-Dame-Du-Sacré-Coeur-D'issoudu
St-Rosaire
Irlande
Deschaillons-Sur-St-Laurent
Ste-Cécile-De-Whitton
St-Séverin
Lotbinière
Manseau
La Patrie
Courcelles
St-Samuel
St-Sylvère
Audet
Newport
Marston
Ste-Sophie-De-Lévrard
St-Romain
St-Jacques-De-Leeds
St-Augustin-De-Woburn
St-Isidore-De-Clifton
Fortierville
St-Sébastien
Ste-Sophie-D'halifax
Ste-Clotilde-De-Beauce
St-Évariste-De-Forsyth
Sacré-Coeur-De-Jésus
St-Robert-Bellarmin
Stornoway
St-Elzéar
St-Pierre-Baptiste
Parisville
Villeroy
Lingwick
Leclercville
Aston-Jonction
Scotstown
Ste-Marie-De-Blandford
Maddington
Notre-Dame-De-Ham
St-Adrien-D'irlande
Ste-Françoise
Ste-Hélène-De-Chester
Ste-Cécile-De-Lévrard
Piopolis
Kinnear's Mills
Ste-Praxède
St-Jean-De-Brébeuf
St-Julien
Milan
Lemieux
Chartierville
Sts-Martyrs-Canadiens
St-Fortunat
St-Joseph-De-Ham-Sud
Hampden
St-Jacques-Le-Majeur-De-Wolfestown
Val-Racine
St-Hilaire-De-Dorset
Lac-Poulin
Lac-Drolet
St-Léonard-D'aston
St-Ludger
What can helical (screw) piles be used for?
---
Helical piles are an anchoring solution capable of supporting the heaviest loads, and can be installed in all types of soils no matter what the environmental challenges.
Our products are designed to solidly support residential, commercial, industrial, and municipal projects.
What are the GoliathTech advantages?
Minimal impact to the landscape
Start building immediately after installation
Perfectly level structure
A screw pile installation: quick and easy!
---
While construction projects usually leave you tired, frustrated, and counting down the days, with GoliathTech's help, you'll find yourself at ease. The expertise of our certified installers, combined with the cutting-edge technology used by our team, allows us to gather and then calculate all the information that we need for the project's success; and ultimately, to leave you with a project that you've only imagined in your dreams.
Steps 2 and 3 is where the screw pile installation occurs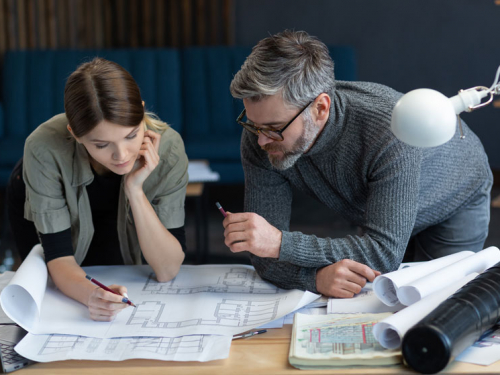 Step 1
Planning your project
First and foremost, it is essential to determine the nature of your project and the contractor who will build it, as well as the various needs associated with it. Evaluate the time, budget, and space available to you so that you can pass this information on to one of our certified installers, when the time comes.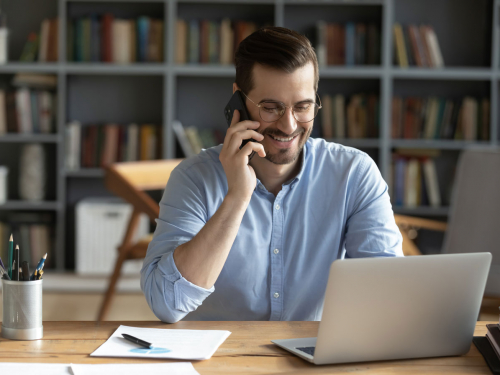 Step 2
Consultation and estimate
Our certified installers are waiting for your call! With the help of precise calculations and an analysis of the type of soil and the load to be supported, they will be able to provide you with an estimate of the cost of the product and will design a solution tailored to your needs.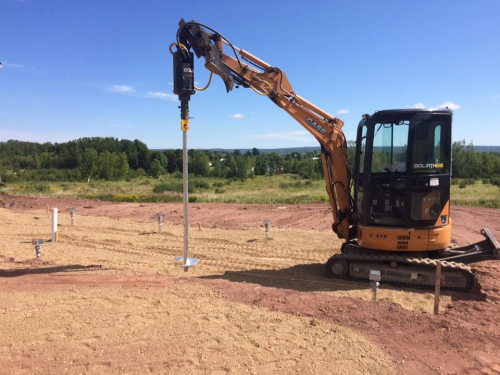 Step 3
Installation
The big day has finally arrived. The helical (screw) piles will be screwed in as deeply as possible. It's likely that during the installation, some technical details will need to be adjusted, such as the length of the piles or the size of the helices. Our experts know how to react quickly in order to ensure the absolute stability of your foundation.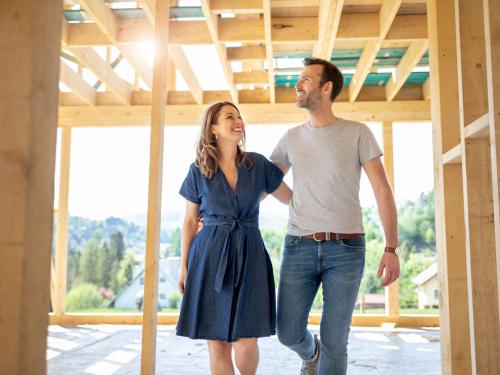 Step 4
Everything is ready for construction
There's no delay or clean-up required between the end of the screw pile installation and the start of construction. As soon as the last helical (screw) pile is anchored into the ground, your contractor can start building your project.
Types of applications: a helical pile foundation for incomparable anchorage
From deck to home foundations, our helical (screw) pile system is the best foundation solution for you.
No matter what your project is…
---
GoliathTech helical piles are ready
In order to provide you with a helical (screw) pile foundation solution that's designed to meet your needs and specific project, our network of certified installers and consultants make the most of their vast expertise in the field. Recognized for their know-how, they conform screw piles to meet the unique nature of your property and project, rather than offering you a solution... cast in concrete!