GoliathTech Your Helical (Screw) Pile Installer - Alpes
---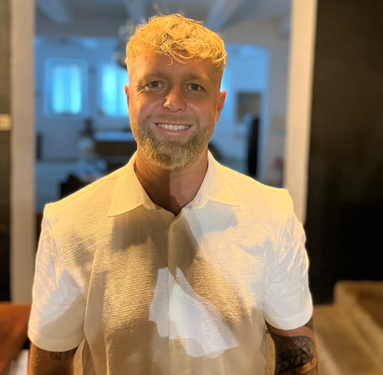 GoliathTech Alpes
1208 Avenue de Tarentaise Aime-la-Plagne, Savoie 73210
About Us
GoliathTech Alpes is your certified installer for the cities of Annecy, Belley, Bourg-Saint-Maurice, Chambéry, La Motte-Servolex, Lathuile, and more. View more cities we serve below.
Cities served by your installer
CHAMBÉRY
AIX-LES-BAINS
ALBERTVILLE
SEYNOD
LA MOTTE-SERVOLEX
BRIANÇON
SAINT-JEAN-DE-MAURIENNE
BELLEY
UGINE
BOURG-SAINT-MAURICE
LA RAVOIRE
FAVERGES
SAINT-GERVAIS-LES-BAINS
THÔNES
SAINT-ALBAN-LEYSSE
SAINT-JORIOZ
BARBERAZ
MEGÈVE
MOÛTIERS
LE BOURGET-DU-LAC
CHALLES-LES-EAUX
MONTMÉLIAN
MODANE
JACOB-BELLECOMBETTE
BASSENS
SÉVRIER
SAINT-PIERRE-D'ALBIGNY
AIME
LA ROCHETTE
ALLEVARD
TRESSERVE
BARBY
SAINT-BALDOPH
GRÉSY-SUR-AIX
DOUSSARD
SAINT-MICHEL-DE-MAURIENNE
AIGUEBLANCHE
ALBENS
YENNE
SAINT-MARTIN-DE-BELLEVILLE
GILLY-SUR-ISÈRE
MERCURY
SAINT-PIERRE-D'ALLEVARD
TIGNES
LES MARCHES
VEYRIER-DU-LAC
LA CLUSAZ
LA BÂTHIE
BEAUFORT
COMBLOUX
SÉEZ
DRUMETTAZ-CLARAFOND
LES ALLUES
BRISON-SAINT-INNOCENT
BOZEL
SAINT-BON-TARENTAISE
LA LÉCHÈRE
LA BIOLLE
GRIGNON
MENTHON-SAINT-BERNARD
SAINT-JULIEN-MONT-DENIS
VAL-D'ISÈRE
ALBY-SUR-CHÉRAN
SAINT-FÉLIX
FRONTENEX
MÂCOT-LA-PLAGNE
SAINT-CHAFFREY
MOUXY
VIVIERS-DU-LAC
TALLOIRES
VOGLANS
VILLAR-SAINT-PANCRACE
SAINT-JEAN-D'ARVEY
MARTHOD
CUSY
VALLOIRE
SONNAZ
SAINT-ETIENNE-DE-CUINES
MÉRY
AITON
GRUFFY
LES CONTAMINES-MONTJOIE
LA CHAMBRE
PRAZ-SUR-ARLY
GRÉSY-SUR-ISÈRE
DEMI-QUARTIER
VIUZ-LA-CHIÉSAZ
LE MONÊTIER-LES-BAINS
SAINTE-HÉLÈNE-SUR-ISÈRE
LA SALLE LES ALPES
CRUET
SAINT-RÉMY-DE-MAURIENNE
COISE-SAINT-JEAN-PIED-GAUTHIER
VILLARGONDRAN
SALINS-LES-THERMES
DINGY-SAINT-CLAIR
AIGUEBELLE
LES VILLARDS-SUR-THÔNES
APREMONT
FOURNEAUX
QUINTAL
SAINT-JEOIRE-PRIEURÉ
SAINT-JEAN-DE-LA-PORTE
NOTRE-DAME-DES-MILLIÈRES
HAUTELUCE
SAINT-FERRÉOL
DUINGT
BELLENTRE
ALEX
MANIGOD
FLUMET
CHIGNIN
PRALOGNAN-LA-VANOISE
TOURS-EN-SAVOIE
QUEIGE
BRENS
MONTCEL
MYANS
LATHUILE
LES AVANCHERS-VALMOREL
ARBIN
HÉRY-SUR-ALBY
ARVILLARD
PUGNY-CHATENOD
MARLENS
ARGENTINE
CEVINS
FRANCIN
SAINTE-FOY-TARENTAISE
SAINT-MARCEL
CHAMOUX-SUR-GELON
MONTAGNOLE
CHAZEY-BONS
RANDENS
LES DÉSERTS
LA CÔTE-D'AIME
ESSERTS-BLAY
MÛRES
SAINT-AVRE
PEYRIEU
VIRIGNIN
VILLARD-SUR-DORON
LANSLEBOURG-MONT-CENIS
VALLOUISE
AUSSOIS
LANDRY
TRÉVIGNIN
SAINT-MARTIN-DE-LA-PORTE
PEISEY-NANCROIX
CURIENNE
SAINTE-HÉLÈNE-DU-LAC
PALLUD
CHAPEIRY
MONTRICHER-ALBANNE
BRIDES-LES-BAINS
MONTAILLEUR
CHAMPAGNY-EN-VANOISE
VENTHON
SAINT-JEAN-DE-CHEVELU
MONTVALEZAN
SAINT-BENOÎT
SAINT-VITAL
ÉPIERRE
MONTAGNY
CHÂTEAUNEUF
VERRENS-ARVEY
SAINTE-MARIE-DE-CUINES
BRÉGNIER-CORDON
LESCHERAINES
LES MOLLETTES
LE CHÂTELARD
LAISSAUD
HERMILLON
CHAINAZ-LES-FRASSES
SAINT-SYLVESTRE
NOTRE-DAME-DE-BELLECOMBE
FEISSONS-SUR-ISÈRE
FONTCOUVERTE-LA TOUSSUIRE
VILLARODIN-BOURGET
MASSIGNIEU-DE-RIVES
MONTGENÈVRE
SAINT-PAUL
SAINT-OFFENGE-DESSOUS
SERRAVAL
LA GIETTAZ
SEYTHENEX
LES CLEFS
PUY-SAINT-ANDRÉ
BELLECOMBE-EN-BAUGES
SAINT-ANDRÉ
VAL-DES-PRÉS
JARRIER
GIEZ
SAINT-PAUL-SUR-ISÈRE
LA CHAPELLE-BLANCHE
FRÉTERIVE
BOURDEAU
LANSLEVILLARD
ARBIGNIEU
CONTREVOZ
TERMIGNON
LA CHAPELLE-DU-BARD
SAINT-GIROD
SAINT-JEAN-DE-BELLEVILLE
CREST-VOLAND
SAINT-NICOLAS-LA-CHAPELLE
SAINT-MARTIN-SUR-LA-CHAMBRE
PLANAY
VEREL-PRAGONDRAN
PELVOUX
BOURGNEUF
VALMEINIER
LA CHAVANNE
NATTAGES
SAINT-EUSTACHE
TOURNON
THOIRY
SAINT-GERMAIN-LA-CHAMBOTTE
CHAMOUSSET
ALBIEZ-MONTROND
VILLARD-LÉGER
MONTGIROD
PRESLE
ROGNAIX
SAINT-OURS
MONTHION
MONTAGNY-LES-LANCHES
LES CHAPELLES
VILLAROGER
BRAMANS
CÉSARCHES
PLANAISE
PUY-SAINT-PIERRE
ORELLE
LA PERRIÈRE
PONTAMAFREY-MONTPASCAL
SAINT-MARTIN-D'ARC
AVRIEUX
AILLON-LE-JEUNE
GROSLÉE
CESSENS
LA BALME-DE-THUY
SAINT-SORLIN-D'ARVES
SAINT-PIERRE-DE-SOUCY
PARVES
PUYGROS
BESSANS
LA MOTTE-EN-BAUGES
GRANIER
SAINT-GERMAIN-LES-PAROISSES
MORÊTEL-DE-MAILLES
CUZIEU
MOGNARD
VILLARLURIN
PLANCHERINE
MAGNIEU
NÉVACHE
VILLAREMBERT
ÉPERSY
ÉTABLE
ARITH
DÉTRIER
MEYRIEUX-TROUET
ANDERT-ET-CONDON
HAUTECOUR
NOTRE-DAME-DU-PRÉ
LE BOIS
BILLIÈME
LA CHAPELLE
THÉNÉSOL
ALLÈVES
CONS-SAINTE-COLOMBE
LA THUILE
LESCHAUX
LA TABLE
BLUFFY
BONVILLARD
JARSY
BONNEVAL-SUR-ARC
PRÉMEYZEL
ÉCOLE
LUCEY
HAUTEVILLE
JONGIEUX
TRAIZE
SAINT-ALBAN-DES-HURTIÈRES
CLÉRY
VILLARD-SALLET
SAINT-LÉGER
LA TRINITÉ
SAINT-JEAN-D'ARVES
LA COMPÔTE
SAINT-OFFENGE-DESSUS
SAINT-PANCRACE
LA FERRIÈRE
SAINT-GEORGES-DES-HURTIÈRES
LES CHAVANNES-EN-MAURIENNE
MURS-ET-GÉLIGNIEUX
BETTON-BETTONET
CHEVALINE
SAINT-COLOMBAN-DES-VILLARDS
VILLAROUX
SAINT-FRANÇOIS-LONGCHAMP
SAINT-OYEN
ROTHERENS
MONTMIN
VILLARD-D'HÉRY
LA CROIX-DE-LA-ROCHETTE
IZIEU
LA BALME
ALLONDAZ
LE BOUCHET
SAINT-PIERRE-D'ALVEY
AILLON-LE-VIEUX
ENTREVERNES
SOLLIÈRES-SARDIÈRES
LE MOUTARET
FEISSONS-SUR-SALINS
VALEZAN
MARIGNIEU
LE NOYER
VERTHEMEX
PINSOT
COHENNOZ
MONTVERNIER
MONTAIMONT
NOTRE-DAME-DU-CRUET
LE CHÂTEL
LA CHAPELLE-DU-MONT-DU-CHAT
SAINT-CHAMP
LOISIEUX
CERVIÈRES
COLOMIEU
PUGIEU
BOURGET-EN-HUILE
SAINTE-REINE
SAINT-FRANÇOIS-DE-SALES
FONTAINE-LE-PUITS
SAINT-PIERRE-DE-BELLEVILLE
LA CHAPELLE-SAINT-MAURICE
LE PONTET
BONNEVAL
SAINT-BOIS
CONZIEU
AMBLÉON
FRENEY
LA CHAPELLE-SAINT-MARTIN
MONTGELLAFREY
MONTGILBERT
DOUCY-EN-BAUGES
BONVILLARET
LE VERNEIL
ALBIEZ-LE-JEUNE
SAINT-ALBAN-DES-VILLARDS
MONTSAPEY
MONTENDRY
CHAMP-LAURENT
What can helical (screw) piles be used for?
---
Helical piles are an anchoring solution capable of supporting the heaviest loads, and can be installed in all types of soils no matter what the environmental challenges.
Our products are designed to solidly support residential, commercial, industrial, and municipal projects.
What are the GoliathTech advantages?
Minimal impact to the landscape
Start building immediately after installation
Perfectly level structure
A screw pile installation: quick and easy!
---
While construction projects usually leave you tired, frustrated, and counting down the days, with GoliathTech's help, you'll find yourself at ease. The expertise of our certified installers, combined with the cutting-edge technology used by our team, allows us to gather and then calculate all the information that we need for the project's success; and ultimately, to leave you with a project that you've only imagined in your dreams.
Steps 2 and 3 is where the screw pile installation occurs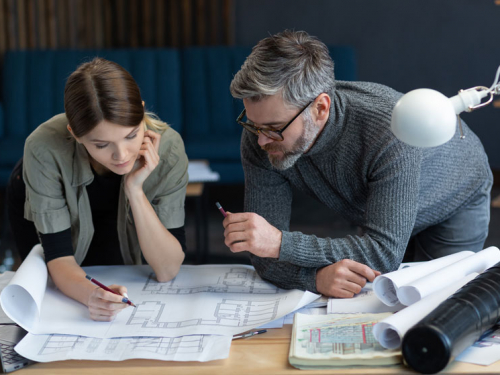 Step 1
Planning your project
First and foremost, it is essential to determine the nature of your project and the contractor who will build it, as well as the various needs associated with it. Evaluate the time, budget, and space available to you so that you can pass this information on to one of our certified installers, when the time comes.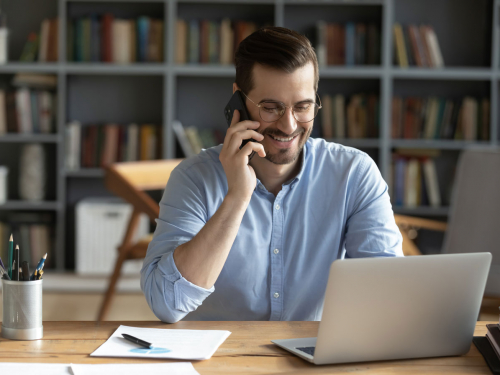 Step 2
Consultation and estimate
Our certified installers are waiting for your call! With the help of precise calculations and an analysis of the type of soil and the load to be supported, they will be able to provide you with an estimate of the cost of the product and will design a solution tailored to your needs.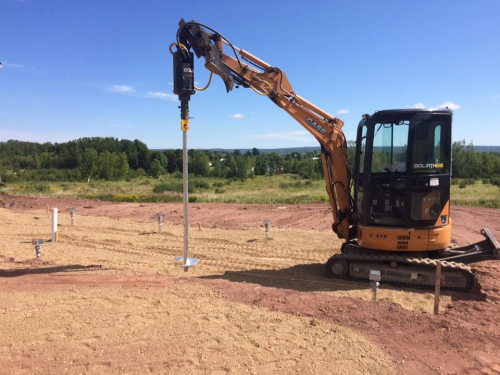 Step 3
Installation
The big day has finally arrived. The helical (screw) piles will be screwed in as deeply as possible. It's likely that during the installation, some technical details will need to be adjusted, such as the length of the piles or the size of the helices. Our experts know how to react quickly in order to ensure the absolute stability of your foundation.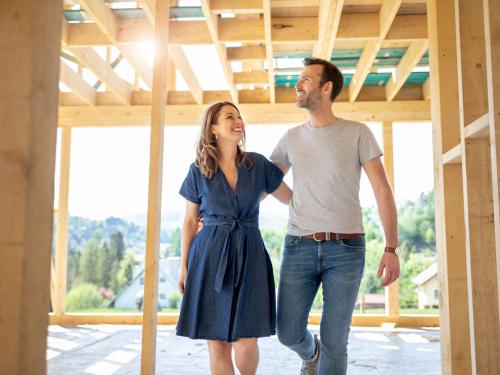 Step 4
Everything is ready for construction
There's no delay or clean-up required between the end of the screw pile installation and the start of construction. As soon as the last helical (screw) pile is anchored into the ground, your contractor can start building your project.
Types of applications: a helical pile foundation for incomparable anchorage
From deck to home foundations, our helical (screw) pile system is the best foundation solution for you.
No matter what your project is…
---
GoliathTech helical piles are ready
In order to provide you with a helical (screw) pile foundation solution that's designed to meet your needs and specific project, our network of certified installers and consultants make the most of their vast expertise in the field. Recognized for their know-how, they conform screw piles to meet the unique nature of your property and project, rather than offering you a solution... cast in concrete!