GoliathTech Your Helical (Screw) Pile Installer - Adirondack
---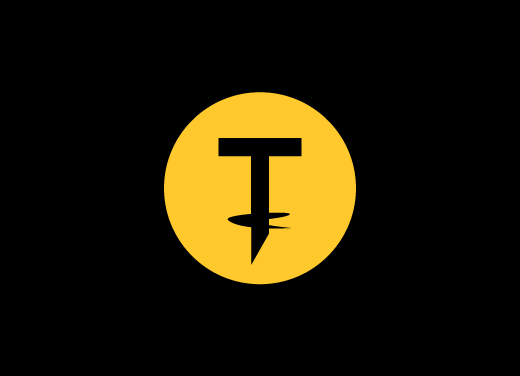 GoliathTech Adirondack
Deerfield, New York 13502
About Us
GoliathTech Adirondack is your certified installer for the cities of Utica, Rome, Gloversville, Johnstown, Ilion, Herkimer, Saranac Lake, Little Falls, Whitesboro, Tupper Lake, and more. View more cities we serve below.
Cities served by your installer
Utica
Rome
Gloversville
Johnstown
Ilion
Herkimer
Saranac Lake
Little Falls
Whitesboro
Tupper Lake
Air City
Alder Creek
Ames
Argusville
Arietta
Auriesville
Ava
Axton Landing
Barneveld
Bartlett
Big Brook
Bleecker
Bloomingdale
Boonville
Brantingham
Bridgewater
Browns Hollow
Buel
Burtonsville
Camroden
Canajoharie
Carlisle
Caroga Lake
Cassville
Chadwicks
Charleston
Cherry Valley
Childwold
Clark Mills
Clayville
Clinton
Cold Brook
Collinsville
Columbia Center
Conifer
Constableville
Cooperstown
Coreys
Cranberry Lake
Crum Creek
Dadville
Deansboro
Deer River
Denmark
Dennison Corners
Dolgeville
Eagle Bay
East Adirondack
East Floyd
East Herkeimer
East Springfield
Ephratah
Esperance
Fairfield
Fish Creek
Flat Creek
Floodwood
Floyd
Fonda
Forestport
Fort Hunter
Fort Johnson
Fort Plain
Fowlersville
Frankfort
Frankfort Center
Fultonville
Gabriels
Glen
Glenfield
Goulds Mill
Gravesville
Gray
Greig
Hallsville
Harrietstown
Harrisburg
Hawkinsville
Hecla
Herkeimer
Hessville
Higgins Bay
Hinckley
Holland Patent
Index
Inlet
Jacksonburg
Jordanville
Kingdom
Kirkland
Knoxboro
Kringsbush
Lairdsville
Lake Clear
Lake Colby
Lake Delta
Lake Placid
Lee
Lee Center
Litchfield
Long Lake
Lowville
Lower Adirondack
Lykers
Lyons Falls
Lyonsdale
Manheim Center
Maple Valley
Mapleton
Marcy
Marshville
Martinsburg
Mayfield
McKeever
Meco
Middlefield
Middleville
Millers Mills
Mindenville
Mohawk
Mohawk Hill
Moody
My Arab
Nelliston
New Bremen
New Hartford
New York Mills
Newport
North Elba
North Winfield
Norway
Old Forge
Oppenheim
Oriskany
Osceola
Otter Creek
Otter Lake
Paines Hollow
Palatine Bridge
Paris
Pine Grove
Poland
Port Leyden
Prospect
Randall
Raquette Lake
Remsen
Riceville
Richfield
Richfield Springs
Rockwood
Roseboom
Russia
Salisbury
Salisbury Center
Sammonsville
Sand Hill
Saranac Inn
Sauquoit
Schuyler Lake
Sharon
Sharon Springs
Sherril
Sloansville
South Adirondack
South Columbia
South Ilion
South Trenton
Speculator
Spinnerville
Sprakers
Springfield
Springfield Center
Sprout Brook
St Johnsville
Steuben
Steuben Valley
Stittville
Stone Arabia
Stratford
Talcottville
Thendara
Town Schuyler
Tribes Hill
Turin
Upper St Regis
Vail Mills
Vernon
Vernon Center
Verona
Walesville
Warren
Washington Mills
Watson
West Branch
West Bush
West Leyden
West Winfield
Westernville
Westmoreland
Wheelerville
Whiteface
Woodgate
Woodhull
Yorkville
What can helical (screw) piles be used for?
---
Helical piles are an anchoring solution capable of supporting the heaviest loads, and can be installed in all types of soils no matter what the environmental challenges.
Our products are designed to solidly support residential, commercial, industrial, and municipal projects.
What are the GoliathTech advantages?
Minimal impact to the landscape
Start building immediately after installation
Perfectly level structure
A screw pile installation: quick and easy!
---
While construction projects usually leave you tired, frustrated, and counting down the days, with GoliathTech's help, you'll find yourself at ease. The expertise of our certified installers, combined with the cutting-edge technology used by our team, allows us to gather and then calculate all the information that we need for the project's success; and ultimately, to leave you with a project that you've only imagined in your dreams.
Steps 2 and 3 is where the screw pile installation occurs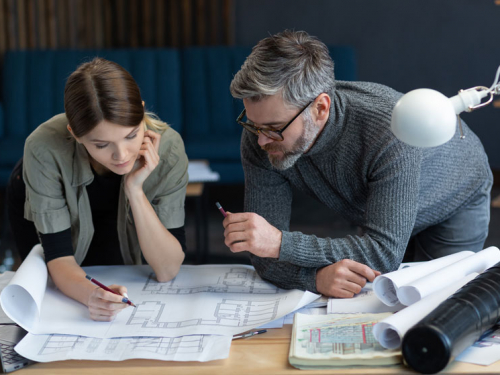 Step 1
Planning your project
First and foremost, it is essential to determine the nature of your project and the contractor who will build it, as well as the various needs associated with it. Evaluate the time, budget, and space available to you so that you can pass this information on to one of our certified installers, when the time comes.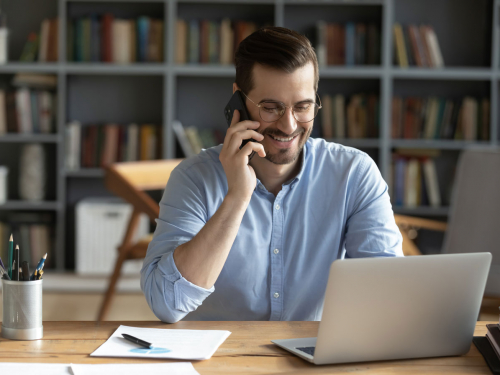 Step 2
Consultation and estimate
Our certified installers are waiting for your call! With the help of precise calculations and an analysis of the type of soil and the load to be supported, they will be able to provide you with an estimate of the cost of the product and will design a solution tailored to your needs.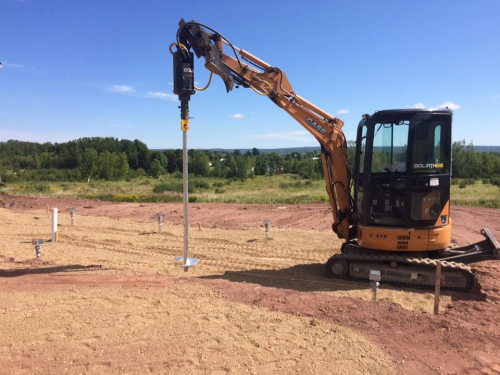 Step 3
Installation
The big day has finally arrived. The helical (screw) piles will be screwed in as deeply as possible. It's likely that during the installation, some technical details will need to be adjusted, such as the length of the piles or the size of the helices. Our experts know how to react quickly in order to ensure the absolute stability of your foundation.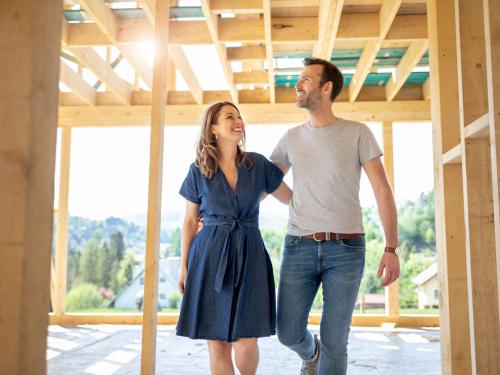 Step 4
Everything is ready for construction
There's no delay or clean-up required between the end of the screw pile installation and the start of construction. As soon as the last helical (screw) pile is anchored into the ground, your contractor can start building your project.
Types of applications: a helical pile foundation for incomparable anchorage
From deck to home foundations, our helical (screw) pile system is the best foundation solution for you.
No matter what your project is…
---
GoliathTech helical piles are ready
In order to provide you with a helical (screw) pile foundation solution that's designed to meet your needs and specific project, our network of certified installers and consultants make the most of their vast expertise in the field. Recognized for their know-how, they conform screw piles to meet the unique nature of your property and project, rather than offering you a solution... cast in concrete!