GoliathTech Your Helical (Screw) Pile Installer - Pembroke
---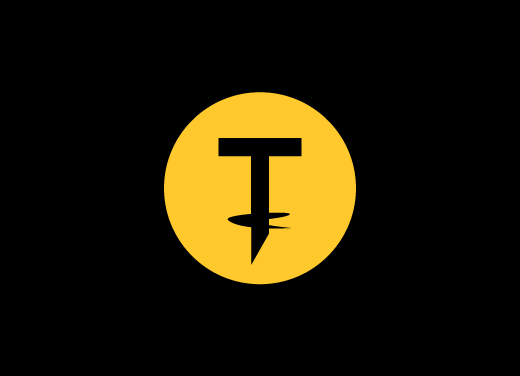 GoliathTech Pembroke - DJL Enterprises Inc.
262 Patricia Ave. Pembroke, Ontario K8A 2B8
About Us
GoliathTech Pembroke is your certified installer for the cities of Kawartha Lakes, Pembroke, Trent Hills, Hamilton, Laurentian Valley, Arnprior, Renfrew, Douro-Dummer, McNab/Braeside, Dysart et al., and more. View more cities we serve below.
Cities served by your installer
Kawartha Lakes
Trent Hills
Hamilton
Laurentian Valley
Arnprior
Renfrew
Douro-Dummer
McNab/Braeside
Dysart, Dudley, Harcourt and Others
Adamston
Airy
Alan Mills
Algonquin Highlands
Alice
Allans Corners
Allsaw
Alpine Village
Ancona Point
Apsley
Argyle
Ashby Mill
Ashdad
Asphodel-Norwood
Augsburg
Baddow
Balaclava
Balsam Hill
Balvenie
Bancroft
Baptiste
Barrett Chute
Barrymere
Barry's Bay
Barryvale
Bass Lake
Beachburg
Beechmount
Belangers Corner
Bell Rapids
Bensfort Corners
Bexley
Big Cedar
Big Island
Birch Point
Birds Creek
Birdsalls
Black Donald
Blairhampton
Blairton
Blairton Station
Blezard
Blue Mountain
Bobcaygeon
Bonnechere
Bonnechere Valley
Boulter
Bowen Corner
Brady Lake
Braeside
Brickley
Bromley
Bronson
Brookwood
Bruceton
Brudnell
Brumsfield
Buckhorn
Bulgers Corners
Buller
Burgess Mines
Burnbae
Burnstown
Burys Green
Buttermilk Falls
Calabogie
Cambray
Camel Chute
Cameron
Camp Kagawong
Campbellford
Cardiff
Carlow
Carnazon
Castleford
Catchacoma
Cavan-Monaghan
Cedar Glen
Cedar Valley
Centre Dummer
Centre Lake Junction
Centreview
Chalk Rivers
Chandos Lake
Chase Corners
Chenaux
Clarina
Clay Bank
Clay Valley
Cobden
Coboconk
Coe Hill
Combermere
Connaught
Connaught Shore
Connellys
Constant Creek
Copp
Cordova Mines
Cormac
Corsons
Cotieville
Cotnam Island
Cottesloe
Cowan's Bay
Craigmont
Cresswell
Cross Lake
Crowe Bridge
Crowes Landing
Cunningham's Corners
Pembroke
Dacre
Dartford
Davis Mills
Daytonia Beach
Deacon
Deep Bay
Deep River
Deer Bay
Deer Lake
Deux-Rivières
Dewars
Donald
Donegal
Dongola
Dorset
Douglas
Downeyville
Dranoel
Dutch Line
Eagle Lake
Eganville
Eldon
Elm Tree Corners
English Line
Ennismore
Essonville
Ewan
Fairy Lake Island
Faraday
Fee's Landing
Feir Mill
Fell
Fenelon Falls
Ferguslea
Fergusons Beach
Fingerboard
Flood's Landing
Flynns Turn
Forest Lea
Foresters Falls
Fort Irwin
Fort Stewart
Fortescue
Fourth Chute
Fox Point
Fox's Corners
Foymount
Fraserville
Freeman Corners
Fremo Corners
French Settlement
Furnace Falls
Pembroke
Galena
Gannon Beach
Gannon Village
Garden of Eden
Gelert
German Settlement
Germanicus
Gilchrist Bay
Gilson's Point
Glandine
Glanmire
Glasgow Station
Glenarm
Glenway Village
Godolphin
Golden Lake
Gooderham
Goshen
Government Road
Grand Island
Grants Settlement
Graphite
Grasshill
Greater Madawaska
Green Acres
Green Lake
Greenhurst-Thurstonia
Greenview
Greenwood
Griffith
Guerin
Guiney
Gunters
Haley
Haley Station
Halfway
Haliburton
Hall Glen
Hall Landing
Halls Lake
Hampelsfield
Harburn
Harcourt
Hardwood Lake
Harriets Corners
Harris Island
Hartley
Hastings
Hastings Highlands
Haultain
Havelock
Havergal
Head Lake
Head, Clara, and Maria
Healey Falls
Hermon
Hiam
Hickey Settlement
Hickory Beach
Highland Grove
Highlands East
Hillhead Corners
Hindon
Hindon Hill
Hoards
Hopefield
Horton
Hotspur
Howland
Huckabones Corners
Hughes
Hurds Lake
Hybia
Hynford
Pembroke
Indian
Indian River
Ingoldsby
Ireland
Irondale
Ironsides
isaacs Glen
Islay
Jack Lake
Jermyn
Jewellville
Juniper Island
Kaszuby
Kathmae Siding
Kawartha Park
Keene
Kellys Corner
Keneden Park
Kenhill Beach
Kennaway
Kennedy Bay
Kennisis lake
Kenrei Park
Keene
Kellys Corner
Keneden Park
Kenhill Beach
Kennaway
Kennedy Bay
Kenhill Beach
Kennaway
Kennedy Bay
Kennisis Lake
Kenrei Park
Kenstone Beach
Kerr Line
Khartum
Kilcoo Camp
Killaloe
Kimberly Park
Kings Wharf
Kinmount
Kirkfield
La Passe
Lake Doré
Lake of Bays
Lake Saint Peter
Lakefield
Lakehurst
Lakeview Estates
L'Amable
Landry Crossing
Lasswade
Latchford Bridge
Laurentian Hills
Ledgerwoods Corner
Letterkenny
Letts Corners
Limerick
Linden Valley
Lindsay
Little Britain
Lochlin
Lochwinnoch
Locksley
Pembroke
Long Beach
Lorneville
Lost Nation
Lower Dacre
Lower Stafford
Lumina
Lundeys Corners
Lutterworth
MacDonald Bay
Mackey
Madawaska
Madawaska Valley
Manilla
Mansfield
Maple Lake
Maple Leaf
Mariposa
Martins Corner
Martins Landing
Matawatchan
Mathers Corners
Maxwell
Maxwells
Mayhew
Mayhews Landing
Maynooth
McAlpine Corners
McArthurs Mills
McCrackens Landing
McDougall
McGary Flats
McGrath
McLarens Settlement
Meath
Meilleurs Bay
Menie
Meyers Island
Meyersburg
Micksburg
Millars Corner
Millbridge
Minden
Minden Hills
Miners Bay
Mink Lake
Missisaugua Landing
Mock Road
Monteagle Valley
Moor Lake
Moore Falls
Moores Lake
Mountain View
Mt Horeb
Mt Irwin
Mt Saint Patrick
Mud Lake
Murichson
Musclow
Nappan Island
Nephton
New Carlow
Newman's Beach
Nogies Creek
North Algona Wilberforce
North Kawartha
Northcote
Norwood
Oak Lake
Oak Orchard
Oakdene Point
Oakgrove
Oakwood
O'Donnell Landing
O'Grady Settlement
Old Killaloe
Omenee
Ops
Orange Corners
Ormsby
Osceola
Otonabee
Owenbrook
Palmer Rapids
Paugh Lake
Pembroke Junction
Pengelly Landing
Percy Boom
Perretton
Petawawa
Peterson Corner
Pethericks Corners
Pickerel Point
Pine Springs
Pine Valley
Pinegrove
Pleasant Point
Pleasant Valley
Pleasant View
Point Alexander
Powles Corner
Purdy
Pusey
Quadeville
Queens Line
Race Horse Camp
Rackety
Rankin
Reaboro
Riverview
Rochefort
Rocher Fendu
Rockcroft
Rockdale
Rockingham
Rolphton
Rose Island
Rosebank
Rosedale
Rosenthal
Round Lake
Round Lake Centre
Rowland
Ruby Mine
Rush Point
Russell Landing
Rylstone
Pembroke
Saint Ola
Salem Corners
Sand Point
Sandy Beach
Sandy Hook
Sandy Point
Schutt
Scotch Bush
Scotts Landing
Sea Breeze
Selwyn
Shamrock
Shields Crossing
Siberia
Silver Lake
Simpsons
Slabtown
Snug Harbour
Sonya
South Algonquin
South Beach
South Dummer
South Wilberforce
Southview Estates
Sportswood
Springtown
Spruce Hedge
Squirrel Depot
Stanwood
Starr's Beach
Steenburg Lake
Stewartville
Stonebrook
Stonyridge
Sturgeon Point
Sugar Island
Sunnybrae
Taylor Corners
The Glen
The Ridge
Thomson Hill
Tory Hill
Tramore
Trent Lakes
Trent River
Tudor
Union Creek
Uphill
Ursa
Valentia
Vanbrugh
Vansickle
Vardy
Verulam
Victoria Place
Victoria Road
Victoria Springs
Villiers
Waba
Wallace Point
Warsaw
Watsons
West Corners
West Guilford
Westmeath
Westview
Westwood
White Lake
Whitewater
Whitney
Wilberforce
Wilno
Wilson
Wilson Island
Windward
Wingle
Woito
Wolfe
Wolftown
Wollaston
Woodland
Woodview
Wylie
York River
Young's Cover
Youngs Point
Youngstown
Zadow
Zion
Zion Line
Pembroke
What can helical (screw) piles be used for?
---
Helical piles are an anchoring solution capable of supporting the heaviest loads, and can be installed in all types of soils no matter what the environmental challenges.
Our products are designed to solidly support residential, commercial, industrial, and municipal projects.
What are the GoliathTech advantages?
Minimal impact to the landscape
Start building immediately after installation
Perfectly level structure
A screw pile installation: quick and easy!
---
While construction projects usually leave you tired, frustrated, and counting down the days, with GoliathTech's help, you'll find yourself at ease. The expertise of our certified installers, combined with the cutting-edge technology used by our team, allows us to gather and then calculate all the information that we need for the project's success; and ultimately, to leave you with a project that you've only imagined in your dreams.
Steps 2 and 3 is where the screw pile installation occurs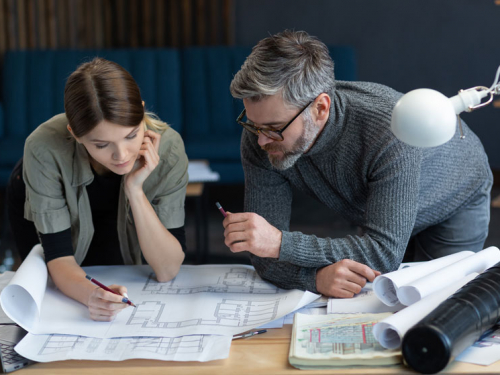 Step 1
Planning your project
First and foremost, it is essential to determine the nature of your project and the contractor who will build it, as well as the various needs associated with it. Evaluate the time, budget, and space available to you so that you can pass this information on to one of our certified installers, when the time comes.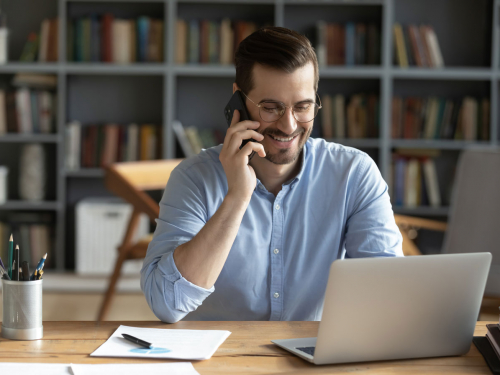 Step 2
Consultation and estimate
Our certified installers are waiting for your call! With the help of precise calculations and an analysis of the type of soil and the load to be supported, they will be able to provide you with an estimate of the cost of the product and will design a solution tailored to your needs.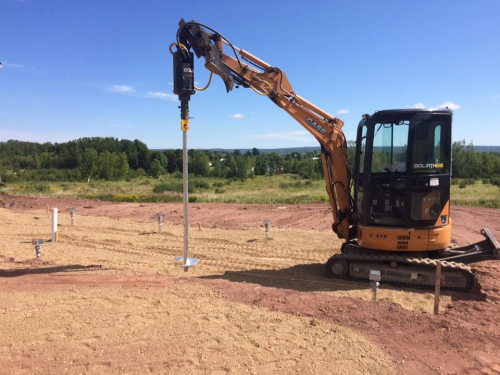 Step 3
Installation
The big day has finally arrived. The helical (screw) piles will be screwed in as deeply as possible. It's likely that during the installation, some technical details will need to be adjusted, such as the length of the piles or the size of the helices. Our experts know how to react quickly in order to ensure the absolute stability of your foundation.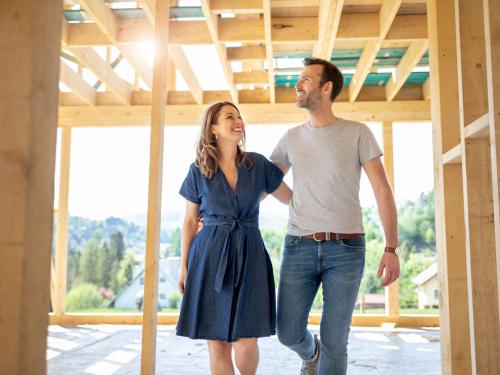 Step 4
Everything is ready for construction
There's no delay or clean-up required between the end of the screw pile installation and the start of construction. As soon as the last helical (screw) pile is anchored into the ground, your contractor can start building your project.
Types of applications: a helical pile foundation for incomparable anchorage
From deck to home foundations, our helical (screw) pile system is the best foundation solution for you.
No matter what your project is…
---
GoliathTech helical piles are ready
In order to provide you with a helical (screw) pile foundation solution that's designed to meet your needs and specific project, our network of certified installers and consultants make the most of their vast expertise in the field. Recognized for their know-how, they conform screw piles to meet the unique nature of your property and project, rather than offering you a solution... cast in concrete!