GoliathTech Your Helical (Screw) Pile Installer - Asheville
---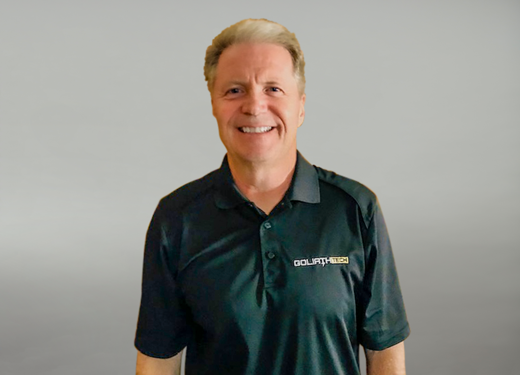 GoliathTech Asheville
Concord, North Carolina 28025
About Us
GoliathTech Asheville is your certified installer for the cities of Asheville, Greenville, Greer, Taylors, Easley, Wade Hampton, Berea, Hendersonville, Parker, Powdersville, and more. View more cities we serve below.
Cities served by your installer
Greenville
Greer
Taylors
Easley
Wade Hampton
Berea
Hendersonville
Parker
Waynesville
Albemarle Park
Alexander
Altapass
Antioch
Arden
Arial
Ashford
Avery Creek
Azalea
Bald Creek
Bald Mountain
Balfour
Ballentree
Balsam Grove
Barker Heights
Barnard
Barnardsville
Bat Cave
Bear Creek
Bearwallow
Beaumont
Beaverdam
Bee Log
Beech
Belva
Bent Creek
Bethel
Beverly Hills
Big Laurel
Big Pine
Biltmore
Biltmore Forest
Biltmore Lake
Biltmore Park
Biltmore Village
Birdtown
Black Mountain
Blantyre
Blue Ridge
Bluff
Bowditch
Brandon
Brevard
Brickton
Brookdale
Brookland Manor
Brucemont Circle
Brutontown
Buckner
Buena Vista
Burnsville
Burton Street
Busbee
Busick
Caesars Head
Calvert
Candler
Candler Heights
Cane River
Canto
Canton
Carolina Village
Cedar Mountain
Celo
Celo Community
Center Pigeon
Charlotte Street
Cherokee
Cherokee Forest
Cherryfield
Chestnut Hill
Chestnut Hills
Chick Springs
Chimney Rock
Cimarron
City View
Cleveland
Clinchfield
Clyde
Courtland
Cover Creek
Crab Tree
Crabtree
Craggy
Crosswell
Cruso
Cutshalltown
Dacusville
Dana
Davidson River
Davistown
Day Brook
Deaverview
Deer Run
Deerwood
Dellwood
Democrat
Double Island
Druid Hills
Dula Springs
Dunean
Dunns Rock
East End
East Flat Rock
East Marion
East View Association
Edneyville
Elk Mountain
Emma
Enka
Enka Village
Erskine
Estatoe
Etowah
Fairview
Fairway Hills
Falconhurst
Faust
Fero
Fibreville
Fines Creek
Five Points
Flat Creek
Flat Rock
Fletcher
Foster Creek
Franklin Park
Fruitland
Georgetown
Gerton
Gibsontown
Glady
Glenwood
Gowensville
Grace
Graphite
Grassy Creek
Green Mountain
Greenlee
Grimesdale
Grove Park Sunset
Grovemont
Grovestone
Guntertown
Hall Fletcher
Hampton Heights
Hamrick
Happy Valley
Haw Creek
Hazelwood
Henrietta
Higgins
Highland
Hominy
Hoopers Creek
Horse Shoe
Hot Springs
Huston
Hyatt Creek
Ingleside
Iron Duff
Ivy Hills
Jackson Park
Jacktown
Jonathan
Judson
Jugtown
Juno
Jupiter
Kalmia
Kenilworth
Kenilworth Forest
Lackey Town
Lake Junaluska
Lake Lanier
Lake Toxaway
Lakemont
Lakeview Estates
Lakeview Park
Lakewood
Landrum
Laurel Park
Leawood
Lee Walker Heights
Leicester
Lewisburg
Linden
Little Creek
Little River
Little Switzerland
Little Texas
Long Ridge
Longcreek
Lost Cove
Lower Asheville
Lucerne Park
Luck
Luther
Maggie Valley
Malvern Hills
Marietta
Marion
Mars Hill
Marshall
Micaville
Mills River
Mills River Town
Minpro
Minter
Moffitt Hill
Monaghan
Montague
Montreat
Morning Star
Morningside Park
Mount Sterling
Mount View
Mountain Home
Mountain Valley
Mountain View
Mountainbrook
Mt Mitchell
Murdock
Murphy Junction
Naples
Newdale
Newfound
North Asheville Community
North Brevard
North Cove
North Main
Oak Forest
Oak Park
Oakland
Oakley
Old Fort
Oteen
Paint Fork
Paint Rock
Panther Creek
Paris
Park Avenue
Park Place
Parkway Forest
Penland
Penrose
Pensacola
Petersburg
Piedmont Park
Pisgah Forest
Pisgah View
Pleasant Gardens
Pleasant Grove
Plott Farm Addition
Pole Creek
Powdersville
Price Creek
Providence
Quebec
Racquet Club Village
Ramseytown
Redwood Forest
Renfrew
Revere
Riceville
Richmond Hills
Ridgecrest
River Arts District
River Falls
Riverside
Riverside Industrial
Rosman
Royal Pines
Saint Dunstan's
Saluda
Sand Hill
Sandy Flat
Sandymush
Sans Souci
Sans Souci Heights
Sapphire
Saunook
Sayles Village
Selica
Sevier
Sherwood Forest
Sherwood Terraces
Shiloh
Sioux
Skyland
Slater
Slater-Marietta
Sondley Estates
South Asheville
South French Broad
South Hominy
South Slope Brewing District
Spears Street
Spring Creek
Spring Forest
Spruce Pine
Stackhouse
Stocksville
Stoney Knob
Stoneycrest
Stony Fork
Sugar Hill
Summerhaven
Swannanoa
Swiss
Tanglewood
Terrace Gardens
Tigerville
Toledo
Toms Creek
Town Forest
Travelers Rest
Tree Haven
Trust
Turnpike
Tuxedo
Twin Brooks
Upward
Valley Hill
Valley Street
Vein Mountain
Venable
Virginia Avenue
Vixen
Walnut
Walnut Creek
Walton
Waterville
Waverly
Weaverville
Wecan
Welcome
West Asheville
West Asheville Estates
West Canton
West Greenville
West Haven
West Marion
West Emma
West Enka
West Enka Village
West Erskine
West Estatoe
West Etowah
West Fairview
West Fairway Hills
West Falconhurst
West Faust
West Fero
West Fibreville
West Fines Creek
West Five Points
Westville
Westwood Place
Whispering Pines
White Horse
White Rock
Wildacres
Wilshire Park
Windom
Woodfin
Woodland Hills
Woodlawn
Woodrow
Woodside
Woodside Hills
Worley
Yale
Zirconia
What can helical (screw) piles be used for?
---
Helical piles are an anchoring solution capable of supporting the heaviest loads, and can be installed in all types of soils no matter what the environmental challenges.
Our products are designed to solidly support residential, commercial, industrial, and municipal projects.
What are the GoliathTech advantages?
Minimal impact to the landscape
Start building immediately after installation
Perfectly level structure
A screw pile installation: quick and easy!
---
While construction projects usually leave you tired, frustrated, and counting down the days, with GoliathTech's help, you'll find yourself at ease. The expertise of our certified installers, combined with the cutting-edge technology used by our team, allows us to gather and then calculate all the information that we need for the project's success; and ultimately, to leave you with a project that you've only imagined in your dreams.
Steps 2 and 3 is where the screw pile installation occurs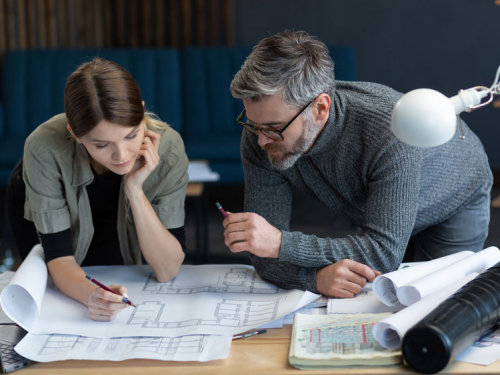 Step 1
Planning your project
First and foremost, it is essential to determine the nature of your project and the contractor who will build it, as well as the various needs associated with it. Evaluate the time, budget, and space available to you so that you can pass this information on to one of our certified installers, when the time comes.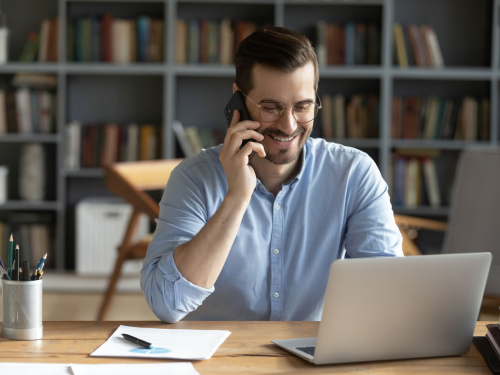 Step 2
Consultation and estimate
Our certified installers are waiting for your call! With the help of precise calculations and an analysis of the type of soil and the load to be supported, they will be able to provide you with an estimate of the cost of the product and will design a solution tailored to your needs.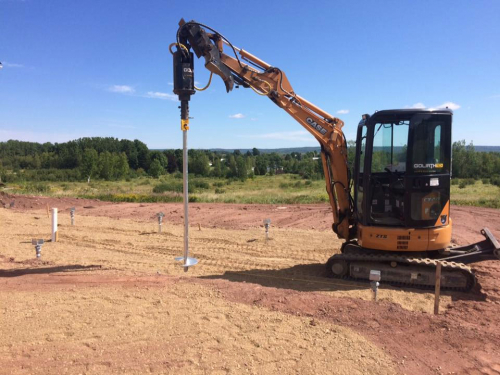 Step 3
Installation
The big day has finally arrived. The helical (screw) piles will be screwed in as deeply as possible. It's likely that during the installation, some technical details will need to be adjusted, such as the length of the piles or the size of the helices. Our experts know how to react quickly in order to ensure the absolute stability of your foundation.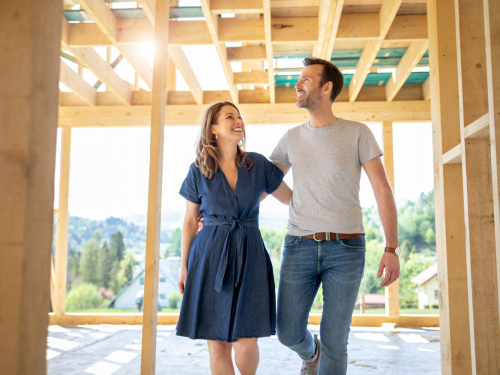 Step 4
Everything is ready for construction
There's no delay or clean-up required between the end of the screw pile installation and the start of construction. As soon as the last helical (screw) pile is anchored into the ground, your contractor can start building your project.
Types of applications: a helical pile foundation for incomparable anchorage
From deck to home foundations, our helical (screw) pile system is the best foundation solution for you.
No matter what your project is…
---
GoliathTech helical piles are ready
In order to provide you with a helical (screw) pile foundation solution that's designed to meet your needs and specific project, our network of certified installers and consultants make the most of their vast expertise in the field. Recognized for their know-how, they conform screw piles to meet the unique nature of your property and project, rather than offering you a solution... cast in concrete!