GoliathTech Your Helical (Screw) Pile Installer - Pensacola
---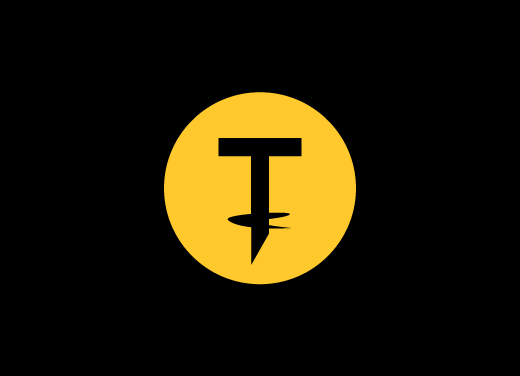 GoliathTech Pensacola
Auburn, Alabama 35630
About Us
GoliathTech Pensacola is your certified installer for the cities of Tallahassee, Pensacola, Cantonment, Navarre, Panama City, Ferry Pass, Wright, Crestview, Bellview, Pace, and more. View more cities we serve below.
Cities served by your installer
Cantonment
Navarre
Panama City
Ferry Pass
Wright
Crestview
Bellview
Pace
Brent
Ensley
Fort Walton Beach
West Pensacola
Midway
Lynn Haven
Crawfordville
Myrtle Grove
Niceville
Upper Grand Lagoon
Warrington
Panama City Beach
Gonzalez
East Milton
Destin
Callaway
Cairo
Milton
Santa Rosa Beach
Franklin
Miramar Beach
Eglin AFB
Springfield
Quincy
Lake Lorraine
Holt
Youngstown
Perry
Baker
Gulf Breeze
Ocean City
De Funiak Springs
Marianna
Lafayette
Liberty
Freeport
Valparaiso
Bagdad
Laguna Beach
Tyndall AFB
Mary Esther
Lower Grand Lagoon
Wallace
Parker
Pensacola Beach
Pea Ridge
Chipley
Port St. Joe
Goulding
Point Baker
Woodville
Tiger Point
Fountain
McDavid
Midway
Hiland Park
Pine Forest
Pretty Bayou
Chattahoochee
Cedar Grove
Madison
Bonifay
Eastpoint
Monticello
Woodlawn Beach
Carrabelle
Apalachicola
Holley
Blountstown
Graceville
Panacea
Pensacola Ridge
Wewahitchka
Malone
Century
Oriole Beach
Sneads
Southport
Havana
Choctaw Beach
Harbinwood Estates
Millview
Gretna
Molino
Avalon Beach
Killearn Lakes
Bayview
East Bayview
Pleasant Grove
Allentown
Clarksville
Chumuckla
Sunny Hills
Florosa
Seminole
Cottage Hill
Bristol
Harold
Lower Pensacola
Longwood
Cottondale
Grand Ridge
Lanark Village
Dirego Park
Saint Joe Beach
Wynnehaven Beach
Shalimar
Avalon
Vernon
Hollywood Beach
Greenville
Paxton
Mexico Beach
Roeville
Navarre Beach
White City
Sunnyside
North Pensacola
Greenwood
Greensboro
Highland View
Bratt
Jay
Hosford
Brownsdale
Laurel Hill
Ponce de Leon
Lake Mystic
Milligan
Cherry Lake
Villa Tasso
Gulf Beach Heights
Paradise Beach
Alford
Pensacola Beach
Altha
Cinco Bayou
Sopchoppy
Garcon Point
Inlet Beach
Beulah
Wausau
Lee
Munson
Wacissa
Esto
Beacon Beach
Walnut Hill
Berrydale
Byrneville
Whitfield
North Pensacola
Mulat
Caryville
Argyle
Seagrove Beach
West Bay
Barth
Molino Crossroads
Jacob City
Oak Grove
Ebro
Floridatown
Mossy Head
St. Marks
Westville
Waukeenah
Bluff Springs
Pine Level
Homestead Ridge
Medart
Spring Creek
Auburn
Pine Island
Telogia
Perdido Bay
Mount Carmel
Beacon Hill
Noma
Campbellton
Lloyd
Bayou George
San Blas
Bruce
Compass Lake
Grayton Beach
Oakwood Hills
Point Washington
Portland
Miccosukee
Saint Teresa
Wakulla Gardens
Cypress
Gulf Beach
Springhill
Ward Ridge
Dixonville
Fidelis
Dickerson City
Lamont
Bayhead
Brannonville
Darlington
Gaskin
Glendale
Leonia
Turquoise Beach
Carrabelle Beach
Garden City
Hinson
Sumatra
Seaglades
Campton
Aucilla
Capitola
Tang-o-mar Beach
Concord
Kynesville
Biltmore Beach
Honeyville
Magnolia Beach
Alpine Heights
Baker Settlement
Blue Gulf Beach
Flowersville
Hinson Crossroads
Shady Grove
Wakulla
Rosedale
Bascom
Woods
Red Head
Gibson
Blue Mountain Beach
Chipola Terrace
Svea
Chaires
Dellwood
Estiffanulga
Hardin Heights
Mount Pleasant
Cobbtown
Athena
Eridu
Orange
Kinard
Overstreet
Alliance
Bunker
Cerrogordo
Choctaw
Crystal Lake
Four Mile Village
Jackson Still
Millers Ferry
New Hope
Oakdale
Prosperity
Round Lake
Bay Springs
Cannon Town
Boyd
Dekle Beach
Nutal Rise
Galliver
Gulf Pines
Bradfordville
Rich Bay
Surf
Sink Creek
Deerland
Live Oak Island
Wakulla Springs
Drifton
Newport
Capps
Allanton
Bennett
Carr
Chason
Chipola
Couch
Cove
Cox
Dalkeith
Edgewater Gulf Beach
Frink
Indian Pass
Leonards
Majette
Millville
Saint Teresa
Saunders
Vicksburg
West Panama City Beach
Bethlehem
Betts
Brock Crossroad
Browntown
Clear Springs
Cluster Springs
Dorcas
Douglass Crossroads
Ellaville
Eucheeanna
Five Points
Fluffy Landing
Gilberts Mill
Gordon
Greenhead
Gulf Resort Beach
Hickory Hill
Holland Crossroads
Holmes Valley
Izagora
Koerber
Lakewood
Live Oak
New Harmony
Pine Log
Pittman
Pleasant Ridge
Poplar Head
Rambo
Red Bay
Richter Crossroads
Rock Hill
Royals Crossroads
Smith Crossroads
Sweet Gum Head
Sylvania
Barrineau Park
Beaver Creek
Blackman
Bogia
Enon
Escambia Farms
Galt City
Good Hope
McKinnon
Mineral Springs
Nubbin Ridge
Olive
Pineville
South Flomaton
Arran
Ashville
Bailey
Baum
Bethel
Beverly
Casa Blanco
Centerville
Cody
Curtis Mill
Dills
Ebb
Fenholloway
Festus
Foley
Hanson
Hopewell
Hyde Park
Iddo
Ivan
Jarrott
Limestone
Lovett
Nash
Panacea Park
Pinland
Reams
Sirmans
Stern
Thomas City
Wadesboro
Eglin Village
Silver Springs
Villa Sabine
Abe Springs
Bloxham
Buena Vista
Dogtown
Douglas City
Hardaway
Inwood
Juniper
Lake Jackson
Lovedale
Ocheesee
Parramore
Sawdust
Scotland
Scotts Ferry
Sweetwater
Sycamore
Two Egg
Vilas
Wilma
Beach Haven
Brownsville
Navy Point
What can helical (screw) piles be used for?
---
Helical piles are an anchoring solution capable of supporting the heaviest loads, and can be installed in all types of soils no matter what the environmental challenges.
Our products are designed to solidly support residential, commercial, industrial, and municipal projects.
What are the GoliathTech advantages?
Minimal impact to the landscape
Start building immediately after installation
Perfectly level structure
A screw pile installation: quick and easy!
---
While construction projects usually leave you tired, frustrated, and counting down the days, with GoliathTech's help, you'll find yourself at ease. The expertise of our certified installers, combined with the cutting-edge technology used by our team, allows us to gather and then calculate all the information that we need for the project's success; and ultimately, to leave you with a project that you've only imagined in your dreams.
Steps 2 and 3 is where the screw pile installation occurs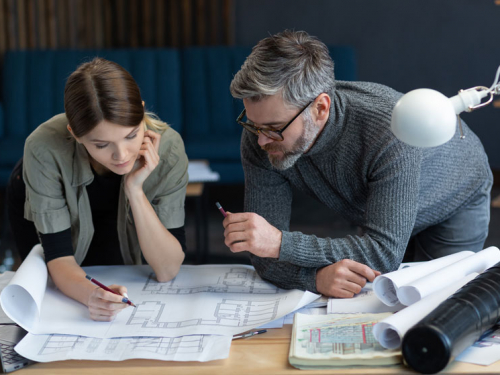 Step 1
Planning your project
First and foremost, it is essential to determine the nature of your project and the contractor who will build it, as well as the various needs associated with it. Evaluate the time, budget, and space available to you so that you can pass this information on to one of our certified installers, when the time comes.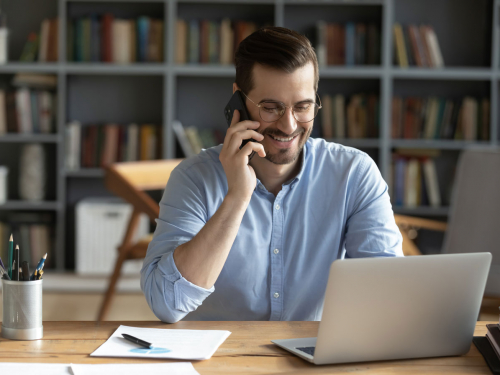 Step 2
Consultation and estimate
Our certified installers are waiting for your call! With the help of precise calculations and an analysis of the type of soil and the load to be supported, they will be able to provide you with an estimate of the cost of the product and will design a solution tailored to your needs.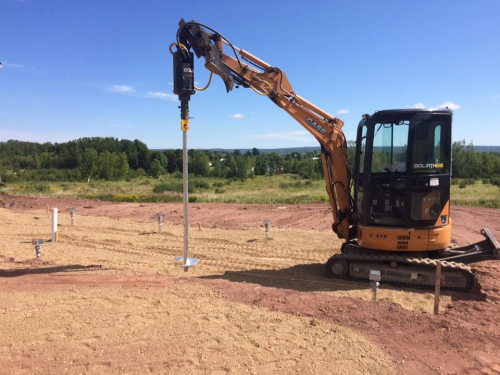 Step 3
Installation
The big day has finally arrived. The helical (screw) piles will be screwed in as deeply as possible. It's likely that during the installation, some technical details will need to be adjusted, such as the length of the piles or the size of the helices. Our experts know how to react quickly in order to ensure the absolute stability of your foundation.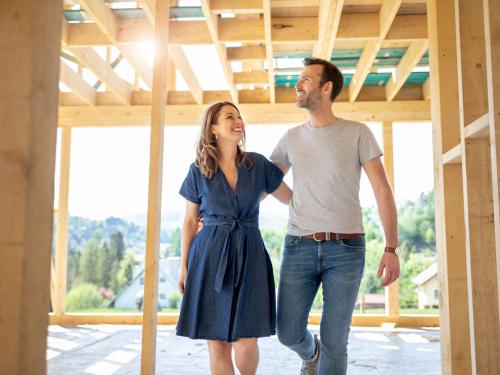 Step 4
Everything is ready for construction
There's no delay or clean-up required between the end of the screw pile installation and the start of construction. As soon as the last helical (screw) pile is anchored into the ground, your contractor can start building your project.
Types of applications: a helical pile foundation for incomparable anchorage
From deck to home foundations, our helical (screw) pile system is the best foundation solution for you.
No matter what your project is…
---
GoliathTech helical piles are ready
In order to provide you with a helical (screw) pile foundation solution that's designed to meet your needs and specific project, our network of certified installers and consultants make the most of their vast expertise in the field. Recognized for their know-how, they conform screw piles to meet the unique nature of your property and project, rather than offering you a solution... cast in concrete!