GoliathTech Your Helical (Screw) Pile Installer - Outaouais
---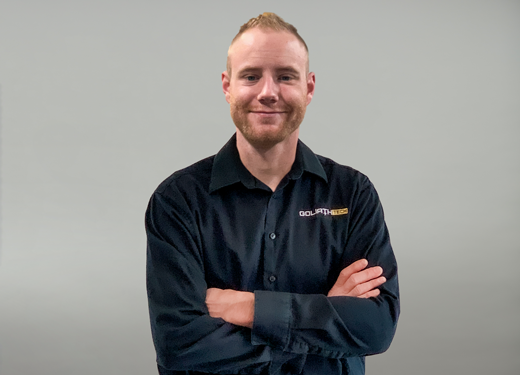 GoliathTech Outaouais
137 Rue Principale Mansfield, Quebec J0X 1R0
About Us
GoliathTech Outaouais is your certified installer for the cities of Val-Des-Monts, Cantley, La Pêche, Chelsea, Pontiac, L'ange-Gardien, St-André-Avellin, Grenville-Sur-La-Rouge, Gracefield, Mansfield-et-Pontefract, and more. View more cities we serve below.
Cities served by your installer
Cantley
La Pêche
Chelsea
Pontiac
L'ange-Gardien
St-André-Avellin
Maniwaki
Grenville-Sur-La-Rouge
Gracefield
Mansfield-Et-Pontefract
Papineauville
Thurso
Déléage
Montcerf-Lytton
Grenville
Ripon
Messines
Notre-Dame-Du-Laus
Shawville
L'ile-Aux-Allumettes
Fort-Coulonge
Clarendon
Montpellier
Lochaber
Bristol
Lac-Simon
Low
Kazabazua
Plaisance
Otter Lake
Lochaber-Partie-Ouest
Val-Des-Bois
Cayamant
Notre-Dame-De-La-Salette
Chénéville
Campbell's Bay
Notre-Dame-De-La-Paix
Bowman
Bouchette
Blue Sea
Bryson
Namur
Mayo
Lac-Ste-Marie
Ste-Thérèse-De-La-Gatineau
St-Émile-De-Suffolk
Denholm
St-Sixte
Duhamel
Fassett
Thorne
Lac-Des-Plages
Mulgrave And Derry
Waltham
Chichester
Portage-Du-Fort
Alleyn And Cawood
Litchfield
Notre-Dame-De-Bonsecours
Montebello
Gatineau
L'île-Du-Grand-Calumet
Marelan
Grenville
Grenville Bay
Calumet
Rawcliffe
Carlin
Kilmar
Rivington
Bell Falls
Avoca
Pointe-Au-Chêne
Domaine Taillefer
Saint-Angélique
Portage-De-La-Nation
Saint-Amédée
Saint-André-Avelelin
Lac-Charlebois
Lac-Bélisle
La Nation
Valencay
La Vallée-des-Ours
Saint-Sixte
Burks Corners
Valdor
North Nation Mills
Jarnac
Lochaber
Blanche-Mills
Thurso
Baie-Noire
Plaisance
Les Vieux-Pins
Côte-Saint-Pierre
Lac-Schryer
Baie-de-l'Ours
Chénéville
Lac Simon
County of Namur
Saint-Émile-de-Suffolk
Baie-Creuse
Lac-Doré
Duhamel
La Pièce-Perdue
Lac-Serpent
Lac-des-Cèdres
Lac-Bonnécal
Rapide-du-Fort
Notre-Dame-du-Laus
Val-Ombreuse
White Deer
Val-des-Bois
High Falls
Île Bowman
Barrage-McLaren
Mine-de-Mica
Denholm
Poltimore
Holland Mills
Val-Paquin
La Petite-Mine
Poupore
Saint-Pierre-de-Wakefield
Les Petites Chutes
Perkins-sur-le-lac
Lac McGregor
Pointe-Déziel
Mine-Blackburn
Perkins
Quinnville
Buckingham
Masson-Angers
District du Versant
District des Riverains
Île de Hull
Hull
District de Rivière-Blanche
Val-Guertin
Farley
Lac-Bitobig
Messines
Ellard
New Lismore
Orlo
Gravelle
Plage-Paul
Plage-Héritage
Chalifoux
Clemow
Lac-à-l'Esturgeon
Burgerville
Île à la croix
Chénier
Lacroixville
Clément
Northfield
Lac-Long
Point Comfort
Wright County
McBean
Lac-Poisson-Blanc
Kennyville
Île Chantigny
Petit-Poisson-Blanc
Mulligan Ferry
Mark Crossing
Aylwin Station
Lemay
Lac-Vert
Île Mystérieuse
Jules
Mon Ste. Marie
Ryanville
Lac-du-Brochet
Lac-Sainte-Marie
Kazabazua Station
Lac-Danford
Danford Lake
Venosta
North Low
Martindale
Low
Paugan Falls
Fieldville
Stagsburn
Brenna's Hill
Joynt
Farrelton
Lordsvale
Camp-Richelieu
Duclos
Alcove
Saint-Louis-de-Masham
Saint-François-de-Masham
Sainte-Céline-de-Masham
Wakefield
Rockhurst
Lac-Saint-Antoine
Wilson's corner
Beech Grove
Eardley
Luskville
Pontiac
Plage-Charron
Mohr
Plage-Carcajou
Bradley
Plage-Baie-Noire
Lusk
Plage-Bélisle
Heyworth
Breckenridge
Aylmer
Distric de Deschenes
Plateau
Pontiac Station
Bristol Mines
Plage-de-la-pointe-indienne
Quyon
Plage-Taber
Wyman
Elmside
Norway Bay
Bristol
Maple Ridge
Maryland
McKee
Moss Mine
Caldwell
Weirstead
North Onslow
Onslow Corners
Bristol Ridge
Sand Bay
Clarendon Front
Starks Corners
Murrell
Clarendon
Radford
Yarm
Doherty
Ruthledge
Le Haven
Lac-des-Loups
Halverson
Hodgins
Iron Gate
North Clarendon
Morehead
Vinton
Greer Mount
Ladysmith
Rooney
Leach Lake
Schwartz
Creemorne
Bell Mount
Lac-Cayamant
Le Petit-Aigle
Le Grand-Aigle
Leclair
Davidson
Mellon
Biddy's Hole
Charles-Lynch Place
Carroll
Saint-Joseph
Ryan's Corner
Île Morrison
Demers
Demers-Centre
Wabash
Desjardinsville
Coin-chez-Leblanc
la Tête-de-l'Île
Chapeau
What can helical (screw) piles be used for?
---
Helical piles are an anchoring solution capable of supporting the heaviest loads, and can be installed in all types of soils no matter what the environmental challenges.
Our products are designed to solidly support residential, commercial, industrial, and municipal projects.
What are the GoliathTech advantages?
Minimal impact to the landscape
Start building immediately after installation
Perfectly level structure
A screw pile installation: quick and easy!
---
While construction projects usually leave you tired, frustrated, and counting down the days, with GoliathTech's help, you'll find yourself at ease. The expertise of our certified installers, combined with the cutting-edge technology used by our team, allows us to gather and then calculate all the information that we need for the project's success; and ultimately, to leave you with a project that you've only imagined in your dreams.
Steps 2 and 3 is where the screw pile installation occurs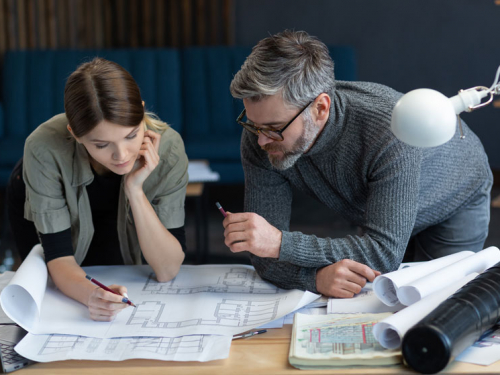 Step 1
Planning your project
First and foremost, it is essential to determine the nature of your project and the contractor who will build it, as well as the various needs associated with it. Evaluate the time, budget, and space available to you so that you can pass this information on to one of our certified installers, when the time comes.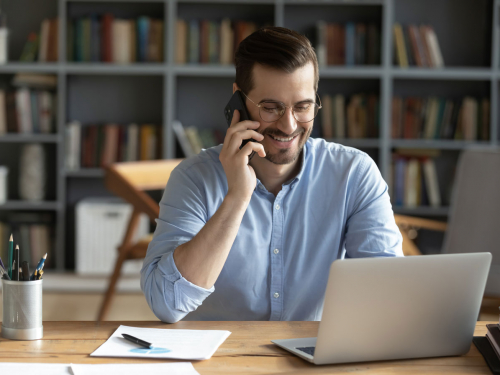 Step 2
Consultation and estimate
Our certified installers are waiting for your call! With the help of precise calculations and an analysis of the type of soil and the load to be supported, they will be able to provide you with an estimate of the cost of the product and will design a solution tailored to your needs.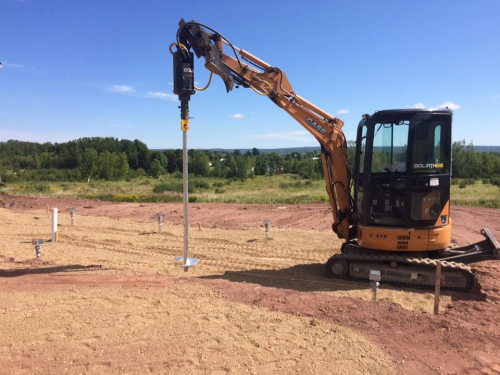 Step 3
Installation
The big day has finally arrived. The helical (screw) piles will be screwed in as deeply as possible. It's likely that during the installation, some technical details will need to be adjusted, such as the length of the piles or the size of the helices. Our experts know how to react quickly in order to ensure the absolute stability of your foundation.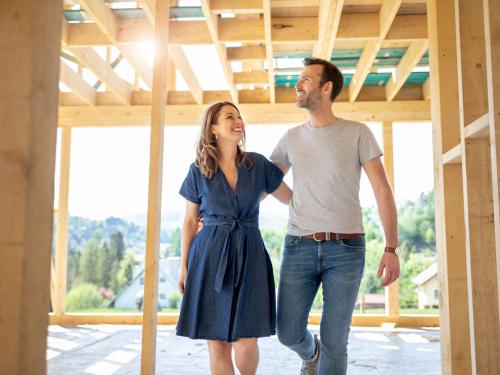 Step 4
Everything is ready for construction
There's no delay or clean-up required between the end of the screw pile installation and the start of construction. As soon as the last helical (screw) pile is anchored into the ground, your contractor can start building your project.
Types of applications: a helical pile foundation for incomparable anchorage
From deck to home foundations, our helical (screw) pile system is the best foundation solution for you.
No matter what your project is…
---
GoliathTech helical piles are ready
In order to provide you with a helical (screw) pile foundation solution that's designed to meet your needs and specific project, our network of certified installers and consultants make the most of their vast expertise in the field. Recognized for their know-how, they conform screw piles to meet the unique nature of your property and project, rather than offering you a solution... cast in concrete!