GoliathTech Your Helical (Screw) Pile Installer - Doylestown
---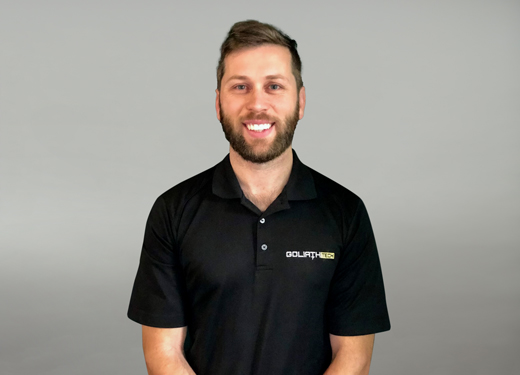 GoliathTech Doylestown - JLMiller Enterprises LLC.
22 Henrietta St Red Lion, Pennsylvania 17356
About Us
GoliathTech Doylestown is your certified installer for the cities of Philadelphia, Cheltenham, Lansdale, Horsham, Willow Grove, Montgomeryville, Southampton, Harleysville, Roslyn, Perkasie, and more. View more cities we serve below.
Cities served by your installer
Philadelphia
Cheltenham
Lansdale
Horsham
Willow Grove
Montgomeryville
Southampton
Harleysville
Roslyn
Perkasie
Abington
Almont
Aquetong
Argus
Bedminster
Bennetts Corner
Bergey
Bethayres
Biltmore Estates
Blooming Glen
Bridge Valley
Bridgetown
Brittany Farms-Highlands
Brownsburg
Bryn Athyn
Bryn Gweled
Buckingham
Buckingham Valley
Buckmanville
Bucksville
Burholme
Bustleton
Byberry
Carversville
Castle Valley
Cedars
Center Bridge
Center Point
Chalfont
Churchville
Colmar
Cottageville
County Line
Crestmont
Cross Keys
Crosswicks
Cuttalossa
Danboro
Deep Run
Deer Park
Dolington
Dresher
Dublin
Earlington
Edison
Elroy
Erwinna
Eureka
Fair Hill
Ferndale
Forest Grove
Forest Park
Fortuna
Fountainville
Fox Chase
Franconia
Furlong
Galford
Gardenville
Glenside
Green Lane
Grenoble
Gwynedd
Gwynedd Square
Hagersville
Hallowell
Harrow
Hartsville
Hatboro
Hatfield
Hendricks
Highland Park
Hilltown
Hinkletown
Holicong
Holland
Hollywood
Hood
Huntingdon Valley
Indian Valley
Ivyland
Jacksonville
Jamison
Jarrettown
Jenkintown
Johnsville
Keelersville
Krewstown
Kulps Corner
Kulpsville
Lacey Park
Lahaska
Lawndale
Lederach
Leidytown
Line Lexington
Little Italy
Loux Corner
Lumberville
Mainland
Maple Glen
Marshall Island
Meadowbrook
Mechanicsville
Millbrook
Morwood
Mozart
Naces Corner
Naceville
Neshaminy
New Britain
New Galena
New Hope
Newton
Newton Grant
Newtown
Newtown Grant
Newville
Noble
North East Philidalphia
North Wales
Oak Lane Manor
Oak Park
Ottsville
Oxford Circle
Palomino Farms
Paper Mills
Penns Park
Peters Corner
Philmont
Pine Run
Pineville
Pipersville
Plumsteadville
Point Pleasant
Reeder
Reliance
Revere
Rhawnhurst
Richboro
Ridge Valley
Rock Hill
Rockledge
Rushland
Ryans Corner
Rydal
Saint Leonard
Salford
Salfordville
Sellersville
Silverdale
Skippack
Smiths Corner
Smithtown
Solebury
Somerton
Souderton
South Doylestown
Spring Valley
Stonebridge Estates
Stoopville
Sumneytown
Sundale
Telford
Tinicum
Tradesville
Traymore
Tylersport
Uhlerstown
Upper Gwynedd
Upper Makefield Township
Valley Falls
Vernfield
Village Shires
Walnut Hill
Warminster
Warminster Heights
Warrington
Weisel
West Point
Westbury
Wismer
Woodhill
Worcester
Woxall
Wrightstown
Wycombe
What can helical (screw) piles be used for?
---
Helical piles are an anchoring solution capable of supporting the heaviest loads, and can be installed in all types of soils no matter what the environmental challenges.
Our products are designed to solidly support residential, commercial, industrial, and municipal projects.
What are the GoliathTech advantages?
Minimal impact to the landscape
Start building immediately after installation
Perfectly level structure
A screw pile installation: quick and easy!
---
While construction projects usually leave you tired, frustrated, and counting down the days, with GoliathTech's help, you'll find yourself at ease. The expertise of our certified installers, combined with the cutting-edge technology used by our team, allows us to gather and then calculate all the information that we need for the project's success; and ultimately, to leave you with a project that you've only imagined in your dreams.
Steps 2 and 3 is where the screw pile installation occurs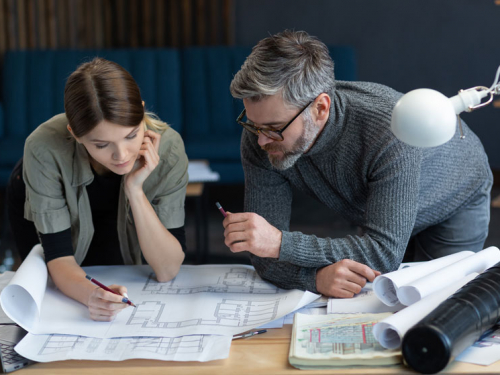 Step 1
Planning your project
First and foremost, it is essential to determine the nature of your project and the contractor who will build it, as well as the various needs associated with it. Evaluate the time, budget, and space available to you so that you can pass this information on to one of our certified installers, when the time comes.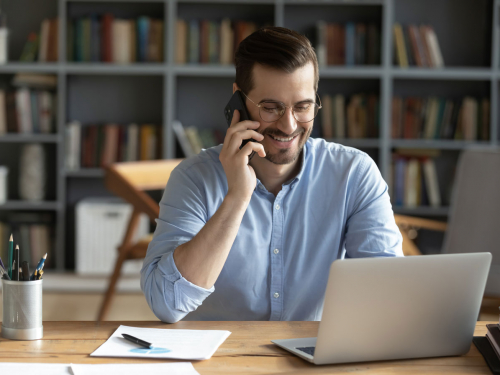 Step 2
Consultation and estimate
Our certified installers are waiting for your call! With the help of precise calculations and an analysis of the type of soil and the load to be supported, they will be able to provide you with an estimate of the cost of the product and will design a solution tailored to your needs.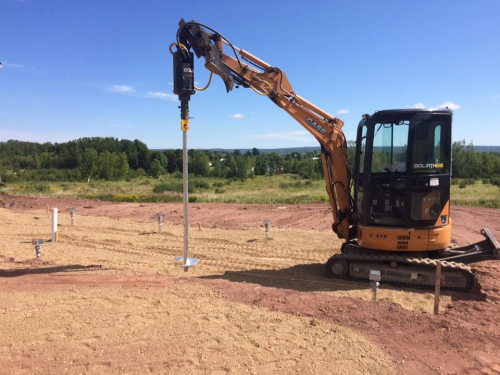 Step 3
Installation
The big day has finally arrived. The helical (screw) piles will be screwed in as deeply as possible. It's likely that during the installation, some technical details will need to be adjusted, such as the length of the piles or the size of the helices. Our experts know how to react quickly in order to ensure the absolute stability of your foundation.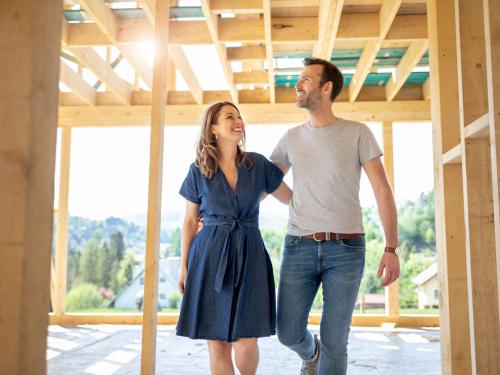 Step 4
Everything is ready for construction
There's no delay or clean-up required between the end of the screw pile installation and the start of construction. As soon as the last helical (screw) pile is anchored into the ground, your contractor can start building your project.
Types of applications: a helical pile foundation for incomparable anchorage
From deck to home foundations, our helical (screw) pile system is the best foundation solution for you.
No matter what your project is…
---
GoliathTech helical piles are ready
In order to provide you with a helical (screw) pile foundation solution that's designed to meet your needs and specific project, our network of certified installers and consultants make the most of their vast expertise in the field. Recognized for their know-how, they conform screw piles to meet the unique nature of your property and project, rather than offering you a solution... cast in concrete!