GoliathTech Your Helical (Screw) Pile Installer - Moncton
---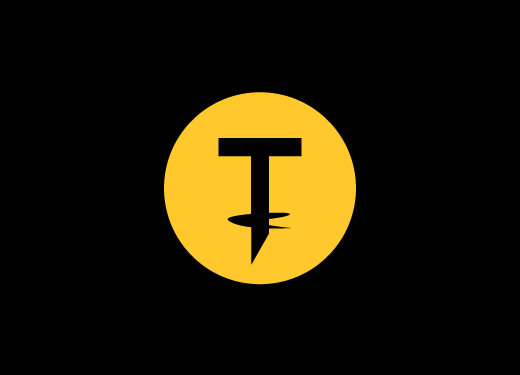 GoliathTech Moncton
Ammon, New Brunswick E1G 3N7
GoliathTech Moncton is your certified installer for the cities of Moncton, Fredericton, Dieppe, Riverview, Beaubassin East, Shediac, Dundas, Sackville, St. Mary's, Memramcook, and more. View more cities we serve below.
Cities served by your installer
Dieppe
Riverview
Beaubassin East
Shediac
Dundas
Sackville
St Marys
Memramcook
Adamsville
Albert Mines
Albrights Corner
Aldouane
Alexandria
Allison
Alma
Alward
Ammon
Anagance
Anagance Ridge
Anderson Settlement
Annidale
Aulac
Avon
Bagdad
Baie Verte
Baie Verte Road
Bains Corner
Balla Philip
Baltimore
Bantalor
Bar-de-Cocagne
Barkers Island
Barkers Point
Bass River
Bass River Point
Basse-Aboujagane
Bastarache
Batemans Mills
Bay View
Bayfield
Bayside
Beaver Brook
Bedec
Beech Hill
Beersville
Belleisle Creek
Bells Mills
Belyeas Cove
Berry Mills Heights
Berryton
Berwick
Beulah
Big Cove
Birch Ridge
Bon-Secours
Botsford
Botsford Portage
Bouctouche
Boudreau
Boundary Creek
Bourgeouis Mills
Brest
Bretagneville
Briggs Corner
British Settlement
Bronson Settlement
Brooklyn
Brooklyn Road
Brookville
Browns Yard
Brunswick
Bryants Corner
Buckley Settlement
Bull Moose Hill
Burchills Flats
Burpee
Moncton
Cadman Corner
Cails Mills
Caledonia Mountain
Calhoun
Cambridge
Cambridge-Narrows
Camerons Mill
Camp Wegesegum
Campbell Settlement
Canaan Forks
Canaan Rapids
Canaan Road
Canning
Cantor
Cape Breton
Cape Enrage
Cape Spear
Cape Station
Cape Tormentine
Cap-Lumière
Cap-Pelé
Cardwell
Carleton
Carpenter
Carsonville
Cassidy Lake
Cassie-Village
Castaway
Cedar Camp
Centennial Place
Central Cambridge
Centre Village
Centreville
Chambers Settlement
Champdoré
Chapmans Corner
Chartersville
Chemical Road
Cherry Burton
Cherry Hill
Cherryfield
Cherryvale
Chester
Childs Creek
Chipman
Chockpish
Church Hill
Churchs Corner
Clairville
Clarks Corner
Clover Hill
Coal Branch
Coal Creek
Coates Mills
Coburg
Cocagne
Cocagne-Nord
Codys
Coles Island
Collette-Village
Collina
Colpitts Settlement
Comeau Point
Cookville
Cormier-Village
Cormierville
Cornhill
Cornhill East
Cosman Settlement
Côté-d'Or
Côte-Sainte-Anne
Coverdale
Cox Point
Cumberland Bay
Curryville
Moncton
Dawson Settlement
Demoiselle Creek
Dennis Beach
Derrys Corner
Desherbiers
Després-Village
Devine Corner
Dixon Point
Dobsons Corner
Donegal
Dorchester
Dorchester Cape
Couglas Harbour
Dover
Drisdelle
Drurys Cove
Dubee Settlement
Dufferin
Duffys Corner
Dufourville
Dunsinane
Dupuis Corner
Dutch Valley
Earle Wharf
East Branch
East Galloway
East Scotch Settlement
Elgin
Elm Brook
Elmwood Estates
Emerson
Erb Settlement
Evangeline
Evans
Evans Road
Fair View
Fairfield
Fawcett Hill
Fermount
Ferndale
Five Points
Flowers Cove
Ford Bank
Fords Mills
Forest Glen
Forest Hill
Forks
Forks Stream
Four Corners
Fowlers Corner
Fox Creek
Fox Hill
Fredericton Road
Fulton Island
Moncton
Gallagher Ridge
Gallant Settlement
Galloway
Gaspereau Forks
Gaytons
Germantown
Gibbon
Gibbon
Gilberts Corner
Gladeside
Glenvale
Goan
Gort
Goshen
Goudalie
Gowland Mountain
Grande-Aldouane
Grande-Digue
Grangeville
Grant Settlement
Greater Lakeburn
Grove Hill
Grub Road
Guimond-Village
Halls Hill
Hammond
Hammondvale
Hammtown
Harcourt
Hardingville
Hardwood Ridge
Hardy
Harewood
Harley Road
Harper Settlement
Harrison Settlement
Harrisville
Harvey
Harvey Bank
Harvey Parish
Hatfield Point
Haute-Aboujagane
Haut-Saint-Antoine
Havelock
Head of Millstream
Hébert
Hebron
Henderson Settlement
Hicksville
Highfield
Hildegarde
Hillgrove
Hillsborough
Hillsdale
Hillside
Hopewell
Hopewell Cape
Hopewell Hill
Humphrey
Humphrey Corner
Hunters Home
Huskisson
Immigrant Road
Indian Mountain
Intervale
Irish Settlement
Irishtown
Iron Bound Cove
Isaiah Corner
Moncton
Jailletville
Jardineville
Jefferies Corner
Jemseg
Johnson's Mills
Johnston
Johnston Point
Jolicure
Joliffs Brook
Jordan Mountain
Kars
Kay Settlement
Kent Junction
Kent Lake
Kierstead Mountain
Kiersteadville
Killams Mills
Kings Mine
Kinnear Settlement
Knightville
Kouchibouguac
Lake Road
Lakeburn
Laketon
Lakeville
Lakeville Corner
LeBlancville
Légerville
Lewis Mountain
Lewisville
Lindys
Lisson Settlement
Little Beach
Little Dover
Little Ridge
Little River
Little Salmon River West
Little Shemogue
London Settlement
Londonberry
Long Creek
Long Point
Long Settlement
Lower Cambridge
Lower Cape
Lower Cove
Lower Coverdale
Lower Jemseg
Lower Main River
Lower Midland
Lower Millstream
Lower Ridge
Lower Rockport
Lower Saint-Charles
Lower Turtle Creek
Lower Kars
Lutes Mountain
Lutesville
Moncton
MacDonalds Point
MacDougall Settlement
Malakoff
Malden
Mannhurst
Manzer
Mapleton
Mapleton Place
Maquapit Lake
Maria-de-Kent
Markhamville
Marrtown
Marsh Junction
Mates Corner
Maugerville
McCain Settlement
McCully
McDonald Corners
McEwen
McGinley Corner
McGowans Corner
McGregor Brook
McIntosh Hill
McKees Mills
McLean Settlement
McQuade
Meadow
Meadow Brook
Mechanic Settlement
Melanson Settlement
Melrose
Memel Settlement
Middlesex
Middleton
Midgic
Midland
Midway
Mill Brook
Mill Cove
Minto
Molus River
Moosehorn Creek
Mortimer
Mountville
Moncton
Mt Hebron
Mt Hope
Mt Middleton
Mt Pisgah
Mundleville
Murphy Settlement
Murray Corner
Murray Road
Mt Whatley
Moncton
Nashwaak
New Avon
New Canaan
New England Settlement
New Horton
New Line Road
New Scotland
New Zion
Newcastle Centre
Newcastle Creek
Newtown
Nixon
Noonan
Normandie
North Forks
North West End
Northfield
Northrups Corner
Norton
Notre-Dame
Odlum Junction
Ohio-Du-Barachois
O'Neil
Orange Hill
Osborne Corner
Otter Creek
Pacific Junction
Painsec
Painsec Junction
Parkindale
Parlee Brook
Parleeville
Pascobac
Pearsonville
Pelerin
Penniac
Pennlyn
Penobsquis
Perry Settlement
Peter Mills
Petit-Cap
Petit-Chockpish
Petitcodiac
Petite-Aldouane
Petit-Large
Phillipstown
Picadilly
Pine Glen
Pine Ridge
Pirogue
Pleasant Ridge
Pleasant Vale
Plumsweep
Pointe-de-Chêne
Pointe-Sapin
Pointe-Sapin-Centre
Poirier
Pollett River
Pont-de-Milieu
Poodiac
Port Elgin
Portage Vale
Porter Road
Price
Princess Park
Prosser Brook
Moncton
Ram Island
Randall Corner
Ratter Corner
Red Bank Queens Co
Redbank
Rees
Renauds Mills
Rexton
Richibucto
Richibucto Road
Richibucto-Village
Ripples
River View
Riverbank
Riverside-Albert
Rivière-au-Portage
Roachville
Robichaud
Rockport
Rosevale
Ross Corner
Saint-Antoine
Saint-Charles
Saint-Charles Station
Saint-Cyrille
Saint-Damien
Saint-David
Saint-Anselme
Sainte-Marie-de-Kent
Saint-Fabien
Saint-François-de-Kent
Saint-Gabriel-de-Kent
Saint-Grégoire
Saint-Ignace
Saint-Joseph
Saint-Joseph-de-Kent
Saint-Lazare
Saint-Louis de Kent
Saint-Martin-de-Kent
Saint-Maurice
Saint-Norbert
Saint-Olivier
Saint-Paul
Saint-Philippe
Saint-Pierre-de-Kent
Saint-Thomas-de-Kent
Salem
Salisbury
Salmon Creek
Salmon River
Salmon River Road
Samp Hill
Scale
Scotch Settlement
Scotchtown
Scott Road
Scoudouc
Scoudouc Road
Searsville
Shanklin
Shannon
Shaw Brook
Shediac Bridge
Shediac River
Sheffield
Shemogue
Shenstone
Shepody
Slope
Smith Settlement
Smiths Corner
Smiths Creek
Snider Mountain
South Branch
South Canaan
South Saint-Norbert
Southfield
Spence Settlement
Spring Brook
Springdale
Springfield
Springhill
St Mary
St Martins
St-Antoine
St-Charles
Steeves Mill
Steeves Settlement
Steevescote
Stewarton
St-Louis
St-Louis de Kent
Stoney Creek
Stoney Creek Station
St-Paul
Studholm
Summerfield
Sunny Acres
Sunny Brae
Sunnyside Beach
Sussex
Sussex Corner
Sussex East
Sweeneyville
Synton
Sypher Cove
Moncton
Tankville
Targettville
Taylor Village
Tennants Cove
Terrains de L'Evêque
The Bluff
The Glades
The Gorge
The Grant
The Range
The Ridge
Thompson Corner
Thornetown
Timber River
Trois-Ruisseaux
Turtle Creek
Tweedie Brook
Uniacke Hill
Union Settlement
Upper Belleisle
Upper Cape
Upper Coverdale
Upper Dorchester
Upper Dover
Upper Gaspereau
Upper Goshen
Upper Maugerville
Upper Midland
Upper New Horton
Upper Pointe de Bute
Upper Rexton
Upper Ridge
Upper Rockport
Upper Salmon Creek
Upper Ward Creek
Upper-Saint-Maurice
Urney
Moncton
Valhalla Estate
Village-des-Arsenault
Village-des-Belliveau
Village-Cormier
Village-des-Léger
Village-La-Prarie
Village-Saint-Augustin
Village-Saint-Irénée
Vinegar Hill
Walker Settlement
Ward
Ward Corner
Wards Creek
Washademoak
Waterborough
Waterford
Waterloo Corner
Waterside
Weldford
Weldon
Wellington
West Branch
West Galloway
West Quaco
West River
West Sackville
West Scoth Settlement
Westcock
Westmorland
Wheaton Settlement
Whites Cove
Whites Mountain
Whites Settlement
Whites Cove
Whites Mountain
Whites Settlement
Whurs Beach
Wickham
Wood Point
Woodhaven
Woodhurst
Woodside
Youngs Cove
Youngs Cove Road
What can helical (screw) piles be used for?
---
Helical piles are an anchoring solution capable of supporting the heaviest loads, and can be installed in all types of soils no matter what the environmental challenges.
Our products are designed to solidly support residential, commercial, industrial, and municipal projects.
What are the GoliathTech advantages?
Minimal impact to the landscape
Start building immediately after installation
Perfectly level structure
A screw pile installation: quick and easy!
---
While construction projects usually leave you tired, frustrated, and counting down the days, with GoliathTech's help, you'll find yourself at ease. The expertise of our certified installers, combined with the cutting-edge technology used by our team, allows us to gather and then calculate all the information that we need for the project's success; and ultimately, to leave you with a project that you've only imagined in your dreams.
Steps 2 and 3 is where the screw pile installation occurs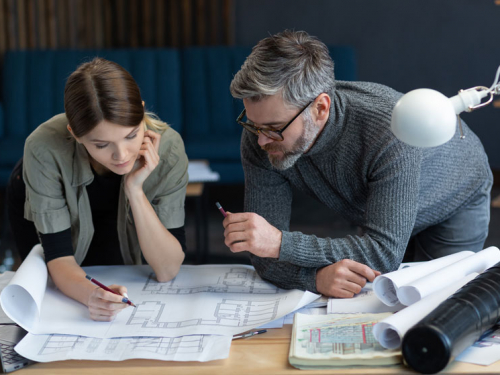 Step 1
Planning your project
First and foremost, it is essential to determine the nature of your project and the contractor who will build it, as well as the various needs associated with it. Evaluate the time, budget, and space available to you so that you can pass this information on to one of our certified installers, when the time comes.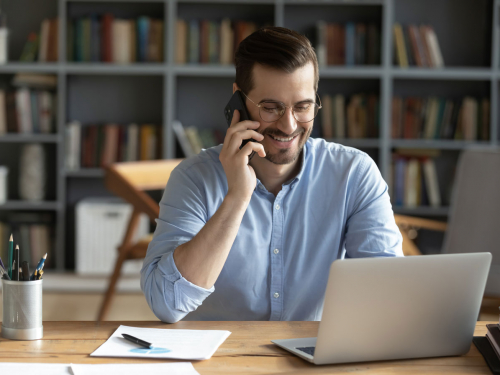 Step 2
Consultation and estimate
Our certified installers are waiting for your call! With the help of precise calculations and an analysis of the type of soil and the load to be supported, they will be able to provide you with an estimate of the cost of the product and will design a solution tailored to your needs.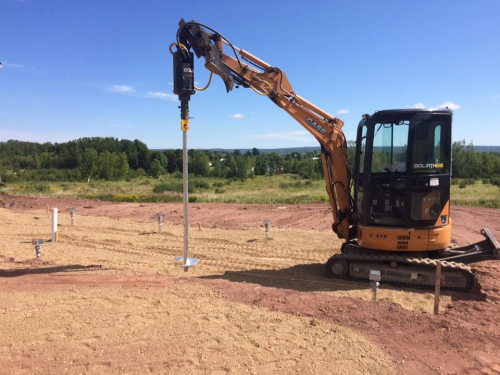 Step 3
Installation
The big day has finally arrived. The helical (screw) piles will be screwed in as deeply as possible. It's likely that during the installation, some technical details will need to be adjusted, such as the length of the piles or the size of the helices. Our experts know how to react quickly in order to ensure the absolute stability of your foundation.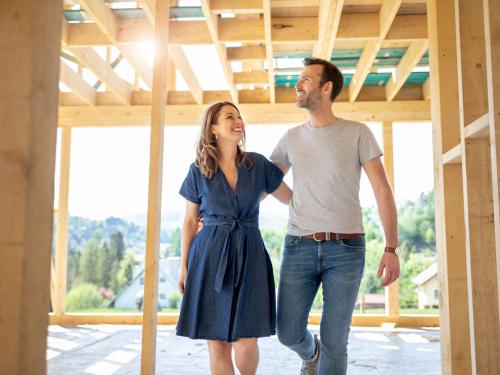 Step 4
Everything is ready for construction
There's no delay or clean-up required between the end of the screw pile installation and the start of construction. As soon as the last helical (screw) pile is anchored into the ground, your contractor can start building your project.
Types of applications: a helical pile foundation for incomparable anchorage
From deck to home foundations, our helical (screw) pile system is the best foundation solution for you.
No matter what your project is…
---
GoliathTech helical piles are ready
In order to provide you with a helical (screw) pile foundation solution that's designed to meet your needs and specific project, our network of certified installers and consultants make the most of their vast expertise in the field. Recognized for their know-how, they conform screw piles to meet the unique nature of your property and project, rather than offering you a solution... cast in concrete!