GoliathTech Your Helical (Screw) Pile Installer - Carleton
---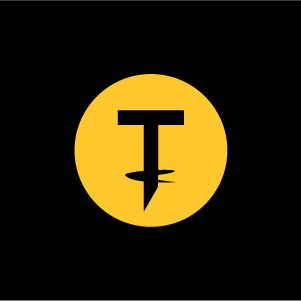 GoliathTech Carleton
2046 Edengrove Rd Gananoque, Ontario K7G 2V4
About Us
GoliathTech Carleton is your certified installer for the cities of North Grenville, Mississippi Mills, Carleton, Elizabethtown-Kitley, Smiths Falls, Beckwith, Drummond, Augusta, Lanark Highlands, Montague, and more. View more cities we serve below.
Cities served by your installer
Mississippi Mills
Elizabethtown-Kitley
Smiths Falls
Beckwith
Drummond
Augusta
Lanark Highlands
Montague
Actons Corners
Algonquin
Almonte
Andrewsville
Appleton
Arklan
Atironto
Balderson
Basswood
Baxters Corners
Bellamys
Bells Corners
Bells Crossing
Bishops Mills
Blacks Corners
Blakeney
Boyds
Bridlewood
Brightside
Bullock
California
Carleton
Carleys Corner
Carp
Carsonby
Cedar Hill
Cedardale
Clyde Forks
Clydesville
Coleman's Shore
Cooke's Shore
Craig Shore
Crossing Bridge
Crystal
Dalhousie Lake
Drummond Centre
Dunrobin
Eaglesons Corners
East Oxford
Eastons Corners
Ebbs Shore
Elphin
Emerald Meadows
Fairfield East
Fallbrook
Fallowfield
Fergusons Falls
Flower Station
Folger
Franktown
Franktown Station
French Line
Galbraith
Gardiner's Shore
Gillies Corners
Glen Carin
Glen Isle
Glenview
Goodston
Goodstown
Greenbush
Halls Malls
Halls Mills
Halpenny
Hay's Shore
Hazeldean
Healey's Heath
Hemlock Corners
Herrons Corners
Herrons Mills
High Falls
Hood
Hopetown
Hutchins Corners
Innisville
Carleton
Jasper
Jellyby
Joes Lake
Kanata Lakes
Kanata South
Kanata South Business Park
Katimavik
Kemptville
Kilmarnock
Kilmarnock Island
Kinburn
Lake Park
Lammermoor
Lanark
Lavant
Lavant Station
Lloyd
Malakoff
Manhard
Manny's Point
Manotick
Mansfield
Marchwood Lakeside
McCann's Shore
McCreary's Shore
McCulloughs Landing
McDiarmid's Shore
McDonalds Corners
McNaughton Shore
McReynolds
Merrickville
Merrickville-Wolford
Middleville
Millars Corners
Mills Corners
Montgomery Park
Moores Corners
Morgan's Grant
Munster
New Dublin
Newmanville
Nolans Corners
North Augusta
North Gower
Numogate
Old Stittsville
Oxford Mills
Oxford Station
Pakenham
Pattersons Corners
Perins Corners
Petrie Shore
Pierces Corners
Pine Grove
Playfairville
Poland
Prestonvale
Prospect
Quinn Settlement
Rathwell's Shore
Reeve Craig
Richmond
Robertson's Shore
Rock Springs
Rosedale
Rosetta
Sabourins Crossing
Scotch Corners
Sinclair Shore
Snowdons Corners
South Branch
South March
Stapledon
Stittsville
Tatlock
Tennyson
The Tannery
Throoptown
Twin Elm
Union Hall
Van Allens
Watsons Corners
Watterson Corners
Welsh
Wolford Centre
Wolford Chapel
Yule
What can helical (screw) piles be used for?
---
Helical piles are an anchoring solution capable of supporting the heaviest loads, and can be installed in all types of soils no matter what the environmental challenges.
Our products are designed to solidly support residential, commercial, industrial, and municipal projects.
What are the GoliathTech advantages?
Minimal impact to the landscape
Start building immediately after installation
Perfectly level structure
A screw pile installation: quick and easy!
---
While construction projects usually leave you tired, frustrated, and counting down the days, with GoliathTech's help, you'll find yourself at ease. The expertise of our certified installers, combined with the cutting-edge technology used by our team, allows us to gather and then calculate all the information that we need for the project's success; and ultimately, to leave you with a project that you've only imagined in your dreams.
Steps 2 and 3 is where the screw pile installation occurs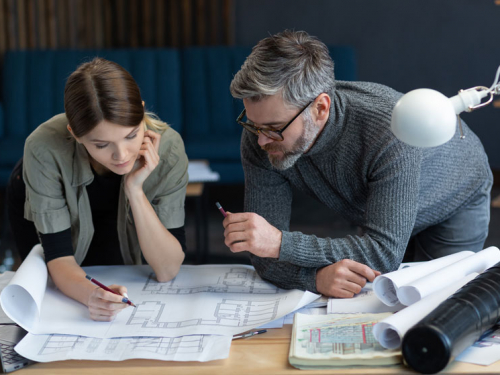 Step 1
Planning your project
First and foremost, it is essential to determine the nature of your project and the contractor who will build it, as well as the various needs associated with it. Evaluate the time, budget, and space available to you so that you can pass this information on to one of our certified installers, when the time comes.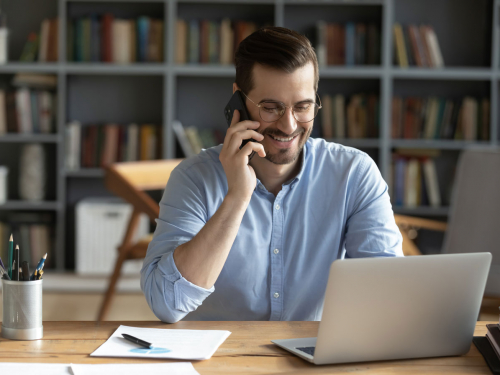 Step 2
Consultation and estimate
Our certified installers are waiting for your call! With the help of precise calculations and an analysis of the type of soil and the load to be supported, they will be able to provide you with an estimate of the cost of the product and will design a solution tailored to your needs.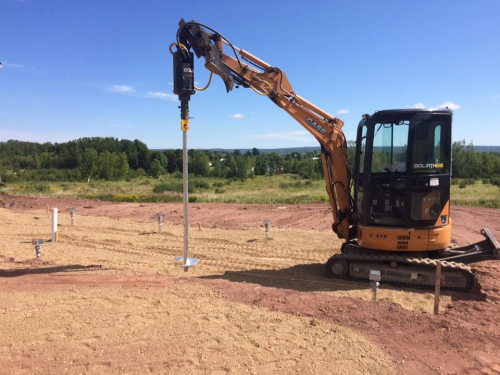 Step 3
Installation
The big day has finally arrived. The helical (screw) piles will be screwed in as deeply as possible. It's likely that during the installation, some technical details will need to be adjusted, such as the length of the piles or the size of the helices. Our experts know how to react quickly in order to ensure the absolute stability of your foundation.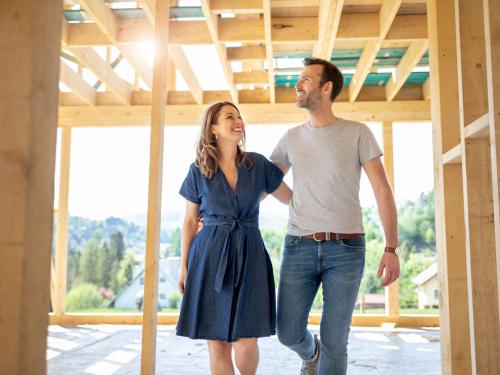 Step 4
Everything is ready for construction
There's no delay or clean-up required between the end of the screw pile installation and the start of construction. As soon as the last helical (screw) pile is anchored into the ground, your contractor can start building your project.
Types of applications: a helical pile foundation for incomparable anchorage
From deck to home foundations, our helical (screw) pile system is the best foundation solution for you.
No matter what your project is…
---
GoliathTech helical piles are ready
In order to provide you with a helical (screw) pile foundation solution that's designed to meet your needs and specific project, our network of certified installers and consultants make the most of their vast expertise in the field. Recognized for their know-how, they conform screw piles to meet the unique nature of your property and project, rather than offering you a solution... cast in concrete!