GoliathTech Your Helical (Screw) Pile Installer - Calera
---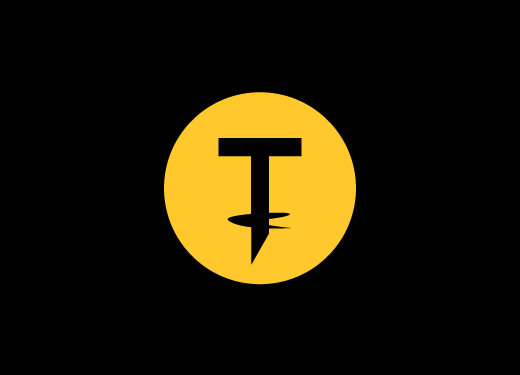 GoliathTech Calera - Rose Office Systems Inc.
PO Box 608 Saginaw, Alabama 35137
About Us
GoliathTech Calera is your certified installer for the cities of Birmingham, Hoover, Vestavia Hills, Alabaster, Bessemer, Pelham, Homewood, Trussville, Helena, Mountain Brook, and more. View more cities we serve below.
Cities served by your installer
Birmingham
Hoover
Vestavia Hills
Alabaster
Bessemer
Pelham
Homewood
Trussville
Helena
Mountain Brook
Abernant
Acipco-Finley
Acipcoville
Acmar
Active
Acton
Adams
Adamsville
Aden
Adger
Airport Highlands
Alabaster
Alden
Aldrich
Aldridge
Allgood
Alliance
Alta
Altadena Woods
Alton
Altoona
America
Anita
Antioch
Appalachain
Apple Valley
Argo
Arkadelphia
Arkwright
Arlington - West End
Armstead
Arrowhead
Ashby
Ashville
Avalon Park
Avondale
Avondale Village
Bangor
Bankhead
Bankston
Barkley Square
Barney
Barnisdale Forest
Bel Air
Belview Heights
Bendale
Benoit
Bentley Hills
Berkley Hills
Berney Points
Berry
Bessemer
Bessemer Gardens
Bessemer Homestead
Beverly Station
Bibbville
Birmingham
Birmingham District
Black Diamond
Blossburg
Blount Springs
Blue Creek
Blue Creek Junction
Blue Ridge Estates
Bluff Park
Boldo
Boley Springs
Branchville
Brantleyville
Bremen
Brent
Bridlewood
Brierfield
Brighton
Broadmoor
Broken Bow South
Brook Highland
Brookside
Brookwood
Brown Springs
Brownsville Heights
Browntown
Brownville
Brummit Heights
Bryan
Burchfield
Burnwell
Bush Hills
Caffee Junction
Cahaba Heights
Cahaba Hills
Cahaba River Estates
Calcis
Caldwell Crossings
Calumet
Cardiff
Carisbrooke
Center Hill
Center Point
Center Point Gardens
Centerwood Estates
Central City
Central Calera
Central Highlands
Central Park
Central Pratt
Centreville
Chalkville
Chapel Hill
Chelsea
Chepultepec
Cherokee Forest
Clanton
Clay
Cleveland
Cloverdale
Coalburg
Cold Springs
College Hills
Columbiana
Columbus
Concord
Cook Springs
Coon Creek
Coosa Pines
Cordova
Corona
County Line
Crane Hill
Crescent Heights
Crestline
Crestline Gardens
Crestline Heights
Crestline Park
Crestview Gardens
Crestwood North
Crestwood South
Cropwell
Crosston
Crumley Chapel
Curry
Daisey City
Deason Hill
Dilworth
Dixiana
Docena
Doliska
Dolomite
Dora
Douglasville
Druid Hills
Drummond
Duncan
Dunnavant
East Birmingham
East Brookwood
East Brownville
East Calera
East Haven
East Irondale
East Pratt
East Thomas
Eastern Valley
Eastlake
Eastwood
Echo Highlands
Eden
Edgemont
Edgemont Park
Edgewater
Elliotsville
Empire
English Village
Enon Ridge
Ensley
Ensley Highlands
Eoline
Euclid Estates
Evergreen
Fairdale
Fairfield
Fairfield Highlands
Fairmount
Fairview
Flakato
Fernwood Estates
Five Points
Five Points East
Five Points South
Forest Hills
Forest Park
Forestdale
Fountain Heights
Frances Heights
Frisco Quarters
Fulton Springs
Fultondale
Garden Highlands
Gardendale
Gardiners Gin
Gate City
Gentilly Forest
Germania
Germania Park
Giles
Glen City
Glen Hills
Glen Iris
Glen Oaks
Glencoe
Goat Island
Godwin Estates
Goodsprings
Gordon Heights
Gorgas
Grasselli
Grasselli Heights
Graymont
Grayson Valley
Graystone
Graysville
Green Acres
Green Pond
Greenwood
Grove Park
Gurnee
Gurnee Junction
Harlem Heights
Harpersville
Harriman Park
Harrisburg
Hayden
Helena
Highland Lake
Highland Lakes
Hilliard
Hillman
Hillman Gardens
Hillman Park
Hillsdale
Hilltop
Hillview
Holiday Park Estates
Hollywood
Homestead
Homewood
Hoods Crossroads
Hoover
Hopewell
Howton
Hudson Gardens
Hudson Settlement
Hueytown
Hueytown Crest
Huffman
Huffman Gardens
Hull
Hyde Park
Indian Hills
Indian Springs Village
Indian Valley
Industrial City
Inglenook
Interurban Heights
Irondale
Isabella
Ishkooda
Ivanhoe
Jameswood
Jasper
Jefferson Hill
Jefferson Park
Jemison
Johns
Jones Valley
Jonesboro
Jumbo
Kalona
Kellerman
Kenwood
Ketona
Keystone
Killough Springs
Kimberly
Kingston
Kingsway Terrace
Laceys Chapel
Lake Drive Estates
Lake Highlands
Lake Purdy
Lake View
Lakeview District
Lakewood
Larkwood
Lawley
Leeds
Lewisburg
Liberty Highlands
Lipscomb
Little Island
Locust Fork
Lola City
Lovick
Lowerytown
Lower Calera
Lucille
Lynn Acres
Lynns Park
Madison
Magnolia Courts
Majestic
Manchester
Maple Grove
Maplesville
Maplewood
Margaret
Marks Village
Martins
Marvel
Mason City
Mayfair
Maylene
Maytown
McAdory
McCalla
McCollum
McDonald Chapel
Meadowbrook
Meadwood Heights
Midfield
Mill Spring Estates
Mineral Springs
Minor
Mobile Junction
Momouth
Monte-Sano
Montevallo
Moody
Morgan
Morningside
Morris
Mount Olive
Mountain Brook
Mountain Brook Village
Mountain Calera
Mountain Park
Mountain Woods Park
Mountaindale
Mt Olive
Mulga
Muscoda
Nectar
Nelson Heights
New Castle
New Hill
New London
Norris Junction
North Avondale
North Birmingham
North Calera
North Highlands
North Johns
North Lakeview Industrial District
North Pratt
North Titusville
Norwood
Oak Crossing
Oak Grove
Oak Grove Estates
Oak Hills
Oak Meadows
Oak Ridge
Oak Ridge Park
Oakhurst
Oakman
Oakville
Oakwood
Odenville
Old Jonesboro
Old Maylene
Oneonta
Overton
Owenton
Oxmoor
Palmerdale
Park Hill
Park Place
Parker Hieghts
Parkwood
Parrish Patton Chapel
Pauls Hill
Pawnee Heights
Pea Ridge
Pelham
Pell City
Penfield Heights
Penfield Park
Phillips Estates
Phoenixville
Pine Knoll Vista
Pinedale Shores
Pineview
Pinkney City
Pinson
Pinson Clay Chalkville
Pleasant Grove
Pleasant Grove Estates
Pleasant Hill
Port Birmingham
Porter
Powderly
Powderly Hills
Powhatan
Praco
Pratt City
Prescott
Primitive Ridge
Providence
Queenstown
Quinton
Quintown
Raimund
Randolph
Redmont Park
Remlap
Republic
Rice
Riley
Rising
Riverside
Roberta
Robinwood
Rock Creek
Rockdale
Rocky Ridge
Roebuck
Roebuck Forest
Roebuck Gardens
Roebuck Park
Roebuck Plaza
Roebuck Springs
Roebuck Terrace
Roosevelt
Rosa
Rose Hill
Rosedale
Rosemont
Ruffner
Russell Heights
Saginaw
Samoset
Sand Ridge
Sandusky
Sayre
Searles
Selfville
Seymour
Shannon
Shelby
Shoal Creek
Short Creek
Siluria
Silverleaf
Simmsville
Sipsey
Six Mile
Sky Ranch
Smith Hill
Smithfield
Smithfield Estates
Smoke Rise
Snowtown
South Calera
South Lowell
South Pratt
South Roebuck
South Titusville
South Woodlawn
Southside
Southtown
Southwood
Spaulding
Spring Lake
Springdale
Springville
Steele
Sterrett
Straight Mountain
Sumiton
Summit Farm
Sumter
Sun Valley
Susan Moore
Sylvan Springs
Tarpley
Tarpley City
Tarrant
Tarrant City
Tarrant Heights
Thach
Thomas
Thomas Acres
Thorsby
Townley
Trade
Traffod
Trotwood Park
Trussville
Twilley Town
Underwood
Union Chapel
Union Grove
Upper Calera
Upper Coalburg
Valley Creek
Vance
Vanderbilt
Vandiver
Varnons
Verbena
Verlie
Vernontown
Vestavia Hills
Vesthaven Estates
Vick
Village Creek
Village Springs
Villas Belevedere
Vincent
Vineland Park
Virginia
Vulcan City
Wahouma
Walker Chapel
Walkerton
Warrior
Washington Heights
Watson
Wenoah
Wessington
West Blocton
West Brownville
West End
West End Manor
West Ensley
West Fairfield
West Goldwire
West Highlands
West Jefferson
West Lake Highlands
West Pratt
West Princeton
West Sayre
Westbrook Trace
Westfield
Westover
Westover Town
Whites Chapel
Wilburn
Wiley
Wikes
Williamsburg
Williamstown
Wilsonville
Wilton
Windsor Highlands
Wolf Creek
Woodaire Estates
Woodcrest
Wooddale
Woodhaven
Woodland Park
Woodlawn
Woodmont
Woodstock
Woodstock Town
Woodward
Wyatt
Wylam
Yolande
Zion City
Zion Heights
What can helical (screw) piles be used for?
---
Helical piles are an anchoring solution capable of supporting the heaviest loads, and can be installed in all types of soils no matter what the environmental challenges.
Our products are designed to solidly support residential, commercial, industrial, and municipal projects.
What are the GoliathTech advantages?
Minimal impact to the landscape
Start building immediately after installation
Perfectly level structure
A screw pile installation: quick and easy!
---
While construction projects usually leave you tired, frustrated, and counting down the days, with GoliathTech's help, you'll find yourself at ease. The expertise of our certified installers, combined with the cutting-edge technology used by our team, allows us to gather and then calculate all the information that we need for the project's success; and ultimately, to leave you with a project that you've only imagined in your dreams.
Steps 2 and 3 is where the screw pile installation occurs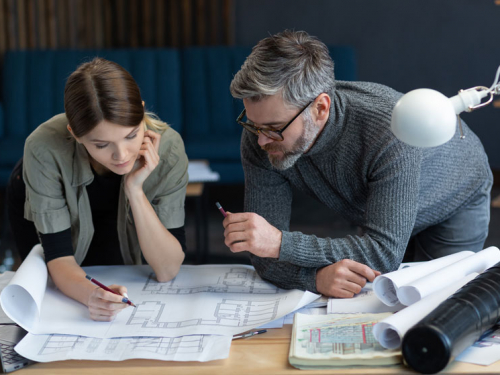 Step 1
Planning your project
First and foremost, it is essential to determine the nature of your project and the contractor who will build it, as well as the various needs associated with it. Evaluate the time, budget, and space available to you so that you can pass this information on to one of our certified installers, when the time comes.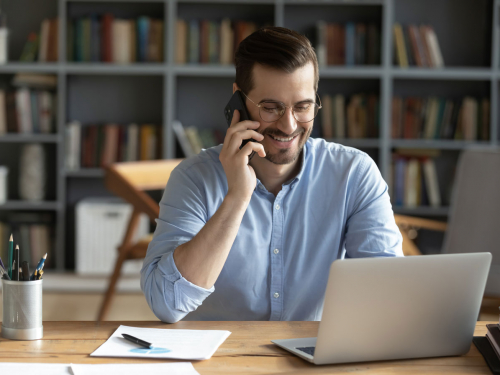 Step 2
Consultation and estimate
Our certified installers are waiting for your call! With the help of precise calculations and an analysis of the type of soil and the load to be supported, they will be able to provide you with an estimate of the cost of the product and will design a solution tailored to your needs.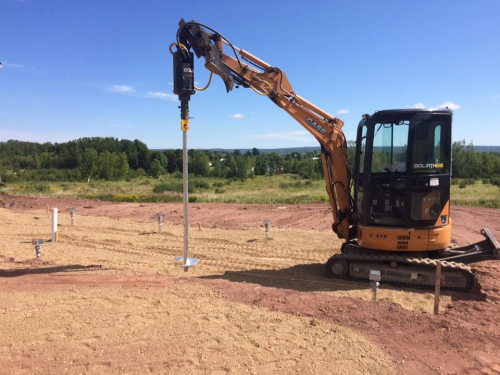 Step 3
Installation
The big day has finally arrived. The helical (screw) piles will be screwed in as deeply as possible. It's likely that during the installation, some technical details will need to be adjusted, such as the length of the piles or the size of the helices. Our experts know how to react quickly in order to ensure the absolute stability of your foundation.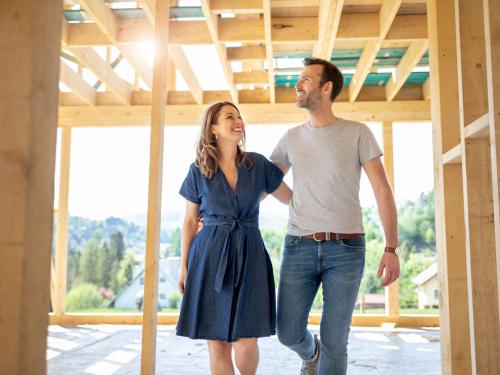 Step 4
Everything is ready for construction
There's no delay or clean-up required between the end of the screw pile installation and the start of construction. As soon as the last helical (screw) pile is anchored into the ground, your contractor can start building your project.
Types of applications: a helical pile foundation for incomparable anchorage
From deck to home foundations, our helical (screw) pile system is the best foundation solution for you.
No matter what your project is…
---
GoliathTech helical piles are ready
In order to provide you with a helical (screw) pile foundation solution that's designed to meet your needs and specific project, our network of certified installers and consultants make the most of their vast expertise in the field. Recognized for their know-how, they conform screw piles to meet the unique nature of your property and project, rather than offering you a solution... cast in concrete!