Don't let summer slip away! Install a helical pile foundation system for your new deck and savor the season sooner!
Ah, summer, that magical time of year when the days are longer, the weather is warmer, and we all scramble to make the most of every fleeting moment.
It seems like just as we start to settle into the season, it's already time to start thinking about fall.
But fear not, dear homeowners, because when it comes to deck foundation installation, we've got a solution that will have you enjoying your outdoor oasis in no time!
Speed of a Helical Pile Installation: Say Goodbye to Lengthy Concrete Foundation Curing Times
When it comes to building a deck, one of the biggest challenges is often the time it takes to install the foundation system.
Traditional concrete footings can be a real time sink, requiring days for excavation, pouring, and curing. One of the biggest frustrations with traditional deck foundation methods is waiting for the concrete to dry and cure before you can start building.
But with helical piers, there's no need to wait. With our innovative helical pile (pier) foundations, you can have your deck foundation installed in just one day!
These sturdy steel piles are ready to support your deck immediately, without any curing time.
So, while your friends are still waiting for their concrete to set, you'll already be hosting the ultimate backyard BBQ on your freshly installed deck.
Meeting Code Requirements: Future-proofing Your Home's Foundation
Here's a little-known secret about deck foundations – they need to meet certain code requirements, especially if you plan to sell your home in the future.
GoliathTech offers an engineered foundation solution for your deck that meets all code requirements.
So, when the time comes to put your house on the market, you can rest easy knowing that your deck helical pile foundation is up to snuff and won't be holding up the sale.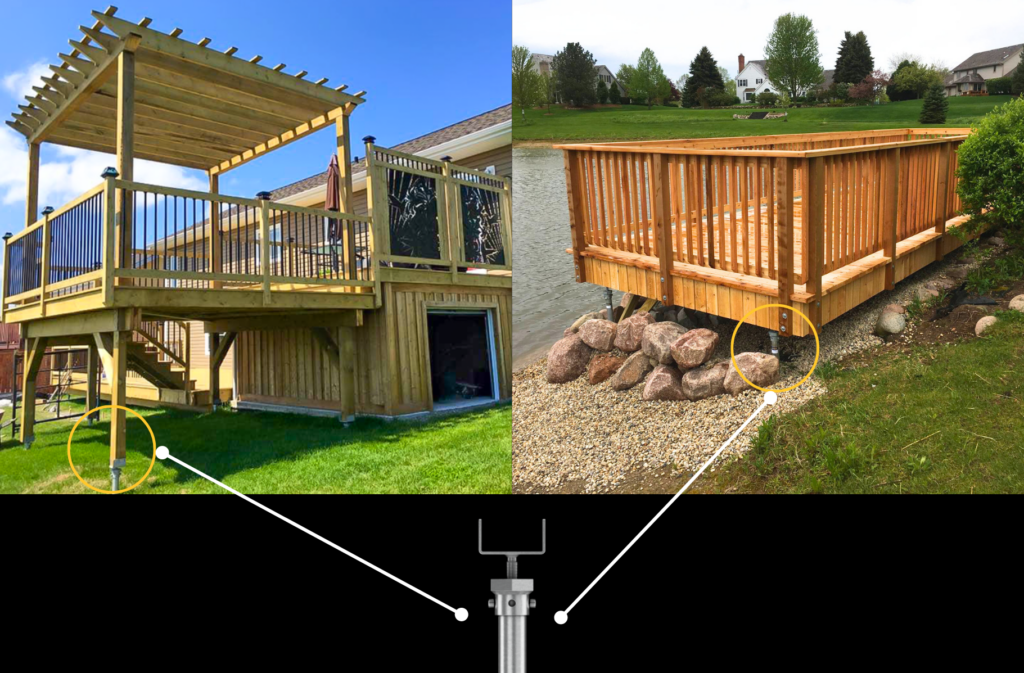 Time-Saving Adjustable Head: The deck builder's best friend
When it comes to building and leveling your deck, every minute counts.
That's why GoliathTech's helical piers (piles) come with a patented adjustable head, designed to save contractors time and effort during the building process.
No more tinkering with cumbersome tools or struggling to get your deck perfectly level. With our innovative technology, you'll have your deck up and ready in a fraction of the time.
Preserving the Landscape: No Green Thumbs Required
We understand that your deck is not the only thing you care about in your outdoor space. Your garden, lawn, and patio stones all deserve the same level of care and attention.
That's why our GoliathTech certified installers ensures that they prioritize the safeguarding of your landscape, minimizing any disruption during the helical pile installation procedure.
Minimal damage, means very little work and costs for you once they're gone. So, you can have your dream deck without sacrificing the beauty of your surroundings.
Future Expansion: Building Dreams, One Deck at a Time
As homeowners, we all have dreams of expanding our outdoor spaces.
Whether it's adding a spa, a roof, a pergola, or any other feature, you want to be sure that your deck foundation can handle it.
With a helical pile (pier) foundation system, you don't have to worry. These piles are designed to handle various loads, making them perfect for supporting any future additions to your deck.
So dream big, plan ahead, and know that your deck can grow and evolve with you.
Conclusion
Summer may be short, but with GoliathTech's helical piles, your deck foundation installation will be done in no time, so you can really enjoy the season.
By offering speedy helical pier installation, eliminating concrete curing time, meeting code requirements, saving time during construction, preserving your landscape, and accommodating future expansion, we're here to ensure that your deck dreams become a reality in record time.
Cheers to summer and the joy of outdoor living!
About GoliathTech
Since 2004, GoliathTech has been the most important manufacturer and installer in the helical (screw) pile industry worldwide. Our patented helical pile foundation system surpasses industry standards and has earned us multiple awards and prizes.
Carried out by certified installers, our quick installation process avoids excavation, which protects your landscape and allows you to begin building as soon as the piles are in the ground. Moreover, you can anchor GoliathTech's helical pile foundations into any soil or space year-round. Installed deep into the ground, beneath the frost line, they solidly support the structure in even the most extreme conditions. Our technology guarantees that a helical (screw) pile foundation won't move or crack over time.
Integrating both strength and know-how, GoliathTech offers the best anchoring solution to support your residential, industrial, commercial, and municipal projects. Trust the experience and expertise of GoliathTech for your foundation projects. Find a certified GoliathTech installer in your region or become a franchisee.
Other articles that might interest you
---