GoliathTech Your Helical (Screw) Pile Installer - Newport-Brattleboro
---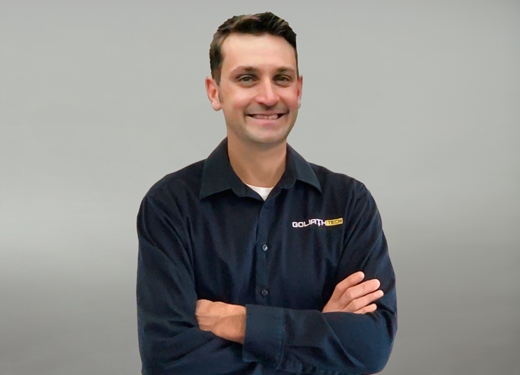 GoliathTech Newport-Brattleboro
PO Box 256 Hinesburg, Vermont 05461
About Us
GoliathTech Newport-Brattleboro is your certified installer for the cities of Bennington, Brattleboro, Montpelier, St. Albans, St. Johnsbury, Newport, Springfield, Windsor, West Brattleboro, Bellows Falls, and more. View more cities we serve below.
Cities served by your installer
Bennington
Brattleboro
Montpelier
St Albans
St Johnsbury
Newport
Springfield
Windsor
West Battleboro
Bellow Falls
Adamant
Albany
Albany Center
Alfrecha
Ames Hill
Amsden
Andover
Arlington
Acutney
Athens
Averill
Baileys Mills
Bakersfield
Baltimore
Barnet
Barton
Bartonsville
Beaulieus Corner
Beebe Plain
Beecher Falls
Belmont
Belvidere Center
Berkshire
Berlin Corners
Binghamville
Bloomfield
Bolton
Boltonville
Bondville
Bordoville
Bowlsville
Bridgewater
Brockways Mills
Brookline
Brookside
Brownington
Brownington Center
Brownsville
Brunswick Springs
Burke
Burke Hollow
Burnham Hollow
Cabot
Cadys Falls
Calais
Cambridge
Cambridge Junction
Cambridgeport
Canaan
Cavendish
Cavendish Center
Center Rutland
Centerville
Chester
Chippenhook
Chiselville
Clarendon
Clarendon Springs
Cleveland Corners
Cloverdale
Colbyville
Cold River
Concord
Concord Corner
Coventry
Craftsbury
Craftsbury Common
Cuttingsville
Danby
Danby Four Corners
Danville
Danville Center
Derby
Derby Center
Derby Line
Dorset
Dover
Downers
Dows Crossing
Dummerston Center
Duxbury
East Albany
East Arlington
East Berkshire
East Brighton
East Burke
East Cabot
East Calais
East Charleston
East Clarendon
East Concord
East Craftsbury
East Dorset
East Dover
East Dummerston
Est Enosburg
East Fairfield
East Fletcher
East Franklin
East Hardwick
East Haven
East Highgate
East Jamaica
East Johnson
East Lyndon
East Montpelier
East Montpelier Center
East Newport-Brattleboro
East Peacham
East Poultney
East Putney
East Richford
East Rupert
East Ryegate
East Saint Johnsbury
East Sheldon
East Wallingford
Eden
Eden Mills
Egypt
Enosburg Center
Enosburg Falls
Evansville
Fairfield
Felchville
Fieldsville
Fletcher
Franklin
Freedleyville
Gallup Mills
Garfield
Gassetts
Georgia Center
Georgia Plains
Gilman
Glastenbury
Golver
Goose City
Goulds Mill
Grafton
Grahamville
Granby
Green Bay
Green River
Greenbush
Greens Corners
Greensboro
Greensboro Bend
Groton
Guildhall
Guilford
Guilford Center
Newport-Brattleboro
Halifax
Hammondsville
Hardwick
Hardwick Center
Hardwick Street
Harmonyville
Harrisville
Hartland
Hartland Four Corners
Healdville
Heartwellville
Hectorville
Highgate Center
Highgate Falls
Holland
Hortonville
Houghtonville
Hubbard Corner
Hutchins
Hyde Park
Inwood
Ira
Irasburg
Island Pond
Jacksonville
Jamaica
Jay
Jeffersonville
Jenneville
Joes Pond
Johnson
Kansas
Kendricks Corner
Lake Elmore
Lake Park
Lindsay Beach
Londonderry
Lowell
Lower Cabot
Lower Village
Lower Waterford
Lower Newport-Brattleboro
Ludlow
Lunenburg
Lyndon
Lyndon Center
Lyndonville
Mackville
Maidstone
Manchester
Manchester Center
Manchester Depot
Maple Corners
Marlboro
Marshfield
Medburyville
Merrill Corner
Middlesex
Middletown
Middletown Springs
Miles Pond
Mill Village
Missisquoi
Montgomery
Montgomery Center
Montpelier Junction
Morgan
Morgan Center
Morristown
Morrisville
Moscow
Mosquitoville
Mount Holly
Mount Tabor
Newark
Newark Hollow
Newfane
Newport Center
North Bennington
North Calais
North Cambridge
North Chester
North Clarendon
North Concord
North Danville
North Derby
North Doset
North Duxbury
North Hartland
North Hyde Park
North Montpelier
North Newport-Brattleboro
North Pownal
North Rupert
North Sheldon
North Shrewsbury
North Springfield
North Troy
North Vernon
North Westminster
North Windham
North Wolcott
Norton
Oakland
Old Bennington
Orleans
Paper Mill VIllage
Passumpsic
Pawlet
Peacham
Perkinsville
Peru
Pierces Corner
Pikes Falls
Plainfield
Pleasant Valley
Plymouth
Plymouth Union
Poultney
Pownal
Pownal Center
Proctorsville
Putnamville
Putney
Ralston Corner
Rawsonville
Reading
Readsboro
Readsboro Falls
Reedville
Richford
Ricker Mills
Riverton
Rockingham
Rupert
Russellville
Ryegate
Ryegate Corner
Saint Rocks
Sandgate
Saxtons River
Scottsville
Searsburg
Shady Rill
Shaftsbury
Shaftsbury Center
Shawville
Sheddsville
Sheffield
Sheffield Square
Sheldon
Sheldon Junction
Sheldon Springs
Shrewsbury
Simonsville
Smithville
Sodom
Somerset
South Albany
South Cabot
South Cambridge
South Danville
South Dorset
South End
South Londonberry
South Lunenburg
South Newfane
South Newport-Brattleboro
South Peacham
South Poultney
South Reading
South Richford
South Ryegate
South Shaftsbury
South Vernon
South Walden
South Wallingford
South Wardsboro
South Windham
South Woodbury
Spoonerville
St Albans Bay
Stamford
Stannard
Stevens Mills
Stevensville
Stowe
Stratton
Sunderland
Sutton
Tarbellville
The Island
Thompsonburg
Tinmouth
Townshend
Troy
Tyson
Underhill
Underhill Center
Vernon
Victory
Walden
Walden Heights
Wallace Pond
Wallingford
Wardsboro
Wardsboro Center
Waterville
Weathersfield Bow
Wells
Wells River
Wenlock
West Arlington
West Barnet
West Berkshire
West Branch
West Burke
West Charleston
West Danville
West Dover
West Dummerston
West Enosburg
West Georgia
West Glover
West Groton
West Halifax
West Hill
West Pawlet
West Rupert
West Rutland
West Springfield
West Townsend
West Wardsboro
West Waterford
Westfield
Westminster
Westminster Station
Westminster West
Westmore
Weston
Wheelock
Whitesville
Whitingham
Williamsville
Wilmington
Windham
Wolcott
Woodbury
Woodford
Woodford Hollow
Worcester
What can helical (screw) piles be used for?
---
Helical piles are an anchoring solution capable of supporting the heaviest loads, and can be installed in all types of soils no matter what the environmental challenges.
Our products are designed to solidly support residential, commercial, industrial, and municipal projects.
What are the GoliathTech advantages?
Minimal impact to the landscape
Start building immediately after installation
Perfectly level structure
A screw pile installation: quick and easy!
---
While construction projects usually leave you tired, frustrated, and counting down the days, with GoliathTech's help, you'll find yourself at ease. The expertise of our certified installers, combined with the cutting-edge technology used by our team, allows us to gather and then calculate all the information that we need for the project's success; and ultimately, to leave you with a project that you've only imagined in your dreams.
Steps 2 and 3 is where the screw pile installation occurs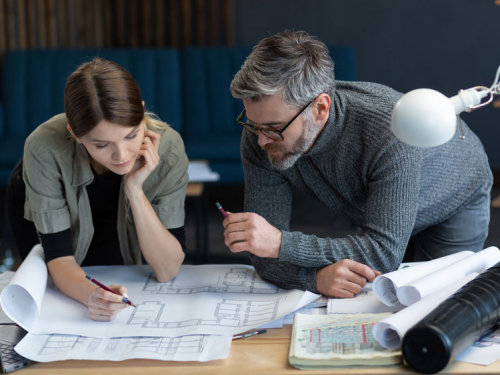 Step 1
Planning your project
First and foremost, it is essential to determine the nature of your project and the contractor who will build it, as well as the various needs associated with it. Evaluate the time, budget, and space available to you so that you can pass this information on to one of our certified installers, when the time comes.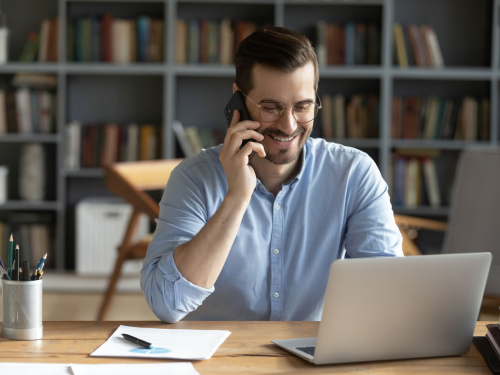 Step 2
Consultation and estimate
Our certified installers are waiting for your call! With the help of precise calculations and an analysis of the type of soil and the load to be supported, they will be able to provide you with an estimate of the cost of the product and will design a solution tailored to your needs.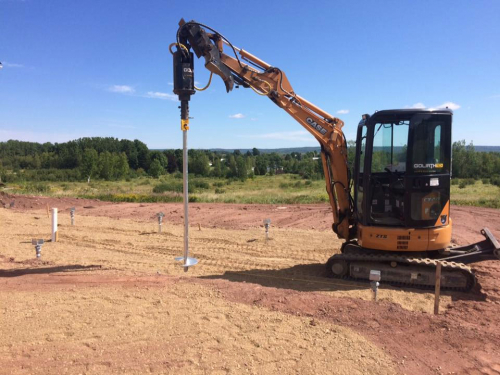 Step 3
Installation
The big day has finally arrived. The helical (screw) piles will be screwed in as deeply as possible. It's likely that during the installation, some technical details will need to be adjusted, such as the length of the piles or the size of the helices. Our experts know how to react quickly in order to ensure the absolute stability of your foundation.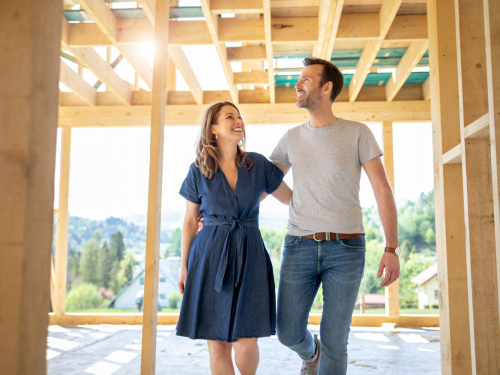 Step 4
Everything is ready for construction
There's no delay or clean-up required between the end of the screw pile installation and the start of construction. As soon as the last helical (screw) pile is anchored into the ground, your contractor can start building your project.
Types of applications: a helical pile foundation for incomparable anchorage
From deck to home foundations, our helical (screw) pile system is the best foundation solution for you.
No matter what your project is…
---
GoliathTech helical piles are ready
In order to provide you with a helical (screw) pile foundation solution that's designed to meet your needs and specific project, our network of certified installers and consultants make the most of their vast expertise in the field. Recognized for their know-how, they conform screw piles to meet the unique nature of your property and project, rather than offering you a solution... cast in concrete!