GoliathTech Your Helical (Screw) Pile Installer - Nashua-Keene
---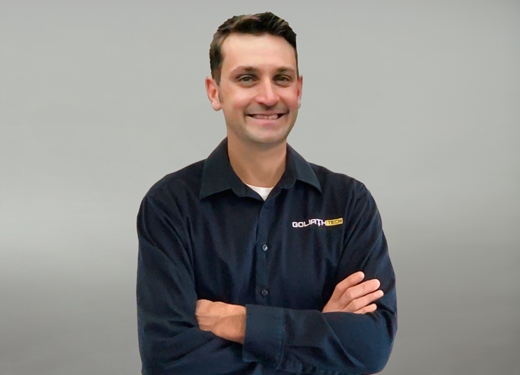 GoliathTech Nashua-Keene
PO Box 256 Hinesburg, Vermont 05461
About Us
GoliathTech Nashua-Keene is your certified installer for the cities of Nashua, Concord, Salem, Keene, Lebanon, Claremont, Milford, Hudson, Newmarket, Swanzey, and more. View more cities we serve below.
Cities served by your installer
Nashua
Concord
Salem
Keene
Lebanon
Claremont
Milford
Hudson
Newmarket
Swanzey
Litchfield
East Merrimack
Newport
Henniker
Jaffrey
Peterborough
Hillsborough
Merrimack
Deering
Winchester
Enfield
Hinsdale
Contoocook
Wilton
Antrim
West Swanzey
New London
Troy
Charlestown
Greenville
Marlborough
North Walpole
North Swanzey
Sunapee
Amherst
Millville
Pelham
Walpole
Warner
Sullivan
Canobie Lake
Greenfield
New Ipswich
Dublin
Fitzwilliam
Amherst
Brookline
North Salem
Reeds Ferry
Gilsum
Alstead
Bradford
Hancock
Harrisville
Hollis
Meriden
Spofford
West Chesterfield
West Peterborough
Westport
Andover
Marlow
Chesterfield
Fitzwilliam Depot
Ashuelot
East Lempster
Temple
Guild
Hopkinton
Kellyville
North Pelham
Jaffrey Center
Hillsborough Upper Village
Goshen
West Rindge
East Andover
East Swanzey
West Henniker
East Sullivan
Wilmot Flat
Cornish Flat
Danbury
East Alstead
Mount Sunapee
Nelson
Rindge
Salisbury
Stoddard
Weare
West Deering
West Wilton
North Sutton
Westmoreland
Grantham
Hillsborough Lower Village
Munsonville
Georges Mills
Grafton
North Newport
Drewsville
Plainfield
Acworth
Alstead Center
Chesham
East Rindge
Francestown
Happy Valley
High Bridge
Mason
North Branch
North Brookline
South Acworth
South Brookline
South Merrimack
Sutton
Wilton Center
Langdon
East Westmoreland
Enfield Center
Boscawen
Potter Place
Windham
Lempster
South Sutton
Chase Village
Cornish Center
Hillsborough Center
Newbury
Noone
Riverdale
Smithville
Windham Depot
South Weare
East Unity
Unity
Croydon
Grafton Center
Richmond
South Newbury
State Line
Surry
Wendell
Blodgett Landing
Clinton Village
Cornish Mills
Mill Hollow
North Village
Salisbury Heights
Sharon
Squantum
Thorntons Ferry
Washington
Webster
West Unity
Wilmot
Davisville
Croydon Flat
Elmwood
Scotland
Bowkerville
Cold River
East Grafton
Christian Hollow
East Sutton
West Hopkinton
Clinton Grove
Elkins
Springfield
East Grantham
North Wilmot
Waterloo
West Springfield
South Charlestown
Burkehaven
Bagley
Bonds Corner
Box Corner
Bradford Center
Bennington
Broad Acres
Cilleyville
Claremont Junction
Converseville
Cornish City
Cricket Corner
East Deering
East Milford
East Plainfield
East Washington
East Wilder
Eastview
Gerrish
Hastings
Hell Hollow
Hudson Center
Jones Corner
Joslin
Lincoln Park
Lockhaven
Lower Village
Mascoma
Melvin Mills
North Grantham
North Richmond
Noyes Terrace
Penacook
Ponemah
Puckershire
Quaker City
Rand
Riverhill
Robinson Corner
Roby
Ryder Corner
Sachem Village
Salem Depot
Snumshire
South Cornish
South Keene
South Milford
South Stoddard
Thomas
Trapshire
Varnumtown
West Andover
West Claremont
West Lebanon
West Salisbury
West Windham
Woodmere
What can helical (screw) piles be used for?
---
Helical piles are an anchoring solution capable of supporting the heaviest loads, and can be installed in all types of soils no matter what the environmental challenges.
Our products are designed to solidly support residential, commercial, industrial, and municipal projects.
What are the GoliathTech advantages?
Minimal impact to the landscape
Start building immediately after installation
Perfectly level structure
A screw pile installation: quick and easy!
---
While construction projects usually leave you tired, frustrated, and counting down the days, with GoliathTech's help, you'll find yourself at ease. The expertise of our certified installers, combined with the cutting-edge technology used by our team, allows us to gather and then calculate all the information that we need for the project's success; and ultimately, to leave you with a project that you've only imagined in your dreams.
Steps 2 and 3 is where the screw pile installation occurs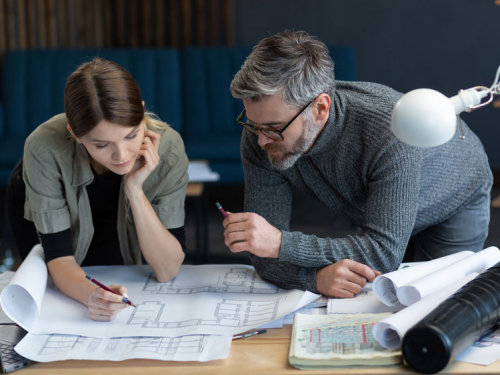 Step 1
Planning your project
First and foremost, it is essential to determine the nature of your project and the contractor who will build it, as well as the various needs associated with it. Evaluate the time, budget, and space available to you so that you can pass this information on to one of our certified installers, when the time comes.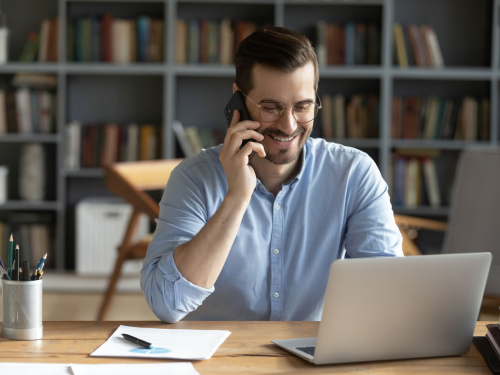 Step 2
Consultation and estimate
Our certified installers are waiting for your call! With the help of precise calculations and an analysis of the type of soil and the load to be supported, they will be able to provide you with an estimate of the cost of the product and will design a solution tailored to your needs.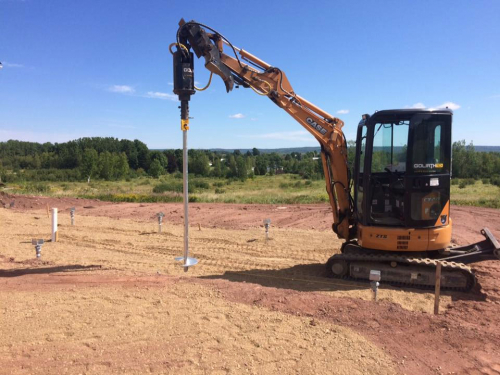 Step 3
Installation
The big day has finally arrived. The helical (screw) piles will be screwed in as deeply as possible. It's likely that during the installation, some technical details will need to be adjusted, such as the length of the piles or the size of the helices. Our experts know how to react quickly in order to ensure the absolute stability of your foundation.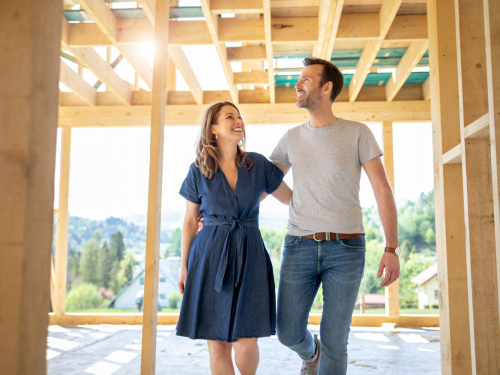 Step 4
Everything is ready for construction
There's no delay or clean-up required between the end of the screw pile installation and the start of construction. As soon as the last helical (screw) pile is anchored into the ground, your contractor can start building your project.
Types of applications: a helical pile foundation for incomparable anchorage
From deck to home foundations, our helical (screw) pile system is the best foundation solution for you.
No matter what your project is…
---
GoliathTech helical piles are ready
In order to provide you with a helical (screw) pile foundation solution that's designed to meet your needs and specific project, our network of certified installers and consultants make the most of their vast expertise in the field. Recognized for their know-how, they conform screw piles to meet the unique nature of your property and project, rather than offering you a solution... cast in concrete!