GoliathTech Your Helical (Screw) Pile Installer - Middlebury
---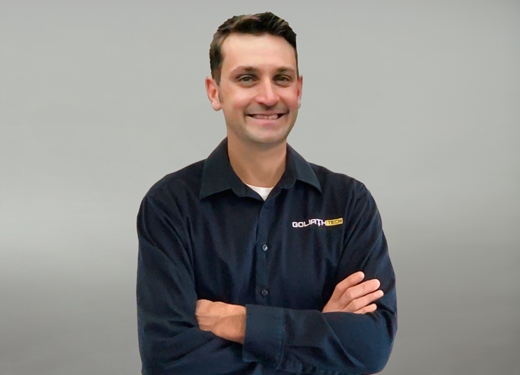 GoliathTech Middlebury
PO Box 256 Hinesburg, Vermont 05461
About Us
GoliathTech Middlebury is your certified installer for the cities of Orange, Rutland, Barre, Middlebury, Jericho, Castleton, Northfield, Wilder, White River Junction, Fair Haven, and more. View more cities we serve below.
Cities served by your installer
Rutland
Barre
Jericho
Castleton
Northfield
Wilder
White River Junction
Fair Haven
Alpine Village
Avalon Beach
Barnard
Barnumtown
Beansville
Benson
Bethel
Blissville
Bomoseen
Bradford
Bragg
Braintree
Braintree Hill
Brandon
Bread Loaf
Bridgewater Center
Bridgewater Corners
Brimstone Corner
Bristol
Brookfield
Brookfield Center
Brooksville
Castleton Corners
Centerville
Chelsea
Chittenden
Cookville
Corinth
Corinth Corner
Cornwall
Cream Hill
Crystal Beach
Deweys Mills
Downingville
Dowsville
East Barnard
East Barre
East Bethel
East Braintree
East Brookfield
East Corinth
East Hubbardton
East Middlebury
East Monkton
East Orange
East Pittsford
East Roxbury
East Shoreham
East Thetford
East Topsham
East Warren
Fairlee
Fernville
Florence
Forest Dale
Foxville
Gaysville
Goodrich Four Corners
Goshen
Graniteville
Graniteville East Barre
Granville
Hancock
Hartford
Hewitts Corners
Hortonia
Hubbardton
Hydeville
Irasville
Jerusalem
Lake Dunmore
Leicester
Leicester Junction
Lewiston
Lilliesville
Lincoln
Lower Granville
Lower Websterville
Lympus
Mendon
Mill Village
Millbrook
Moretown
Neshobe Beach
New Boston
New Haven
New Haven Mills
Newbury
Newbury Center
North Fayston
North Hartland
North Middlebury
North Pomfret
North Randolph
North Royalton
North Sherburne
North Thetford
North Tunbridge
Northfield Center
Northfield Falls
Norwich
Orwell
Peth
Pittsfield
Pittsford
Pomfret
Pompanoosuc
Post Mills
Proctor
Quechee
Randolph
Randolph Center
Rices Mills
Richville
Ripton
Robinson
Rochester
Rocky Dale
Roxbury
Roxbury Flat
Royalton
Russtown
Salisbury
Salisbury Station
Sharon
Sherburne Center
Shoreham
South Barre
South Corinth
South Duxbury
South Lincoln
South Middlebury
South Newbury
South Northfield
South Pomfret
South Randolph
South Royalton
South Starksboro
South Strafford
South Tunbridge
South Vershire
South Washington
South Woodstock
Stockbridge
Strafford
Sudbury
Taftsville
Talcville
Thetford Center
Thetford Hill
Topsham
Topsham Four Corners
Trow Hill
Tunbridge
Union Village
Upper Graniteville
Vershire
Vershire Center
Vershire Heights
Waits River
Waitsfield
Waitsfield Common
Warren
Washington
Washington Heights
Websterville
West Berlin
West Braintree
West Bridgewater
West Bridport
West Brookdield
West Castleton
West Corinth
West Cornwall
West Fairlee
West Fairlee Center
West Hartford
West Haven
West Lincoln
West Newbury
West Norwich
West Salisbury
West Topsham
West Woodstock
Weybridge
Weybridge Hill
Whiting
Williamstown
Woodstock
What can helical (screw) piles be used for?
---
Helical piles are an anchoring solution capable of supporting the heaviest loads, and can be installed in all types of soils no matter what the environmental challenges.
Our products are designed to solidly support residential, commercial, industrial, and municipal projects.
What are the GoliathTech advantages?
Minimal impact to the landscape
Start building immediately after installation
Perfectly level structure
A screw pile installation: quick and easy!
---
While construction projects usually leave you tired, frustrated, and counting down the days, with GoliathTech's help, you'll find yourself at ease. The expertise of our certified installers, combined with the cutting-edge technology used by our team, allows us to gather and then calculate all the information that we need for the project's success; and ultimately, to leave you with a project that you've only imagined in your dreams.
Steps 2 and 3 is where the screw pile installation occurs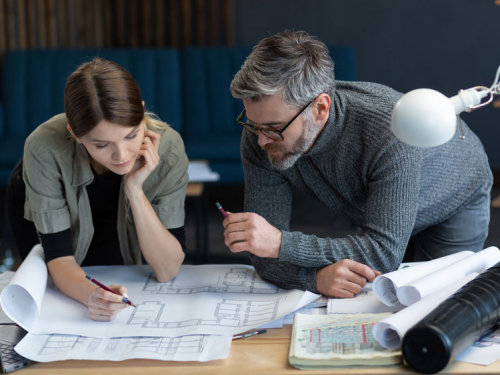 Step 1
Planning your project
First and foremost, it is essential to determine the nature of your project and the contractor who will build it, as well as the various needs associated with it. Evaluate the time, budget, and space available to you so that you can pass this information on to one of our certified installers, when the time comes.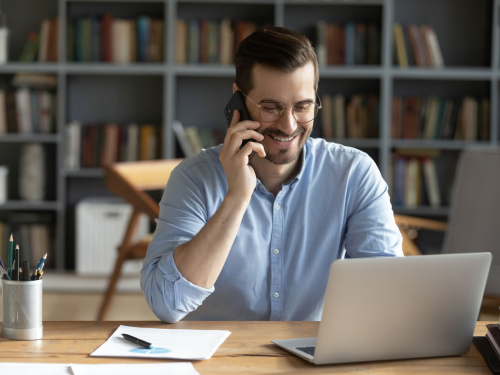 Step 2
Consultation and estimate
Our certified installers are waiting for your call! With the help of precise calculations and an analysis of the type of soil and the load to be supported, they will be able to provide you with an estimate of the cost of the product and will design a solution tailored to your needs.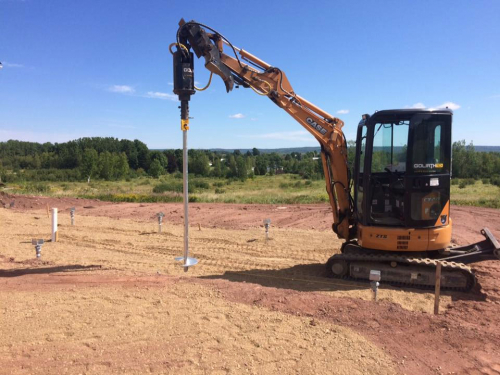 Step 3
Installation
The big day has finally arrived. The helical (screw) piles will be screwed in as deeply as possible. It's likely that during the installation, some technical details will need to be adjusted, such as the length of the piles or the size of the helices. Our experts know how to react quickly in order to ensure the absolute stability of your foundation.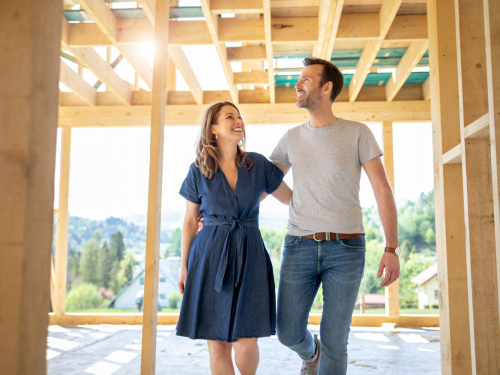 Step 4
Everything is ready for construction
There's no delay or clean-up required between the end of the screw pile installation and the start of construction. As soon as the last helical (screw) pile is anchored into the ground, your contractor can start building your project.
Types of applications: a helical pile foundation for incomparable anchorage
From deck to home foundations, our helical (screw) pile system is the best foundation solution for you.
No matter what your project is…
---
GoliathTech helical piles are ready
In order to provide you with a helical (screw) pile foundation solution that's designed to meet your needs and specific project, our network of certified installers and consultants make the most of their vast expertise in the field. Recognized for their know-how, they conform screw piles to meet the unique nature of your property and project, rather than offering you a solution... cast in concrete!